These Banana Oatmeal Cookies are the perfect nutrient dense and tasty breakfast. They are super easy to make, freeze great, and are allergen free. There are so many ways to customize these breakfast cookies to your taste. And, who doesn't want an excuse to eat cookies for breakfast?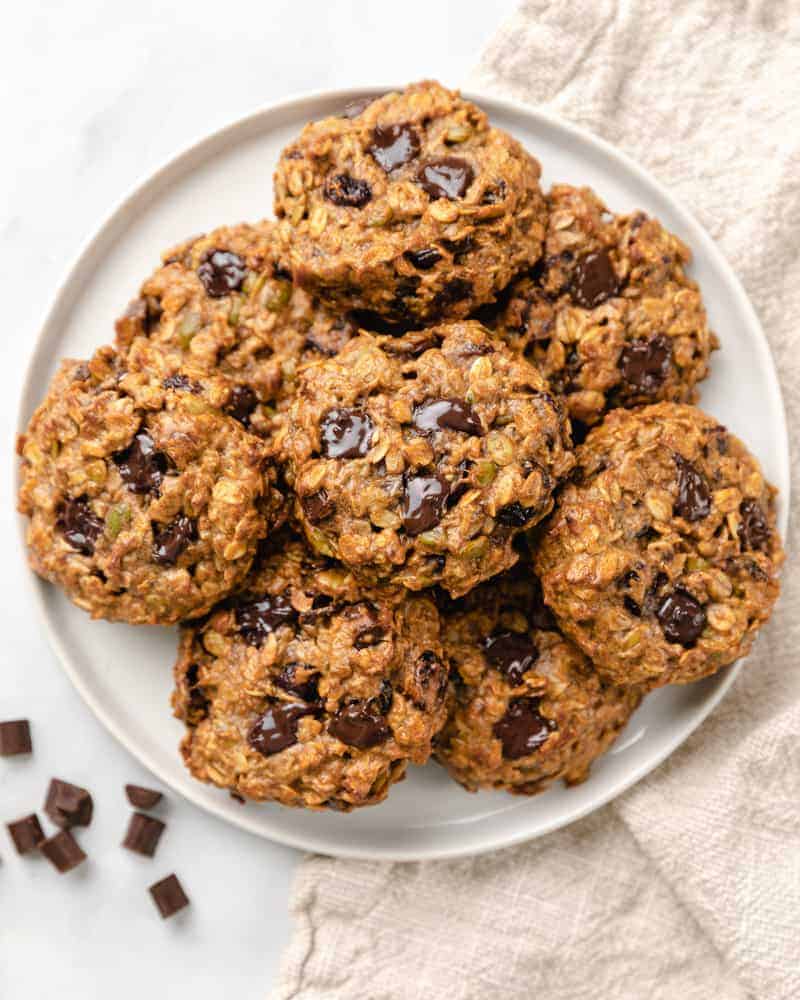 Are you a breakfast person? I eat breakfast almost every morning. I need something that is quick, easy, and not too heavy. These banana oatmeal cookies do the trick!
Breakfast can be a hard meal to prep ahead of time and most of us do not have time to cook in the mornings before work or school. That is why I created this recipe. These banana oatmeal cookies are easy to prep in bulk and require no extra effort or time in the morning.
They have significantly less ingredients than the a typical store-bought granola bar and are cheaper especially when you can buy many of the ingredients for this recipe in bulk. Win win if you ask me!
All these breakfast cookies require from you is an extra 30 or 45 minutes on a Sunday and you can be prepped for the week or even longer!
---
My Favorite Things About Banana Oatmeal Cookies
Soft & chewy. These cookies are not crunchy or crispy at all.
Vegan & gluten free. These are great for any one who has an allergy to animal products or dairy. See the section below, Customizations, for what to do if you have a nut allergy.
Simple ingredients. The base of these cookies only consists of coconut oil, banana, honey, nut butter, and oats. Easy enough!
Great for meal prep. Like I mentioned above these cookies are the perfect breakfast to prepare in bulk and freeze. See the section, Make Ahead & Freeze, for how to do this.
Satisfying. These cookies are loaded with healthy fats, fiber, and protein to keep you full. If you like a lighter breakfast, one cookie does the trick. But if you want something that is going to keep you full for longer, I recommend more than one cookie.
Cookies that you get to eat for breakfast. Who doesn't want to start their day with a cookie?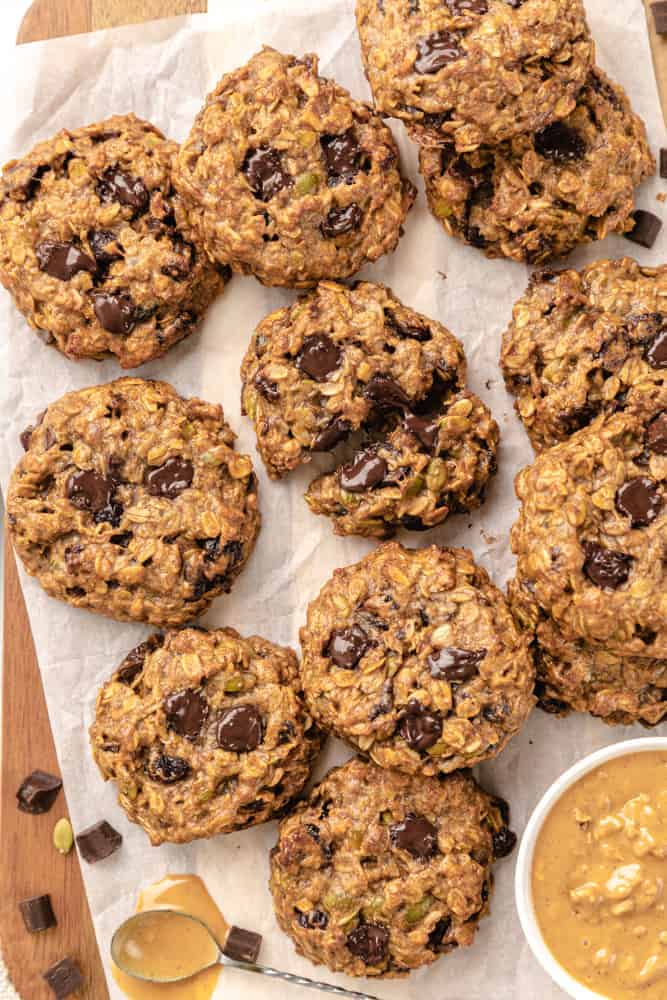 ---
Tips & How To Make Banana Oatmeal Cookies
Combine the wet ingredients. I like to use my stand mixer for this recipe. It helps the banana, peanut butter, honey, and coconut oil to come together very smoothy. If you are using a hand mixer, you may need to mash the banana on its own first depending on the ripeness.
Mix in the dry ingredients. All of the add ins and the oat go in all at the same time. I told you I wanted to keep this recipe easy. You will want to mix these in on low so the mixer does not beat up these ingredients too much.
Scoop. I recommend using a heaping ¼ cup of dough per cookie. This yields amount 12 cookies.
Bake. The bake time is about 20-25 minutes. Let them cook almost completely on the baking sheet so they do not fall apart.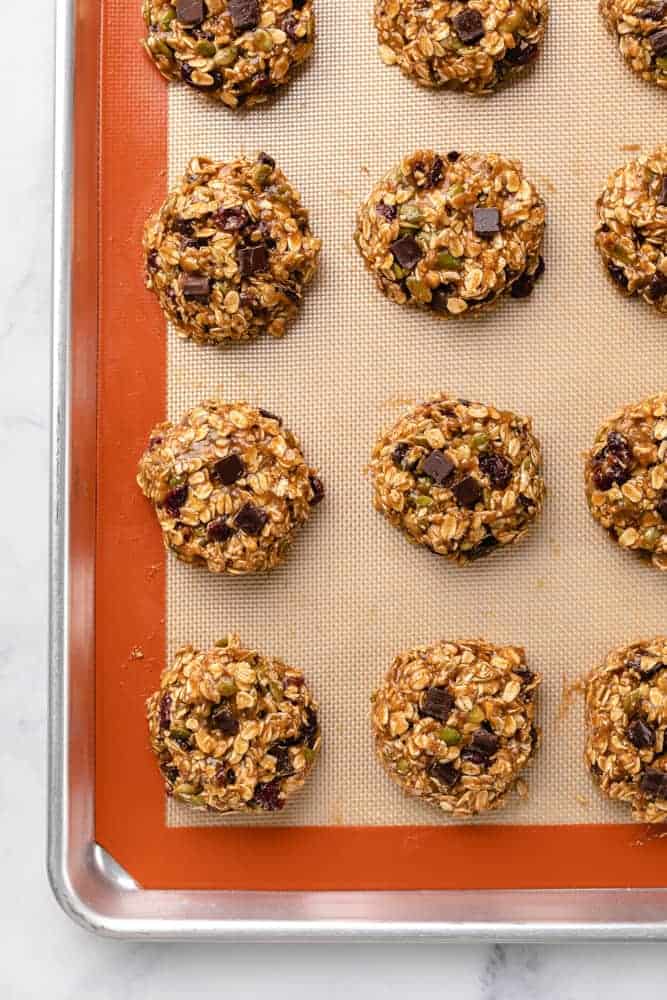 ---
Make Ahead & Freeze
If you want to prepare these breakfast cookies for multiple weeks or multiple people, you can easily double or even triple the recipe. Make sure you prepare lots a few baking sheets (one baking sheet per recipe). Each recipe yields 12 cookies.
The cookies need to cool almost completely on the sheet. Once they have cooled they won't stick together as much. Refrigerate the cookies overnight. Place all of the banana oatmeal cookies into a large baggie and store in the freezer for 1-2 months.
When you are ready to eat the cookies, pop one into the microwave for about 45 seconds. You can also pull multiple cookies out of the freezer and thaw them overnight in the fridge.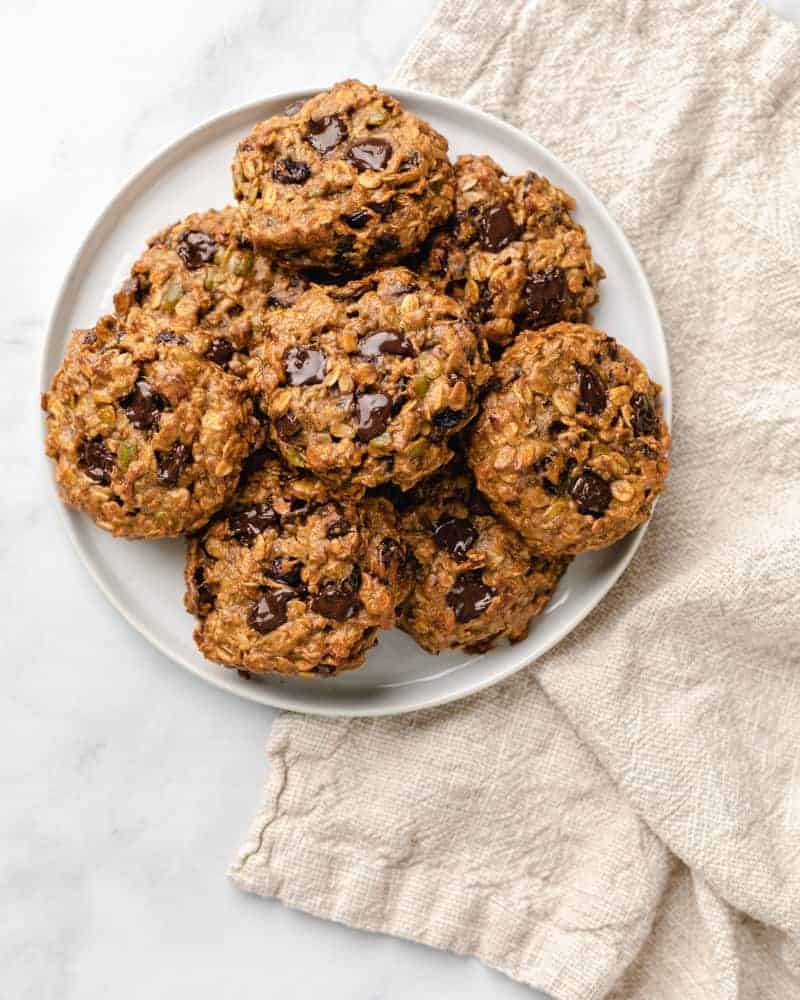 ---
Customizations
Do you have a nut allergy? You can replace the nut butter for granola or seed butter. Sunflower butter is a great option! Here is a great article with nut free butter recommendations.
No collagen, no problem. The collagen powder is a totally optional add in. You can add any powder that you like such as maca powder, or ground seeds. You can also omit the powder completely.
Any nut, seed, or dried fruit will work. Use what is in your pantry! If you don't have pumpkin seeds, use chia seeds or hemp hearts. You can also swap them for your favorite nut. The same goes for the dried cranberry.
Chocolate chips are optional (kind of). You don't have to use any chocolate in this recipe, but I highly recommend it.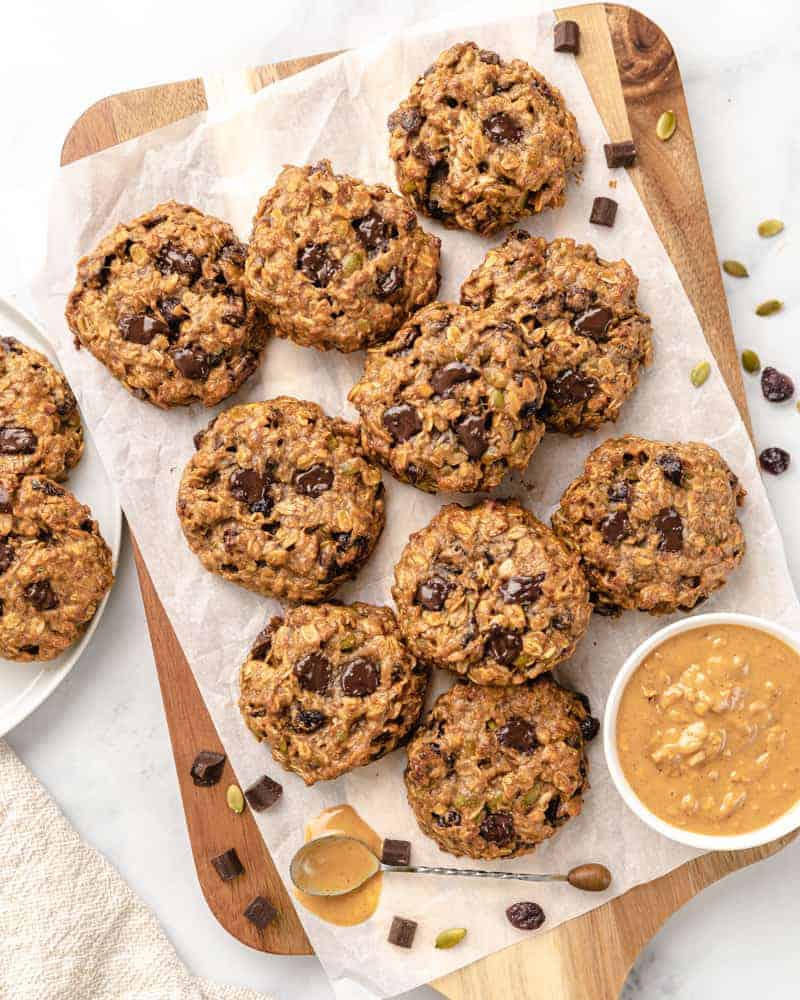 ---
More tasty morning treats: