It has officially (almost) been one month of blogging! I have learned so much and had so much fun along the way. So in today's post I want to share with you my current stats on each platform, blogging income report, my tips, and my goals for November.
I plan to do a recap and blogging income report each month. Let me know if you like this or have any questions in the comments below! I would love to chat with my fellow bloggers and curious subscribers. Now let's dive it!
Current Stats
All stats tracked on November 4th.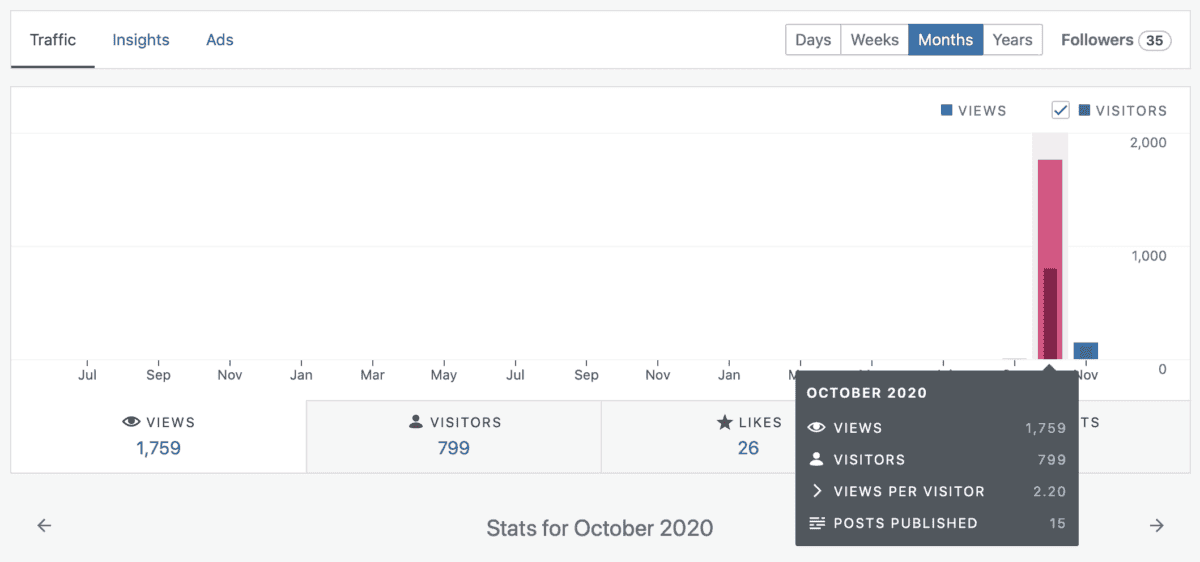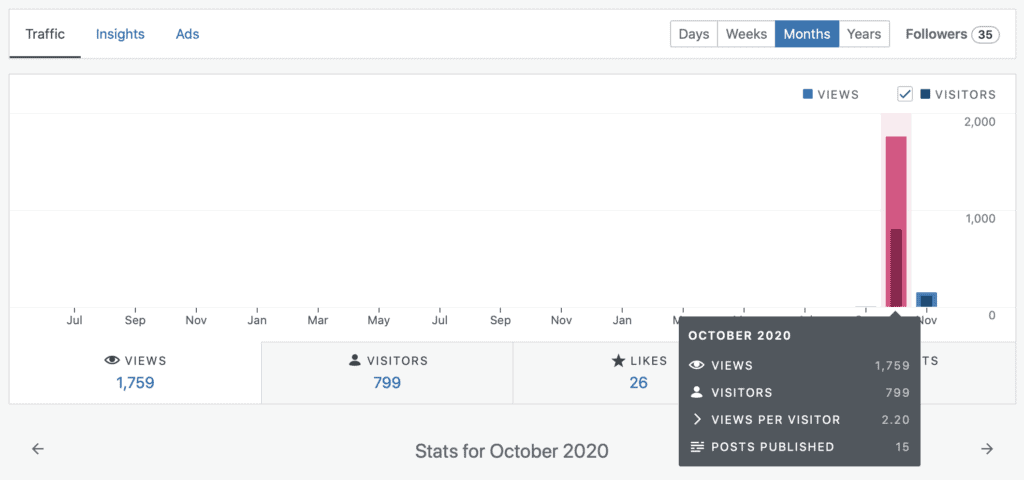 Blog
Instagram

First Post: July 9th
Total Posts: 114

Facebook

First Post: September 30th
Followers: 90

Pinterest

Total Pins: 17
Followers: 30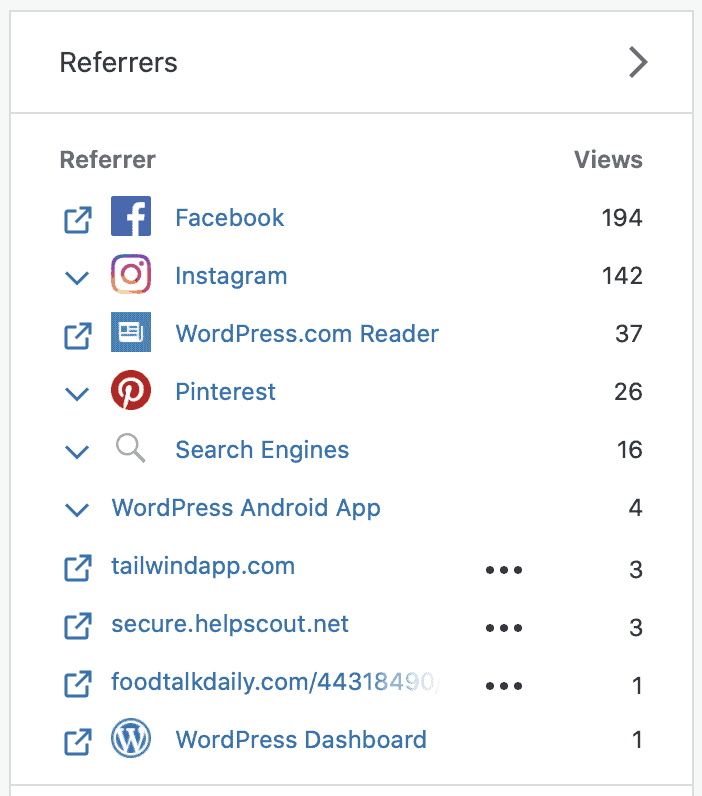 WordPress shows you the "referrers" for your website. This metric tells you where your blog traffic is coming from. Facebook was where most of my blog traffic came from. I suspect this is because on Facebook users can directly click on the link when viewing the post. Instagram only allows one clickable link in the bio (and swipe up story links once you hit 10K followers) which makes it harder to drive traffic.
Pinterest (from what I have read) is one of the best places to drive traffic to a food blog. Many people look for recipes here. So if you are new food blogger, spend some time reading some of these articles below.
Blogging Income Report
I want to preface this section with a few thoughts. When I say "blogging", I mean food blogging specifically, as this is the niche I am familiar with. It takes a lot of time to make money from a blog. It is not easy and in my opinion it is not about luck. There is a lot of strategy involved, which I will elaborate more on later. Lastly, while these numbers are small, they are representative of growth and potential to me. Let's take a look at my October blogging income report.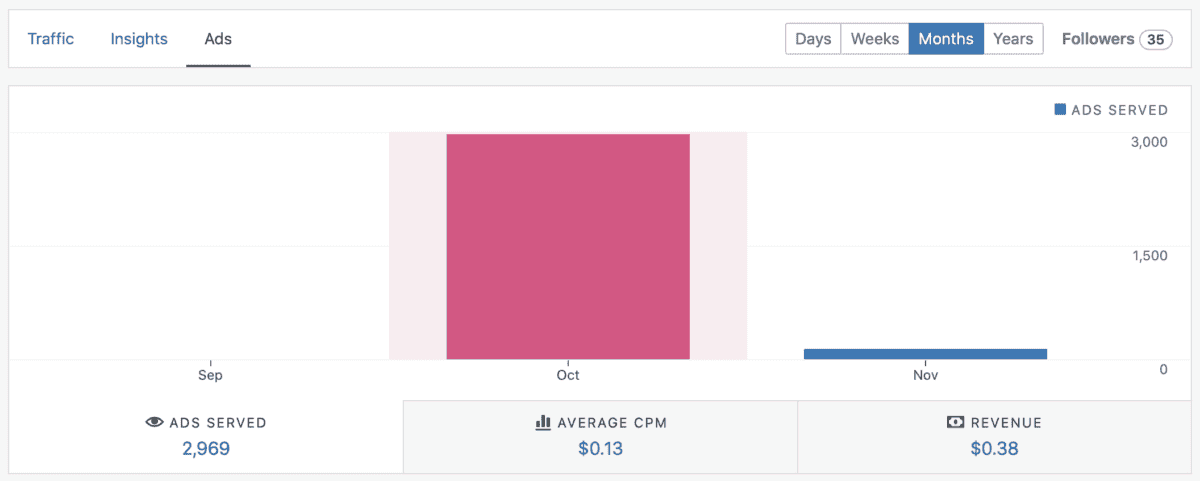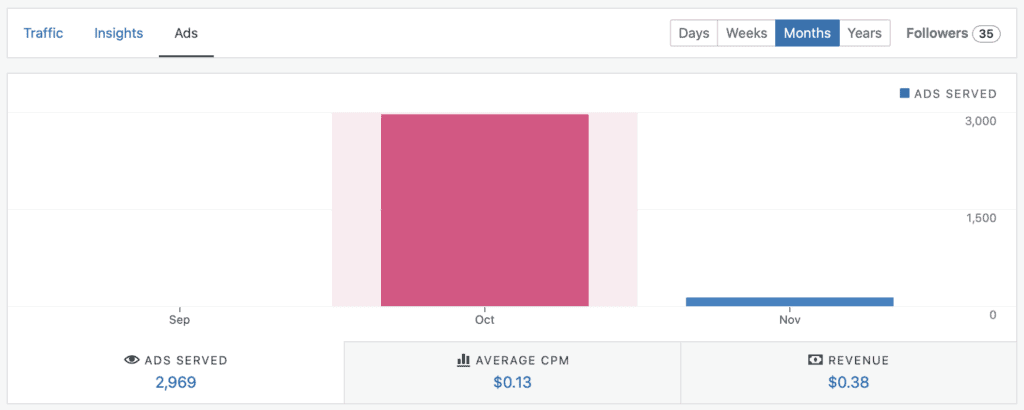 Blog Ad Revenue ($.38). Wow this number is so incredibly low. As you can see in the figure above, almost 3,000 ads were served to viewers on my blog (which in my new blogger mind seems like a decent number). This goes to show how many views/viewers/ads served you really need to make substantial income from a blog. The benefit to this income stream is that it is passive, meaning it works in the background to make money without requiring me to be actively doing something like selling a product, creating sponsored content, pushing an affiliate link, etc.

How can we increase this number? The simplest and most obvious answer is to increase traffic. This can be done by gaining more followers on other social media platforms, which as you saw above is what drove the current viewers to my site. There are also services like Ezoic, Mediavine, or AdThrive, which from what I understand you pay to place ads on your site. The results are typically increased ad revenue. The catch is they all have requirements for how many unique viewers you need to have per month to be eligible for their service. Read more about these types of services here.

Affiliate Links/Commission ($3.68). Once again, not much here. This commission was earned through one brand I worked with who offered me a discount code to give to my followers. I will never accept a commission based form of payment again for a sponsored post, as it equates to next to nothing for small influencers (I could talk a lot more about this in another post). Amazon affiliates paid out nothing, despite the four purchases people made using my links/storefront.

How can we increase this number? It is a similar story to the one above. More followers = more people clicking & buying = more money. There are some really great courses out there regarding affiliate income, like this one.

Sponsored Instagram Posts ($100). Or I should really say post. I am creating a sponsored static instagram post for a brand this month for $100. This includes one Instagram story to drive traffic to the post, and that is it. I am not developing a recipe or creating a blog post based around this product. I am simply incorporating it into one of my already scheduled posts. Based on the time it takes me to create content, this is the base rate I charge. I encourage you to not work for free!

How can we increase this number? Be persistent. Many brands reach out wanting content produced/advertising in exchange for free product. Say no! Even if you are not charging much, it is the principle that counts in my book. I also don't follow the One Percent Rule, or the idea that you should charge $10 per 1,000 Instagram followers.
My Tips
Be consistent. Post everyday on all of the social media platforms that you use. You can even set up automatic sharing between them. Blog traffic increases with number of posts created per week. My current goal (and from what I have read is a good number) is to post 4 new blog posts each week.
Be patient. It all takes time. Gaining followers organically is a slow process. Blog traffic ebbs and flows and should slowly trend upward over time. The key here is time. There is no quick fix or way to make over 6 figures blogging per year overnight.
Invest in your brand. Spend money on things that will help you make money. If blogging is strictly a hobby, then do not worry about investing. However, if you are wanting to make a career out of everything we have discussed, you have to invest. Things I have spent money on include my website, my equipment (props, backgrounds, reflectors/diffusers), Canva, and most obviously, groceries. In the grand scheme of things, blogging is a low overhead business, especially in the beginning.
Take courses, read, and learn. There are so many FREE resources out there about starting a blog and learning to blog. Spend time reading and learning from other successful bloggers. A few (paid) courses that I want to take include:
Making Sense of Affiliate Marketing
Allocate time. I easily spend 8+ hours per day working (emails, Instagram, creating/pinning Pins, Facebook, writing blog posts, recipe development, cooking, cleaning, taking photos, website work, and so much more). Blogging is currently my full time gig. This is the number one reason (in my opinion) bloggers fail. They give up on the time commitment it takes to create a successful brand.
Goals for November
Grow my Instagram audience by 1,000 followers.
Add a shop page with affiliate links to my website.
Post 4 times per week on the blog.
Land a couple more paid partnerships.
Take one of the blogging courses I mentioned above.
I will report back in December and let you know how things went!