This Buttermilk Ranch Chicken and Dumplings stew is creamy, tangy, herbaceous, and the perfect one pot dinner. The dumplings are salty, light, and biscuit like (they will melt in your mouth). The chicken stock is packed with aromatics, and the chicken is so tender. The wine and buttermilk add an extra tang, and amp up the richness.
Since the temperature has dropped, all I am craving is soup, or stew. Anything that is served warm, only takes one pot, and cooks all day is what I am all about in the fall. Simmering allows plenty of time to develop rich flavor. You really can't beat it!
Chicken and Dumplings is a southern dish (no surprises here). As a Texas girl, I love elevating traditional southern cuisine. Often times, this means balancing out rich and fatty flavors and bringing in some freshness though herbs and vegetables.
If you like this recipe, you would love my crispy chicken tender dinner salad, or my instant pot pulled pork!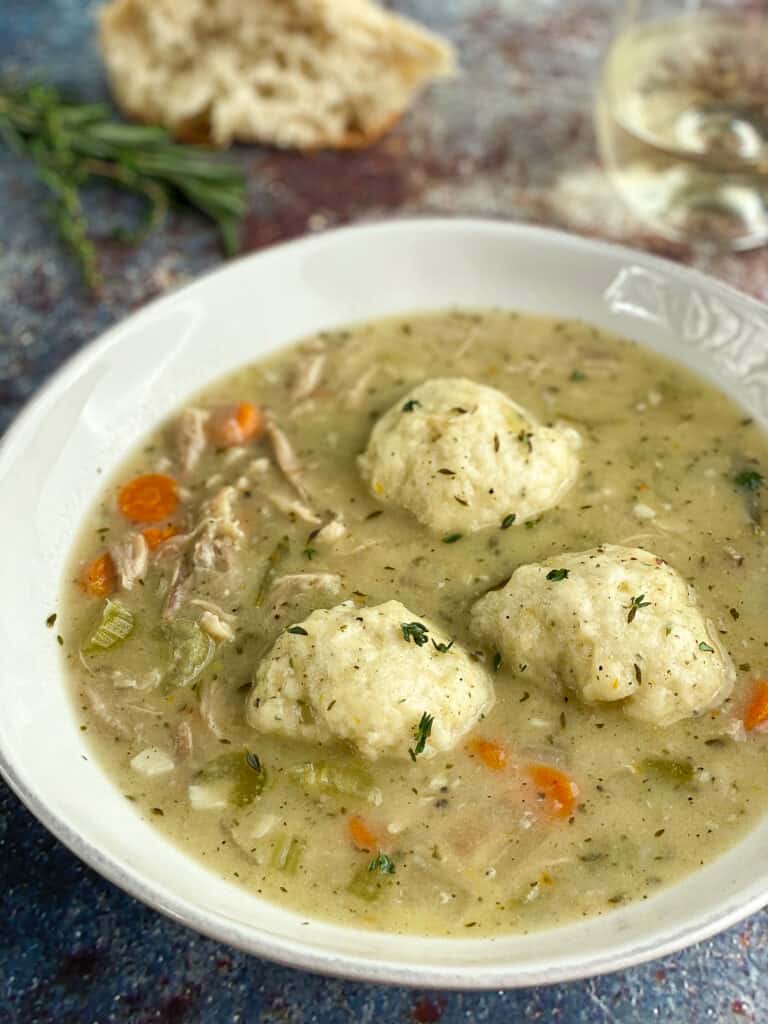 Inspiration for Buttermilk Ranch Chicken and Dumplings
Oh, ranch. My first true love. I am not a condiment person. Not a fan of mayo, ketchup, mustard, relish, etc. Condiments always have just kind of grossed me out (not sure why). So as a kid, I was apprehensive of trying ranch. I can still remember the first time I tasted it. It was served at a local restaurant with some cheese fries. The rest is history.
I am always brainstorming new and unique recipes. My process for this involves a few different questions for myself. Which season is it? What flavors, fruits, vegetables are in season? What dishes am I craving? I try to think of a new a spin to put on popular dishes. I also like to see if anyone out there has created a dish like my idea and if not, we have a winner!
This is pretty much how I came up with this chicken and dumplings recipe idea. I absolutely love the ranch flavors, herbs, buttermilk, tanginess, and savoriness. I wanted to incorporate them into a warm, and hearty soup. Chicken and dumplings is the perfect vessel for all of these yummy flavors.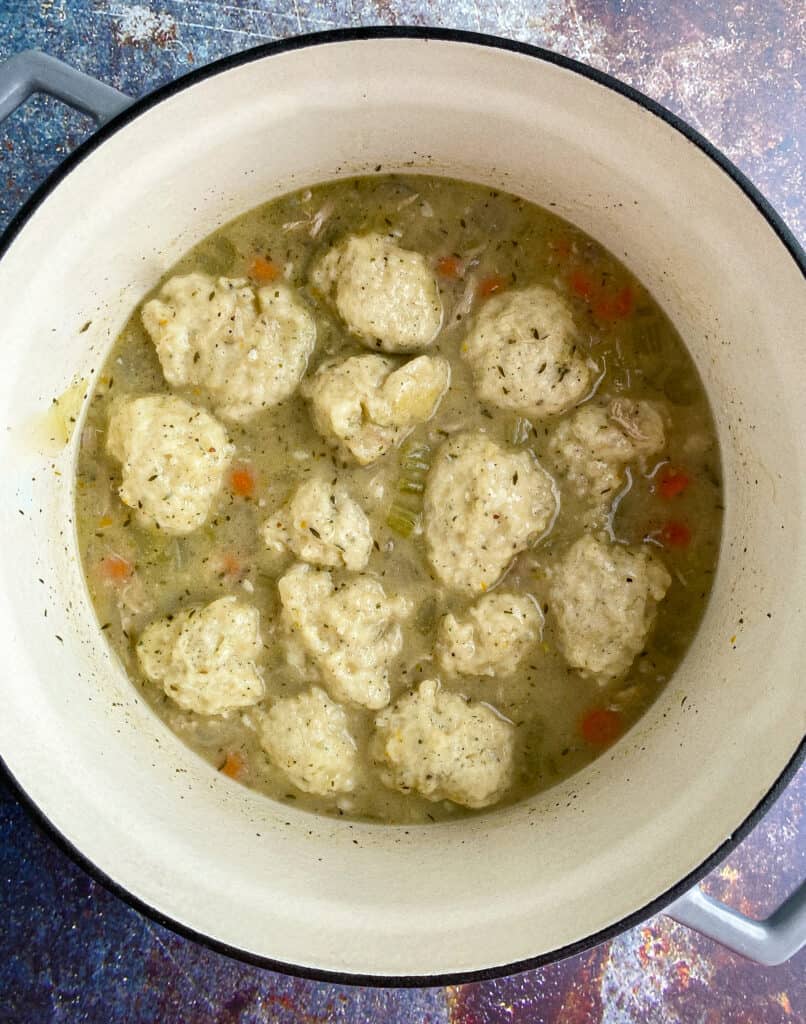 Let's Get Cooking
Cook the chicken. We are going to boil our chicken thighs with some salt and pepper. This is going to make the chicken super tender and easy to shred. This also starts developing the base of the chicken stock.
Sauté the aromatics. We will add in the garlic, carrot, celery, and onion, and lightly cook the vegetables in some butter.
Add in the broth and wine. We are going to add the wine, broth, herbs, and seasoning. Let it all simmer! This is where the flavor will really begin to develop.
Prepare the dumplings. Whisk the dry ingredients together and stir in the buttermilk and butter.
Drop the dumplings. Using a spoon, scoop about 1 ½ tablespoons of dough out. Using your finger, remove the dough from the spoon and drop it into the boiling soup.
Finish it off with some buttermilk. Stir in some extra buttermilk to thicken the soup and add some richness.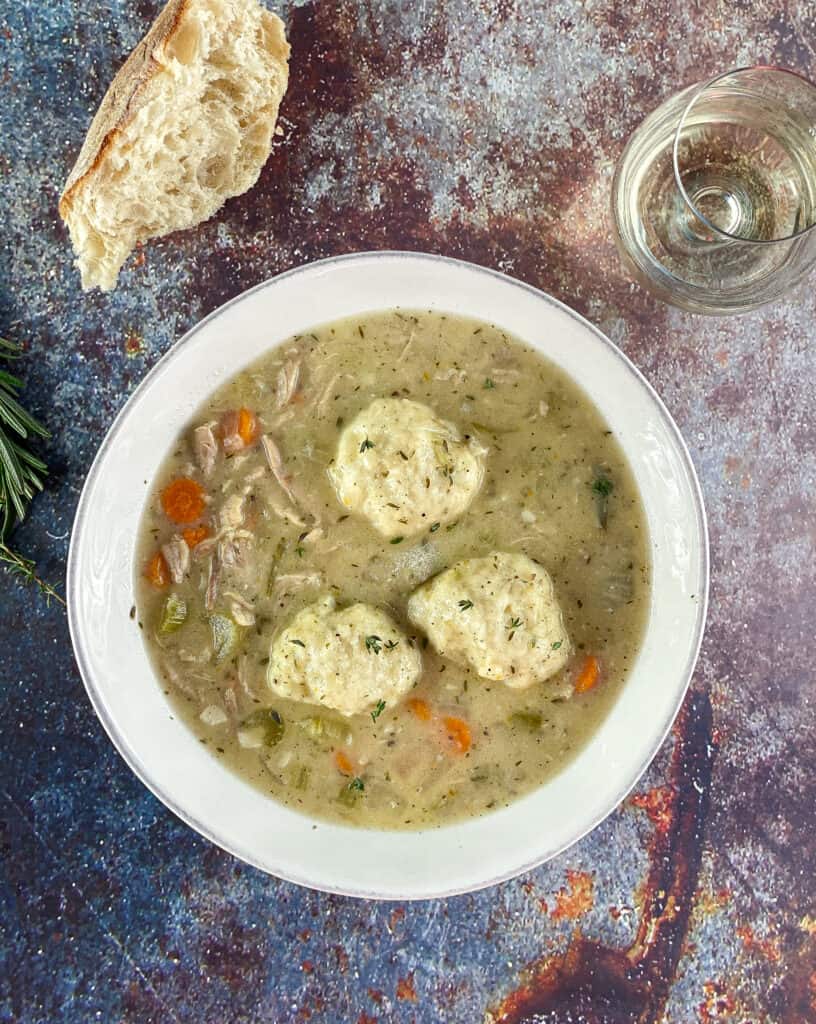 Tips for Making the Best Chicken and Dumplings
Develop a flavorful stock. Flavorful is developed through the use of aromatics, but also with time. Do not rush the soup. The longer it cooks, the better! If you have time and want to amp up the flavor, let the soup simmer for 45 minutes to 1 hour (step 3 below).
Do not overwork the dumpling dough. Mix the dough until just combined. Do not worry about the shape when you are dropping the dumplings in.
Do not overcook the dumplings. The dumplings do not take long to cook. If they are cooked for too long, they will fall apart. I recommend dropping them just before you are about to serve the soup.
Add the wine and buttermilk. These add a nice tanginess which balances out the richness and savoriness of the soup dumplings.
Taste the soup right before you add the dumplings. Adjust the salt and pepper if needed at this point. Once you add the dumplings, it will be harder to stir in salt or pepper.
Use a chopper. This will speed up your prep and ensure inform knife cuts.