This Cast Iron Pizza with Italian sausage, onions, and creamy tomato sauce is quite irresistible. It is my absolute favorite combination of toppings because it is simple, salty, hearty, and a little sweet. I love topping this pizza with lots of fresh basil. It is one of my favorite dinners.
My favorite pizza topping is probably these sweet caramelized onions. I think it is the contrast of flavor that they create. The sauce, meat, and cheese is all very savory and salty. The sweetness of the onions pair perfectly with any of your favorite pizza toppings.
I also like to keep my pizzas simple with only a couple of toppings. I find the flavors to standout more and the dough doesn't get soggy.
This cast iron pizza is perfect to serve with a light and fresh salad, like my Kale Salad with Parmesan & Shallot Dijon Dressing.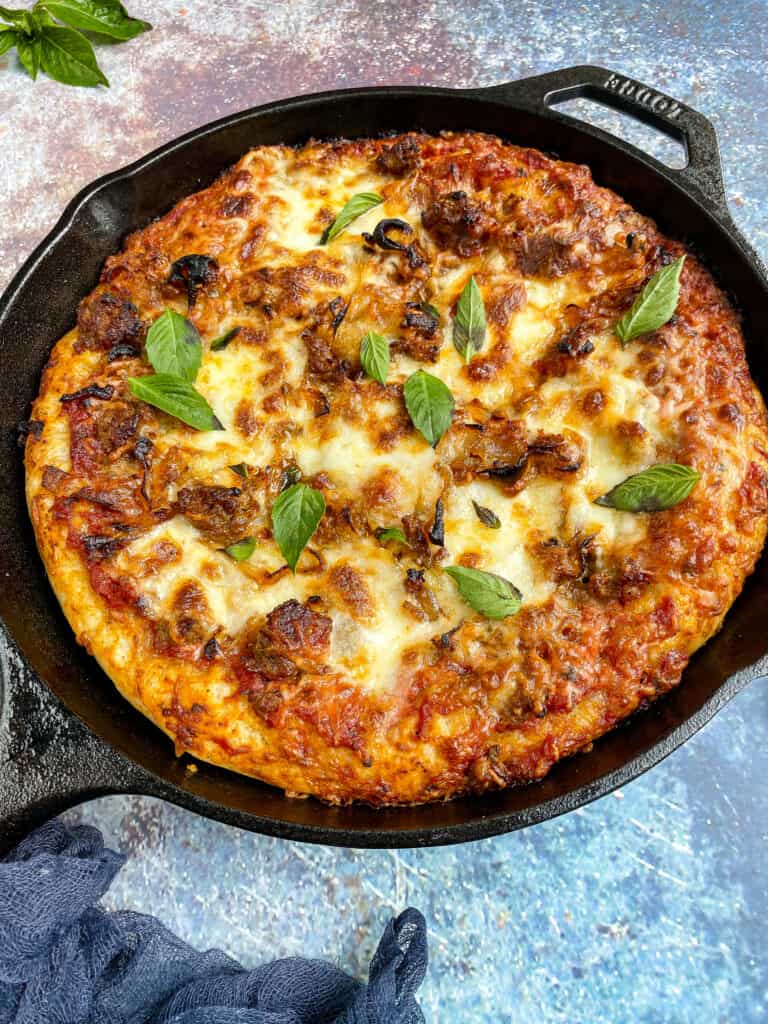 Why Cast Iron
Cast iron retains heat extremely well. Restaurant pizza ovens get much hotter than a household oven. We want to try and emulate this environment. The cast iron pan will maintain high heat on the bottom and sides of our pizza crust.
The pizza won't stick and should easily come out of the cast iron skillet.
The cast iron pizza crust will be extra crunchy on the outside but still soft and and chewy on the inside. It is my favorite at home pizza cooking vessel.
This is the cast iron skillet I use and absolutely love! It has about a 10 inch diameter and comes pre-seasoned. This is extremely important. Make sure the cast iron dish you are using is seasoning properly. Check out this article for more info on seasoning!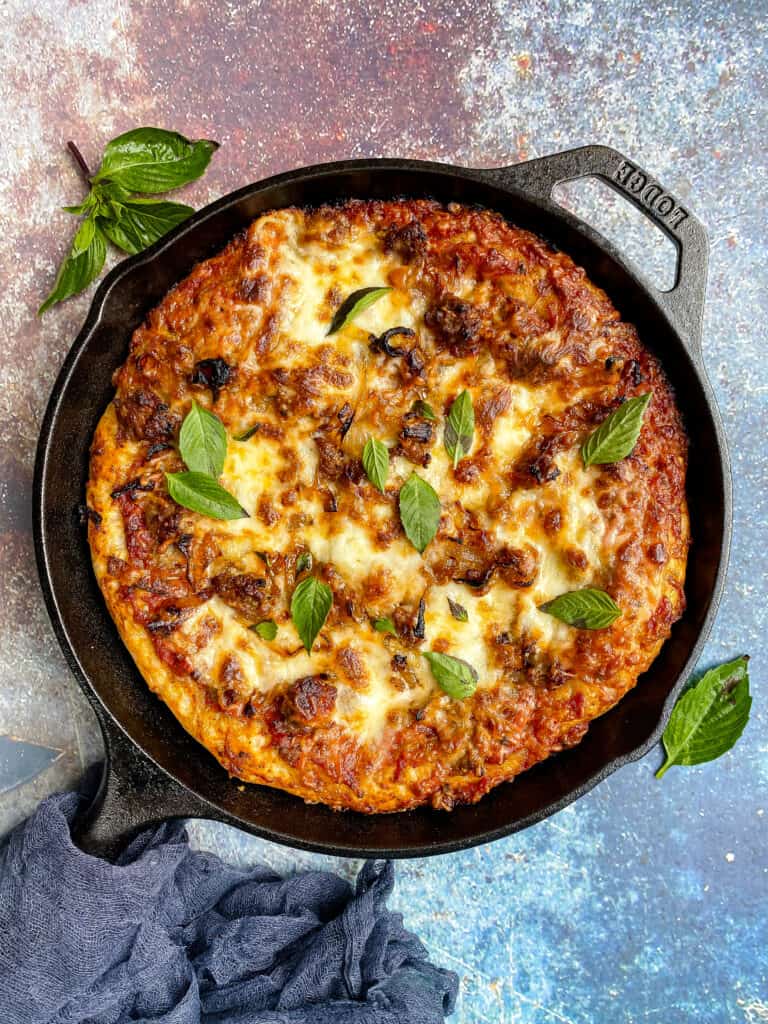 Tips for Making the Best Cast Iron Pizza
Use bread flour. Bread flour produces a chewier and more restaurant style pizza crust. All purpose flour can be substituted but it will produce a softer crust.
Don't add too much flour. The dough will be pretty sticky. It will stick to the paddle or dough hook and your hands. That is totally okay! If you add too much flour, the dough will not rise as well.
Find a warm place for the dough. Whether you use your oven or a warm sunny window sill, find somewhere warm for your dough to rise.
Don't overwork the dough. After you punch down the dough, you will need to form it to the shape of the skillet. I do not like to roll the dough out or overwork it. You do not want to lose all of those air pockets.
Let the dough rest. If you are having trouble stretching the dough, let the dough rest for about 5-10 minutes. Then continue to stretch it. It does not have to be perfect. The more you press and play with the dough, the tougher it will become.
Let the sauce simmer. I like to let the sauce simmer for a bit so that all of the flavors can deepen. I do not recommend just combining the tomatoes and seasonings in a cold bowl.
Don't under bake. You want to make sure the dough is cooked all the way through so that the crust is nice and crisp. I would err on the side of baking a couple minutes longer versus a couple minutes less.
Let's Get Cooking
Make the dough. We will make the dough in the stand mixer. First things first we have to make sure our yeast is active by combining it with some honey and warm water. Next we will add the seasonings and the flour. Lastly, we need to knead the dough.
Let the dough rise. The dough will thrive in a warm environment. I highly recommend using your oven. If you live somewhere where it is currently warm, leave the dough right near a sunny window.
Transfer to the skillet. Make sure the cast iron skillet is well greased with olive oil. We will then transfer the dough to the skillet and begin to stretch it to the size of the skillet. The dough will want to keep shrinking. Let it rest for a few minutes and then continue to stretch it.
Sauté the onions. The caramelized onions are one of the best parts of this pizza. We will sauté them with some salt, pepper, and brown sugar.
Make the sauce. We will make a simple tomato sauce by simmering some spices and crushed tomatoes. You can also use your favorite jar of pizza sauce (see my variations section).
Cook the sausage. We want to pre-cook the sausage before it goes in the oven to make sure it is cooked all the way through.
Finish the sauce. We will finish the sauce with a little heavy cream (because this is how all of the best things end).
Assemble the pizza. This step is pretty self explanatory, but we need to layer all of the toppings. I start with the sauce (of course), then add the onions/sausage, and lastly the cheese.
Bake and cool. We want to bake this pizza for about 30 minutes. The top should be bubbly and golden. Finish with fresh basil leaves.
Cast Iron Pizza Variations
Use store bought dough. You can use pre-made raw pizza dough. You will want about ¾ - 1 pound of dough. Whole Food's and Trader Joe's both sell pizza dough in the refrigerated section. Some local pizza places will even sell their pizza dough to you to cook at home. This is a great option, especially if you are short on time!
Use your favorite jar of tomato sauce. If you have a jar of pizza sauce or marinara that you love use that instead of making your own. Omit the crushed tomatoes and seasonings and use 1 cup of the jarred sauce. Make sure you don't skip out on the heavy cream!
Swap the cheeses. Use whatever your favorite cheeses are. I personally like a mix of fresh mozzarella and shredded. Parmesan or goat cheese is also a great addition.
Swap or add different toppings. Use whatever meats and vegetables you like. The Italian sausage adds tons of flavor so it is my personal favorite. The caramelized onions add a touch of sweetness that pairs really well with the sausage. You can use pepperoni, ground beef, ham, bacon, etc. You can also sub the onions with sautéed mushrooms or spinach. Have fun with the toppings. My only recommendation is to not overload the pizza with too many toppings because the dough will end up soggy.
Use a baking dish instead of a cast iron skillet. Even though I highly recommend using a cast iron skillet (like this one), you can use a square baking pan (8 or 9 inch). You can even bake this pizza on a pizza stone, pizza pan, or baking sheet. But like I said, cast iron is the best option!