This Cauliflower Gnocchi Soup is the perfect healthy and hearty winter weeknight dinner! All of the nostalgic flavors of traditional chicken noodle soup meet a Trader Joe's fan favorite, the cauliflower gnocchi. Plus it couldn't be any easier to make, coming together in only about 30 minutes.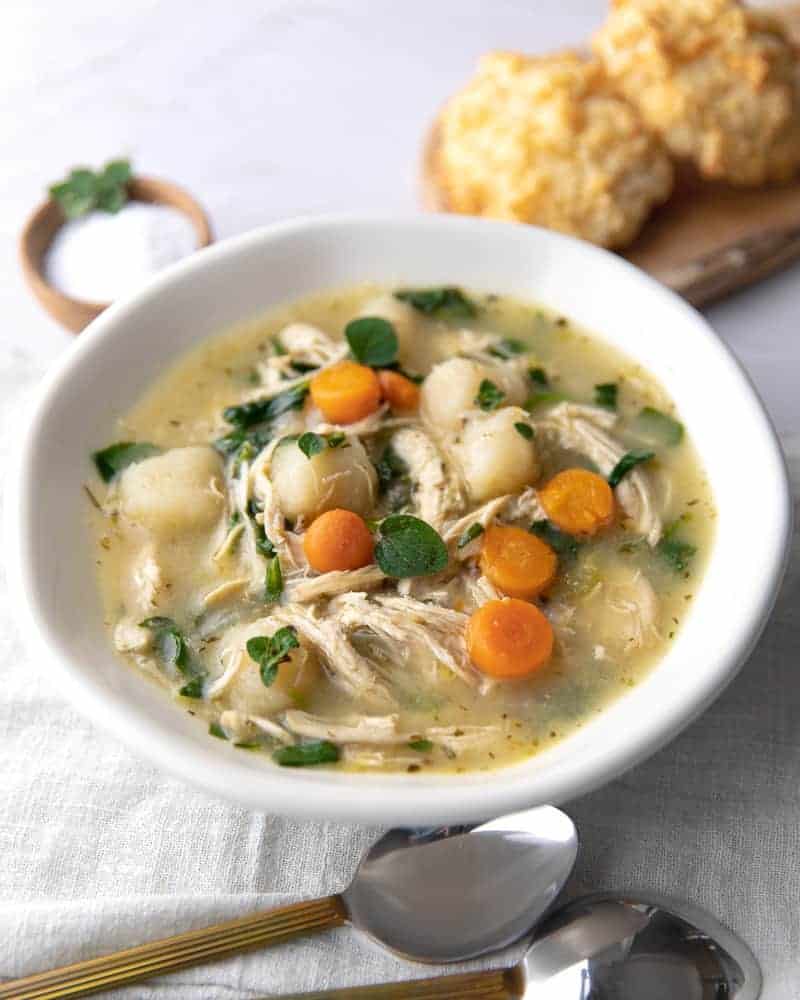 I know Trader Joe's cauliflower gnocchi is nothing new but I have been obsessed with it since the first time I gave it a try. I figured it was time I finally incorporate it in a recipe. And what better time than when everyone is on their New Year's health kicks!
Health aside, these gnocchis taste amazing. They are a great pasta alternative! Texturally they are more like a dumpling so they are a nice way to mix things up. They hold up great in soup (better than noodles in my opinion).
This is the perfect light and healthy meal for when you are craving some veggies, have come down with a cold, or are just looking for a flavorful and easy dinner. This chicken cauliflower gnocchi soup will do the trick!
Why You'll Love Chicken Cauliflower Gnocchi Soup
Here are a few of the reasons why I love this chicken cauliflower gnocchi soup. I wanted to create a soup that was a play on traditional chicken noodle soup but a little more nutrient dense and little more flavorful.
SO easy & quick (less than 30 minutes start to finish)
Great for meal prep
Like chicken noodle soup, but better
Loaded with yummy veggies
Light & healthy
Topped with parmesan cheese
---
No Cauliflower Gnocchi, No Problem
I know not everyone has the luxury of easily accessing a Trader Joe's so if that is you, keep reading!
You can substitute the cauliflower gnocchi for any dried pasta. I recommend using about 5 ounces of dried pasta and cooking it separately to almost al dente. Then, stir in the pasta and serve.
You can cook the noodles in the soup after you pressure cook the chicken, but you will need to add more broth to the soup, because dried pasta will absorb liquid. Start by adding an additional cup of broth if you want to cook the dried pasta in the soup. You can always add more after cooking the pasta if you want more of a brothy soup.
The Trader Joe's Gnocchi is frozen and a single package contains around 12 ounces of gnocchi. You can substitute this gnocchi for your favorite store-bought package of gnocchi. I still recommend using about 12 ounces regardless of what brand or type.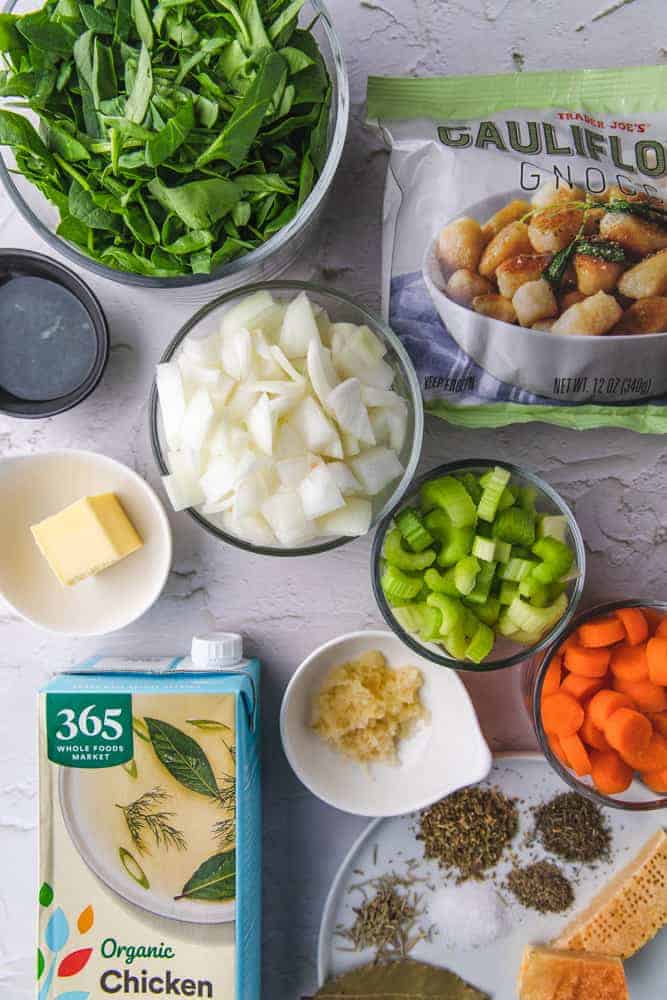 ---
How To Make Chicken Cauliflower Gnocchi Soup
This recipe really could not be easier! Here is a quick summary of the simple steps for chicken cauliflower gnocchi soup. The best part- everything is cooked in the Instant Pot! Leave me a comment with your favorite one pot or Instant Pot meal below.
Sauté the vegetables. Melt the butter and lightly sauté the vegetables. You do not want to over sauté the vegetables or they will be overcooked.
Pressure cook the chicken. It only takes 10 minutes to fully cook the chicken in the Instant Pot. When it comes out, it will be very tender and easy to shred.
Cook the gnocchi. Lastly, you just have to cook the gnocchi and wilt the spinach. This will only take about 5 minutes. See the section above if you do not have cauliflower gnocchi.
Serve with parmesan cheese and good bread. The parmesan cheese adds a nice salty bite on top. Don't skip out on it! And why eat soup without bread? I couldn't tell you! I always pick up a crusty loaf of sourdough or rosemary bread to serve with this soup.
---
Perfect for Meal Prep
This chicken cauliflower gnocchi soup tastes just as good (if not better) reheated as it does fresh out of the Instant Pot, making it the perfect option for Sunday meal prep.
This soup serves about 4 people (perfect for just my husband and me), but I know many of you are feeding a family. You can easily double or even triple this recipe. Just make sure your instant pot is big enough!
I recommend prepping this soup at the beginning of the week and storing in a couple different containers. This helps the soup cool faster and it makes it easy to just grab a pre-portioned container to heat up. I find it easier to reheat multiple portions of soup on the stove, but for an individual serving, the microwave will work just fine!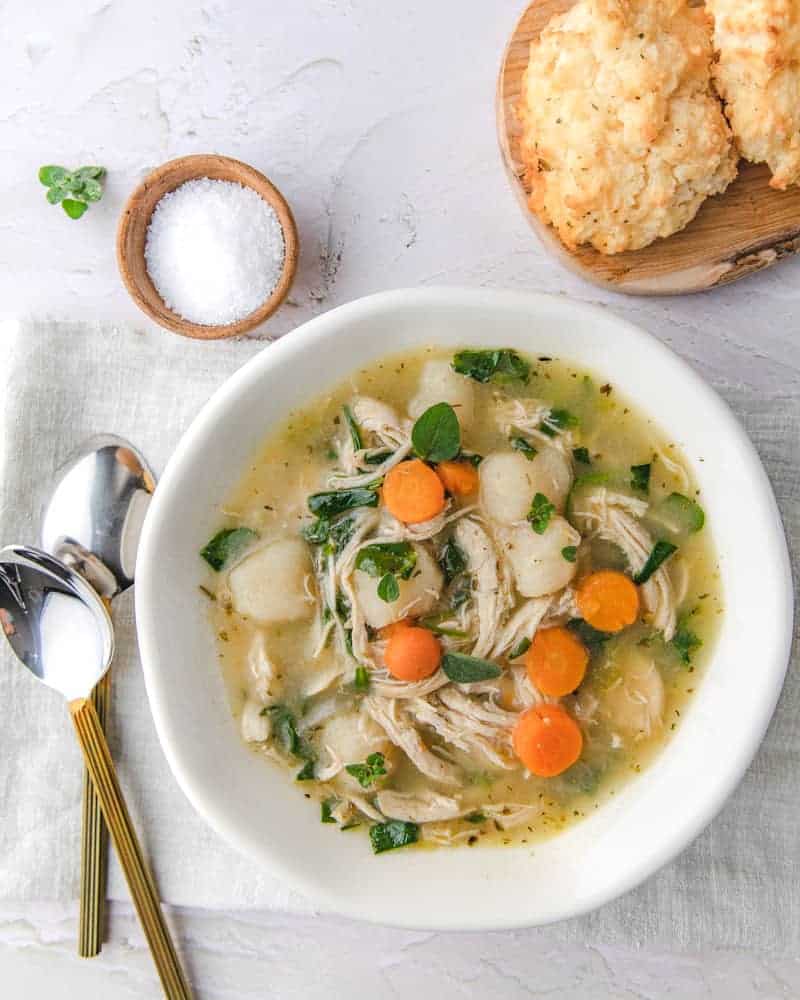 Cauliflower Gnocchi Soup
Easy, healthy, and Instant Pot friendly makes this Chicken Cauliflower Gnocchi Soup a perfect weeknight dinner or meal prep option.
Ingredients:
2

tbsp

unsalted butter

1

yellow onion

,

chopped

1

cup

carrots

,

sliced

1

cup

celery

,

diced

6-8

cloves

garlic

,

grated

1

bay leaf

½

tsp

dried thyme

1

tsp

dried oregano

½

tsp

dried rosemary

1-1.5

tsp

salt

1

pound

chicken breast

,

boneless and skinless

4

cups

chicken stock

12

ounce

cauliflower gnocchi

2

cups

spinach

,

chopped

1

tbsp

lemon juice

parmesan

,

optional
Instructions:
Turn your Instant Pot to the Sauté setting and melt the butter. Add the onion, carrot, celery, and garlic. Cook for about 1 minute.

Add the bay leaf, thyme, oregano, rosemary, and salt. Stir until the spices completely coat the vegetables.

Add the chicken breast, chicken stock, and the parmesan rind. Select the SOUP setting and HIGH Pressure on the Instant Pot. Adjust the time to 11 minutes. The pot should come to pressure in about 10 minutes.

Once the time is up, quick release the Instant Pot. Remove the chicken and shred. Remove the bay leaf and rind. Add the chicken back in and bring the soup to a boil using the Sauté setting.

Stir in the spinach and add the gnocchi. Boil the gnocchi for about 5 minutes or until cooked through.
Notes:
Cauliflower Gnocchi: You can substitute 5 ounces of dried pasta. See my section above. Chopped Spinach: You can substitute any fresh leafy green, like kale. I do not recommend using frozen spinach or kale.
NUTRITION:
Calories:
444
kcal
|
Carbohydrates:
48
g
|
Protein:
35
g
|
Fat:
12
g
|
Saturated Fat:
5
g
|
Polyunsaturated Fat:
1
g
|
Monounsaturated Fat:
4
g
|
Trans Fat:
1
g
|
Cholesterol:
95
mg
|
Sodium:
1401
mg
|
Fiber:
4
g
|
Sugar:
7
g
---