This Chocolate Microwave Mug Cake is extra fudgy and moist and the best part, it takes less than 5 minutes to make. It is perfect for those late night sweet cravings. This triple chocolate microwave mug cake is loaded with chocolate chips, chocolate syrup, and cocoa powder.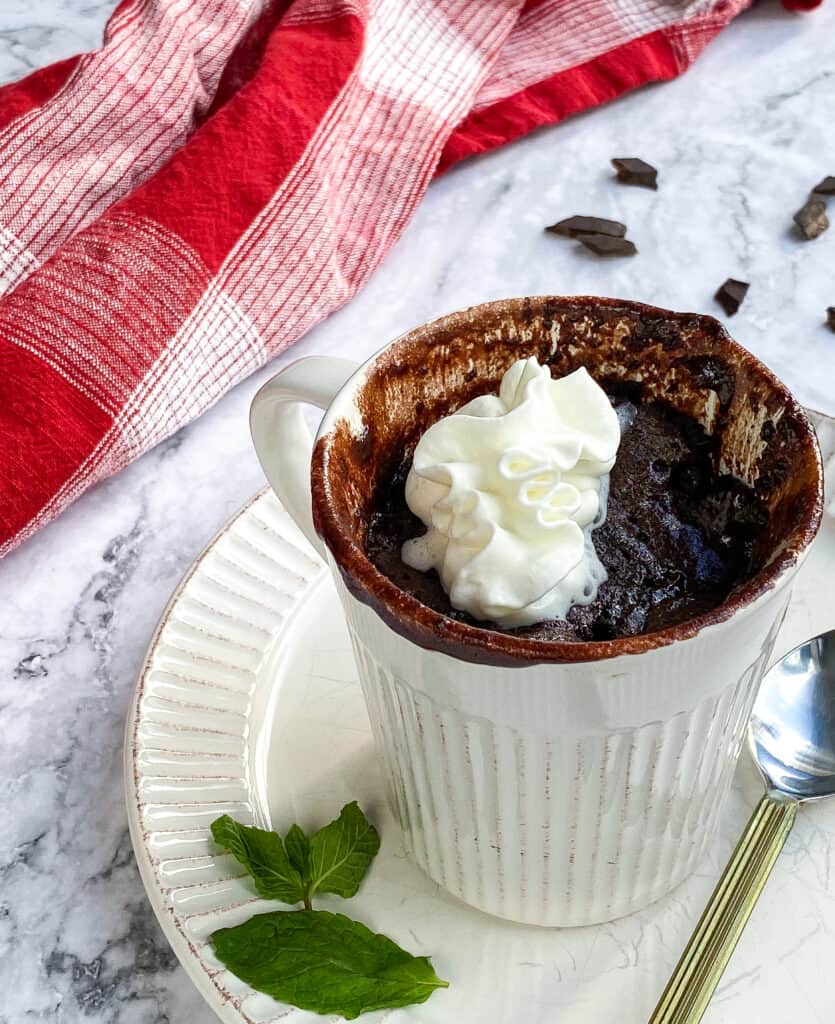 I remember as a kid having these store-bought microwave cakes in the pantry. They came in a red package and I am pretty sure all you had to do was add water to the mix. I can't really remember how they tasted, but I enjoyed them then. So I wanted to create my own single serve homemade microwave dessert.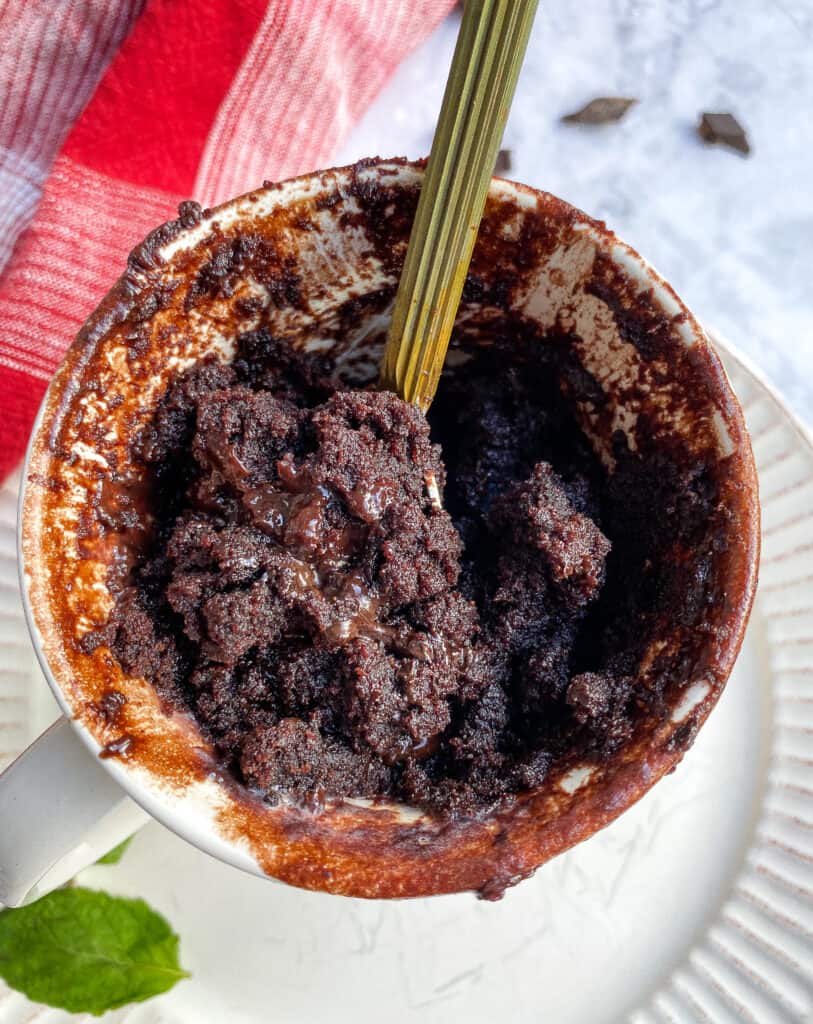 I always have a sweet tooth after I eat dinner. And thankfully, I have normally have some sort of baked good or dessert in my kitchen from recipe testing. But sometimes I am craving something super chocolatey and am too impatient to use my oven, and that's when I pull out this recipe.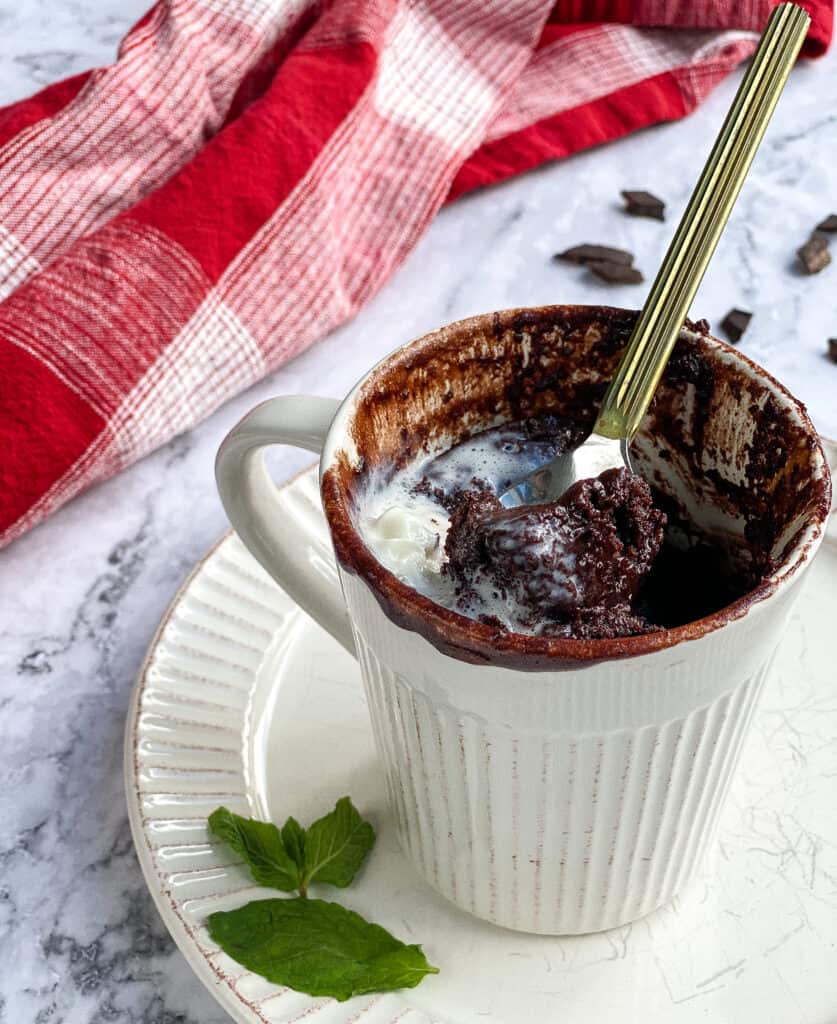 I love this triple chocolate microwave microwave mug cake for a few reasons. Number 1 cake. Number 2 the microwave. Number 3 one dish to clean. Number 4 less than 5 minutes to make. I mean come on! You really can't beat this.
If you love extra chocolatey treats, try out my Peppermint Mocha Brownies (Extra Fudgy)!
Whats in This Triple Chocolate Microwave Mug Cake
If you use dairy free milk, this mug cake will be vegan, dairy free, and egg free.
Cocoa powder. Cocoa powder adds rich and intense chocolate flavor. Make sure it is unsweetened!
Baking powder. This is our leaving agent, which helps the mug cake rise.
Instant coffee. The mix of chocolate and coffee plays so well together. The bitterness balances out the sweetness of the chocolate syrup and sugar. It gives this triple chocolate microwave mug cake a deep flavor, but does not taste of coffee.
Milk. You can use any milk you like, dairy or no dairy. I use coconut milk. Half and half will work too.
Coconut Oil. This helps add moisture to the cake and keep the texture smooth and the triple chocolate microwave mug cake very moist.
Chocolate chips and chocolate syrup. Well more chocolate, because you can never have too much chocolate! I use semi-sweet chocolate chips. Use whatever you prefer (milk, dark, or even white chocolate). Chocolate syrup adds more flavor and moisture.
Let's Get Baking
Mix the dry ingredients. Using a fork, we will mix together all the dry ingredients first.
Stir in the milk and vanilla. Using the same fork mix in the milk and vanilla. This one is pretty straightforward.
Add the chocolate and coconut oil. Lastly, stir in the chocolate chips and coconut oil.
Add more chocolate. Top with more chocolate chips and a drizzle of chocolate syrup.
Microwave. Don't over do it. We just want the cake to be barely set in the center.
My Favorite Toppings
Whipped Cream. Homemade whipped cream is my favorite. A can or tub of whipped cream works great too, especially since we are trying to keep things easy here.
Ice cream. Vanilla ice cream is a classic, but you can also mix it up. Try strawberry ice cream for a play on chocolate covered strawberries. Cookies and creme or cookie dough are also a couple of my favorites.
Salted caramel. Store-bought or homemade this stuff is addictive, espiccaly on this mug cake. Try adding a little extra flaky salt on top as well.
Hot fudge. As if we don't have enough chocolate in this dessert already, you can add extra hot fudge on top. I know those chocolate cravings hit hard. This one is incredible.