These Crispy Brussel Sprouts With Soy-Ginger Vinaigrette are crunchy, charred, sweet, spicy, and little tangy. These are super easy to make and will take your vegetable game to the next level. Topped with fried onions and salty peanuts, this brussel sprout salad is full of texture. These crispy brussel sprouts are perfect for Thanksgiving with their bold Thai flavors.
These crispy brussel sprouts will add some diversity to your Thanksgiving spread. The ginger, soy, lime, and chili are not your traditional Thanksgiving flavors, but that's what's so great! They are a great way to mix things up and bring something flavorful and fresh to the table. You could also serve my Warm Butternut Squash Pesto Orzo Salad.
My mom, aunts, grandma, and I took a girls trip to Wimberley Texas for my grandmother 75th birthday. Every time I travel somewhere new I get so excited to scope out all the best restaurants in the area. So I did my research ahead of time and I had a few places on my radar.
The Leaning Pear was at the top of my list to try. It has incredible reviews, a diverse menu, and a great atmosphere. Two of my favorite dishes were the fried brussel sprouts with Thai chile-lime vinaigrette and the kale salad with ginger, soy, fried onions, and peanuts. So I combined the two and these crispy brussel sprouts were born!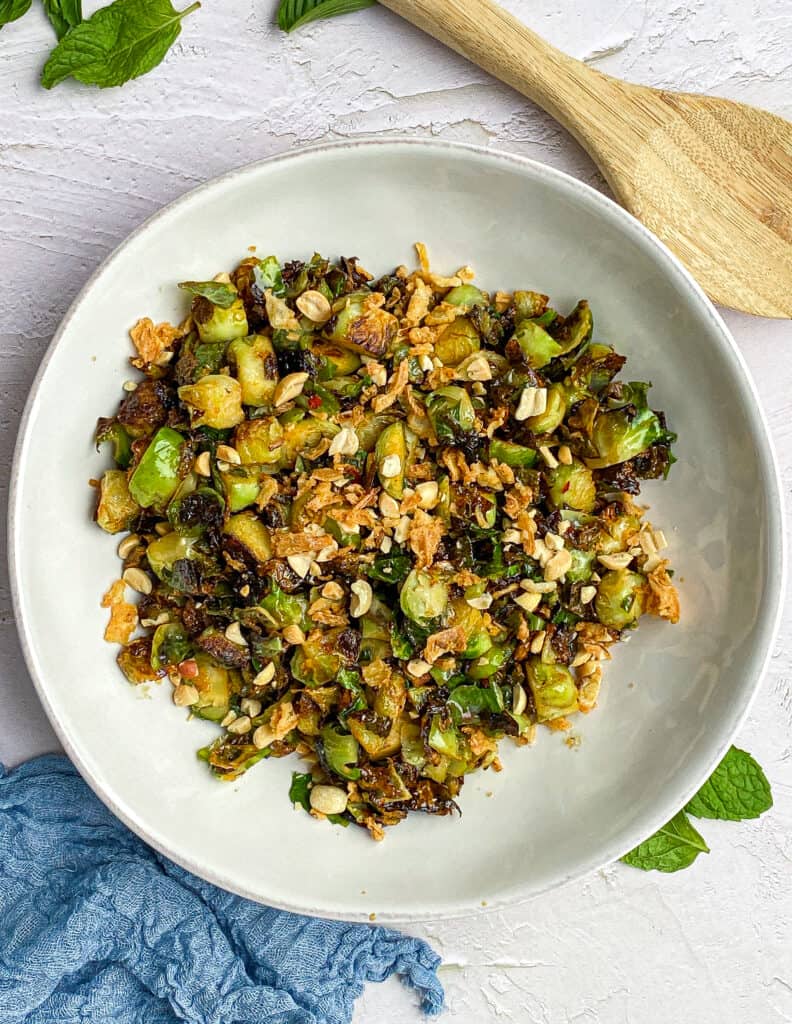 How To Prep Brussel Sprouts
Brussel sprouts come in all different forms at the grocery store. Sometimes they are on the stalk, sometimes they are taken off of it, and sometimes they are washed, trimmed, and ready to cook. It is really up to you how you want to purchase them. I tend to opt for precut/cleaned vegetables because it is a huge time saver and I find I am more likely to eat them. However, sometimes the precut brussel sprouts look a little brown so I will just prep them myself.
If you you choose to prep them yourselves, here's how.
If they are on the stalk, break each sprout off the stalk first.
Next we need to wash them. I typically put all of them in a colander and rinse them well with water.
If they were not attached to the stalk when purchased, I like to cut off the very end of the sprout (the part that was attached to the stalk). Typically these look a little brown so I just chop them off.
If there are any brown leaves or holes on the leaves, you can just pluck off this leaf.
Now we are ready to cut them. You can use a mandolin to shave them, quarter them with a knife, or use a chopper like this one to make your life super easy. I use the largest blade on the chopper.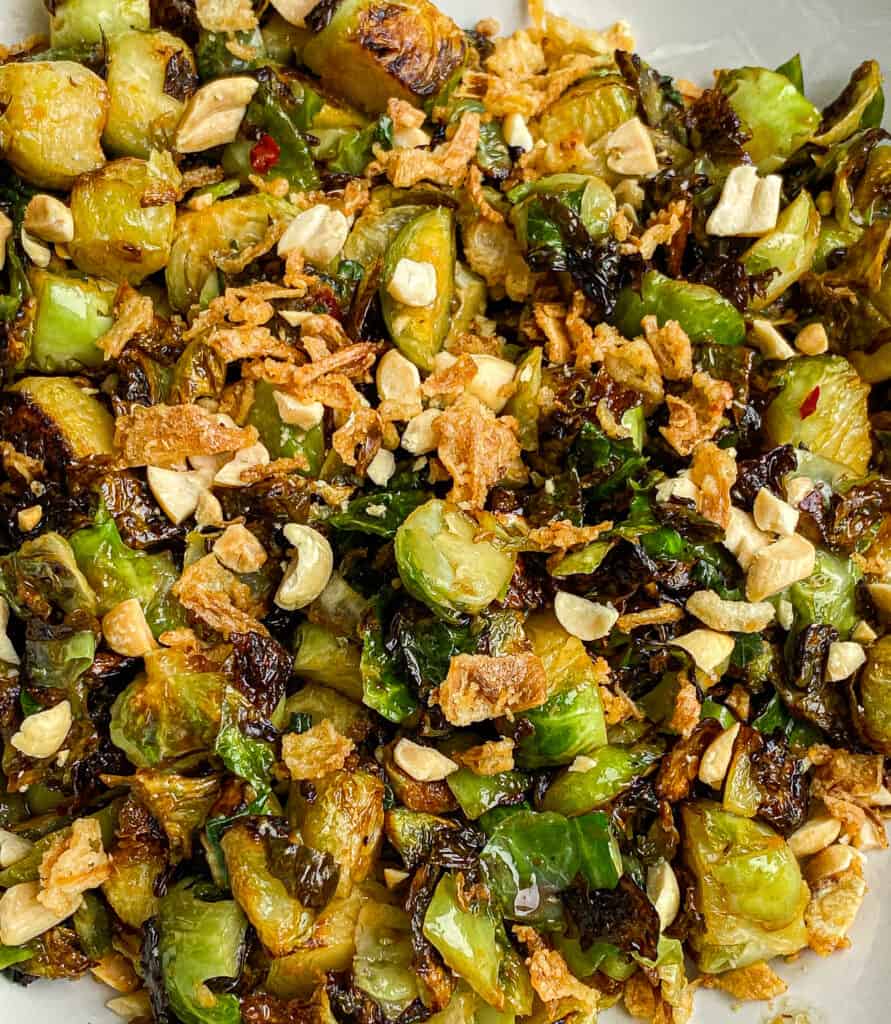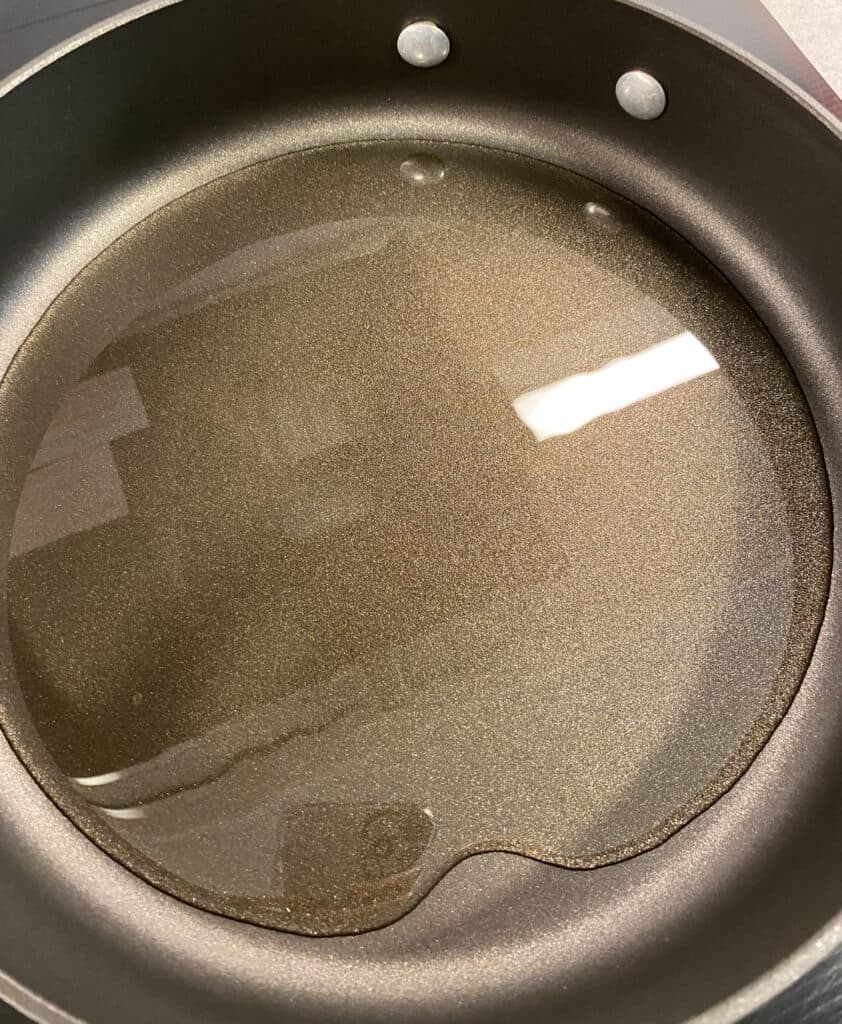 What's a Shallow Fry
I am sure you have all heard of a deep fry, well as the name implies a shallow fry is the exact opposite. The only difference really is the amount oil needed. I love this cooking method because it requires much less oil than a traditional deep fry, but it still gives you the flavor and texture of frying.
To shallow fry, you will start with a frying pan (not a deep pot). I like to coat the bottom in oil. So in a cold pan, I pour enough oil in the pan to almost touch the edges. As the oil heats up, it expands and it will coat the entire pan. The oil will be heated on high just like you would if you were deep frying. Whatever you are frying will not be completely submerged in oil but peaking out over the oil.
Tips for Making Crispy Brussel Sprouts
Make the vinaigrette ahead of time. I like to make the vinaigrette the day before so that the herbs and aromatics can flavor the liquids even more. Let it sit for minimum one hour.
Do not discard the excess leaves. When you are chopping the brussel sprouts some of the outer leaves will detach. These are the best part in my opinion because they fry up like little brussel sprout chips. So crunchy and good.
Use a heavy pan. Over the years I have realized the importance of a good quality pan. If you are trying to get color on something (meat or veg), use a cast-iron skillet or a heavy duty nonstick pan. I use and love this set.
Do not skimp on oil. When you are pouring the oil in the pan, it will feel like more than normal. A shallow fry requires more oil than a sauté. If you do not use enough, you will just be sautéing the sprouts. They will not taste as crispy.
Salt while hot. Make sure you salt generously after the sprouts are fried. The salt will stick to the hot oil.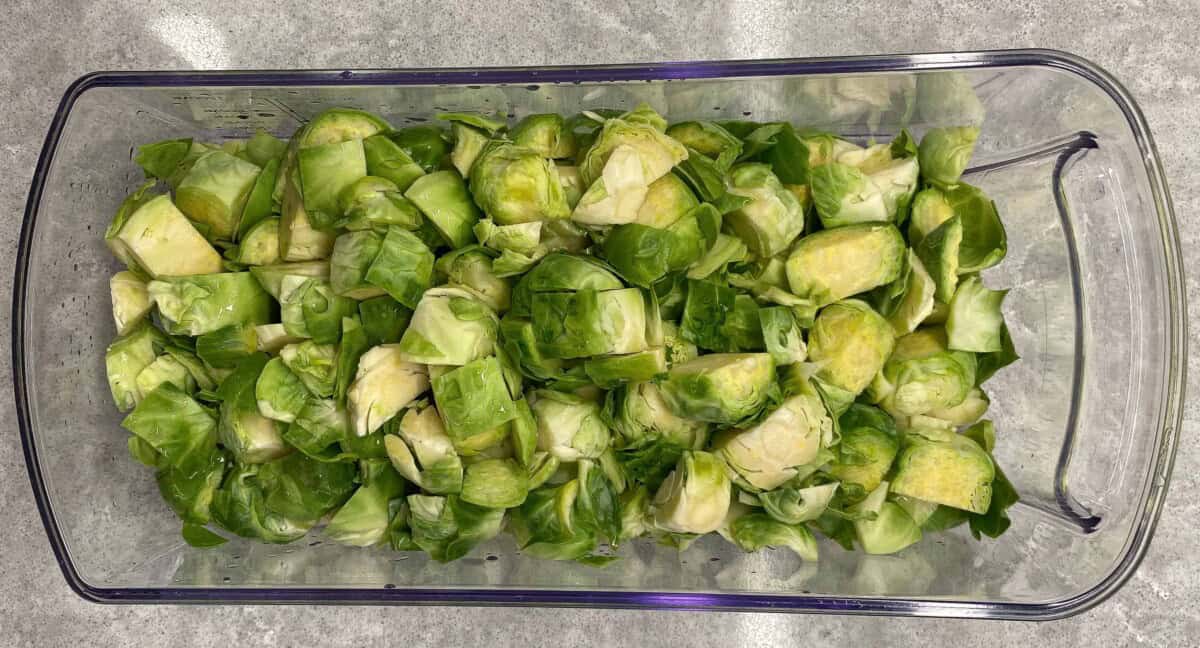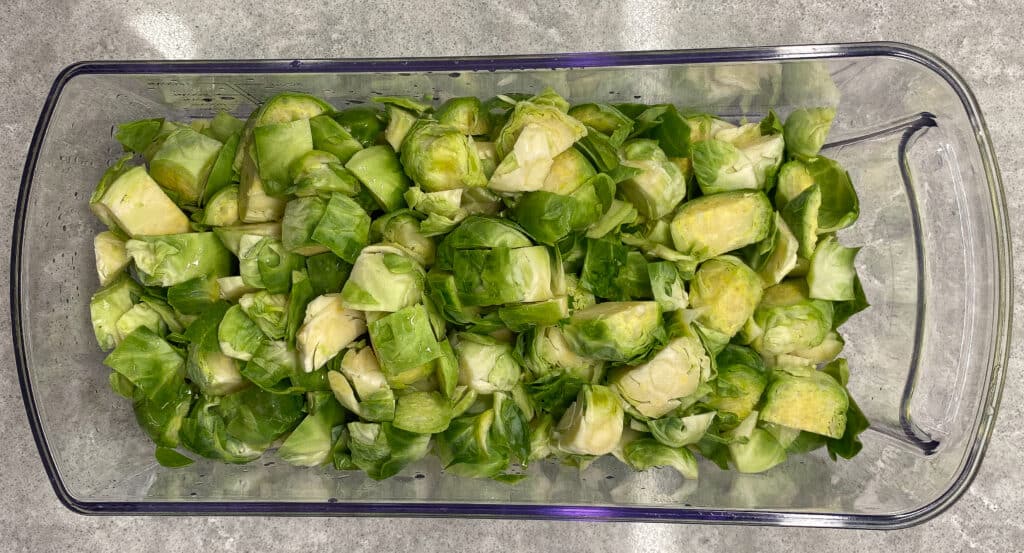 Let's Get Cooking
Prep the vinaigrette. Like I mentioned above, I highly recommend doing this the day before. Mix the soy, vinegar, lime, ginger, garlic, honey, chili, mint, and basil together and store in the fridge. No oil is needed because they will be excess oil on the sprouts.
Prep a bowl. Line a large bowl with paper towels. Keep this near by to remove the excess oil from the fried brussel sprouts.
Shallow fry the brussel sprouts. In a heavy skillet, we are going to generously coat the bottom with vegetable oil. Once the oil is hot, drop the sprouts in. Let them fry for a couple of minutes, before stirring. Watch the color. Light and dark brown is good. You do not want them to turn black.
Toss and top. Lastly, we will get rid of the paper towel. Dump in all the vinaigrette and toss well. Top with lots of fried onions (the ones that come in the container pre-made on the shelf at the store) and chopped peanuts.