These Easy Butter Chicken Thighs are the perfect hearty, and veggie filled meal to add into your weeknight dinner rotation. The sauce is rich, and full of fresh garlic, ginger, and lots of spice. This butter chicken is packed with peppers, onions, tomatoes, and lots of baby kale.
Indian food is one of my favorites. I love all of the spices, and aromatics. Indian stews/curries are so hearty, cozy, and perfect for cooler weather. Sounds perfect right?
But the thing is I have a picky husband. He is from the midwest, and is a meat and potatoes kind of guy. I on the other (I'm sure you could have guessed) love to explore new foods, and cuisines. My husband was 100% sure he did not like any Indian food at all. The key word in this sentence is was, because these easy butter chicken thighs changed his mind! Score!
This butter chicken will be a hit with kids, picky husbands, Indian food lovers, and everyone in between. It is also full on veggies and they won't even notice, because the sauce is so delectable. Spoiler alert: it's the heavy cream that makes the sauce so irresistible!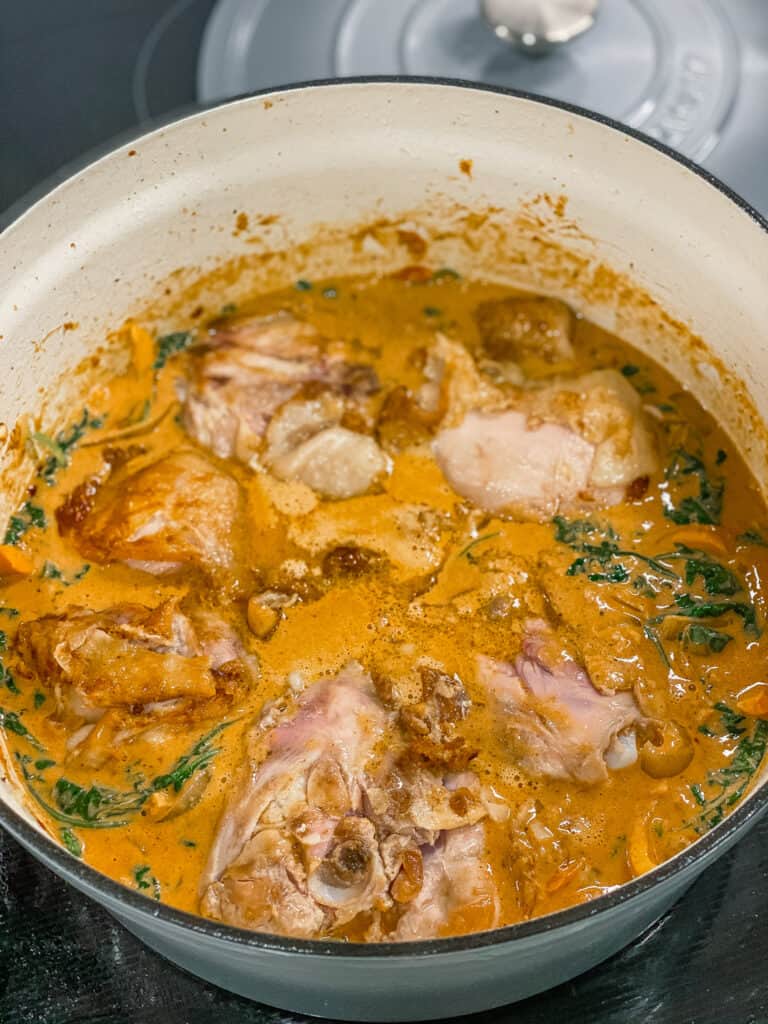 What is in Butter Chicken?
Traditionally, butter chicken is marinated and grilled chicken thigh pieces in a spiced tomato cream sauce.
Most butter chicken recipes require the chicken to marinate in yogurt, and a variety of spices and aromatics overnight. But I know that is not practical for most of us. So my recipe does not require this step. But I promise, you will not be missing any flavor!
You can't make butter chicken without butter of course. So there is butter, and more importantly heavy cream in the sauce (or gravy) to add the richness that makes butter chicken so delicious.
As for aromatics, typically there is lots of yummy onion, garlic, and ginger. I also add in bell pepper and cherry tomatoes for some extra flavor, and extra veggies.
Butter chicken is loaded with spices. Unless you cook Indian food regularly, you probably do not have all of them on hand, like garam masala, and kasuri methi (dried fenugreek leaves). So my shortcut is just use a jar of butter masala sauce. I got it from Whole Foods, but you can also find it on Amazon. It has all of those good spices, and flavors (and all quality ingredients). This really helps the sauce to develop a ton of flavor quickly, since we are not marinating the chicken, or making the sauce in advance.
To round everything out, we need something sweet, like white sugar. I like to use honey. And that is the gist of butter chicken!
Let's Get Cooking!
I like to use my dutch oven for this dish, because it is so hefty, and heats so well for searing. You can use any large pot.
First we are going to brown our chicken thighs. We are doing this butter chicken one pot style, but we still want to develop that seared flavor on the outside of the chicken.
Next we will throw in all of the veggies, ginger, and garlic! They will soften quickly. They do not need to be cooked too much, because we will let this simmer for a bit. We want to add the spices before the liquids so they can become fragrant and toasted.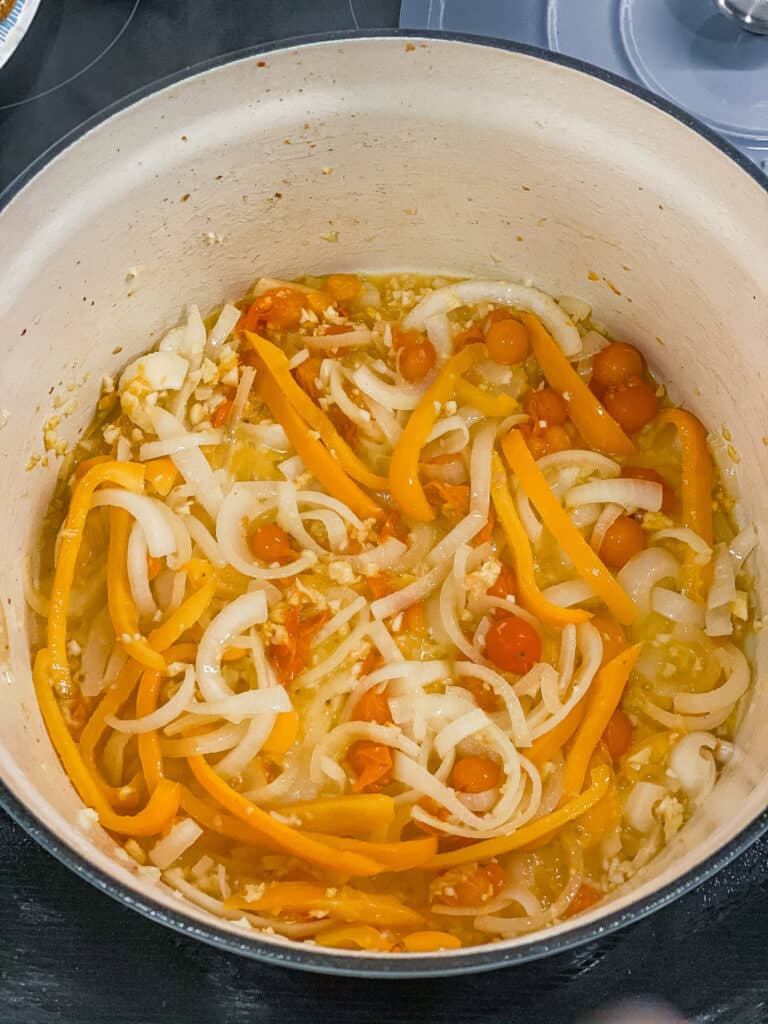 The chicken gets added back in, and we will deglaze the pan with all of the liquids. Now we let all of those delicious flavors simmer for about 30 minutes.