This Easy Chili (No Beans & Veggie Loaded) is full of flavor, vegetables, and it the perfect hearty dish for the cold weather. It is low carb because these are no beans, so great for anyone cutting back on carbs or who's not a fan of beans (my husband). It is also loaded with a variety of vegetables like kale, squash, zucchini, and bell peppers.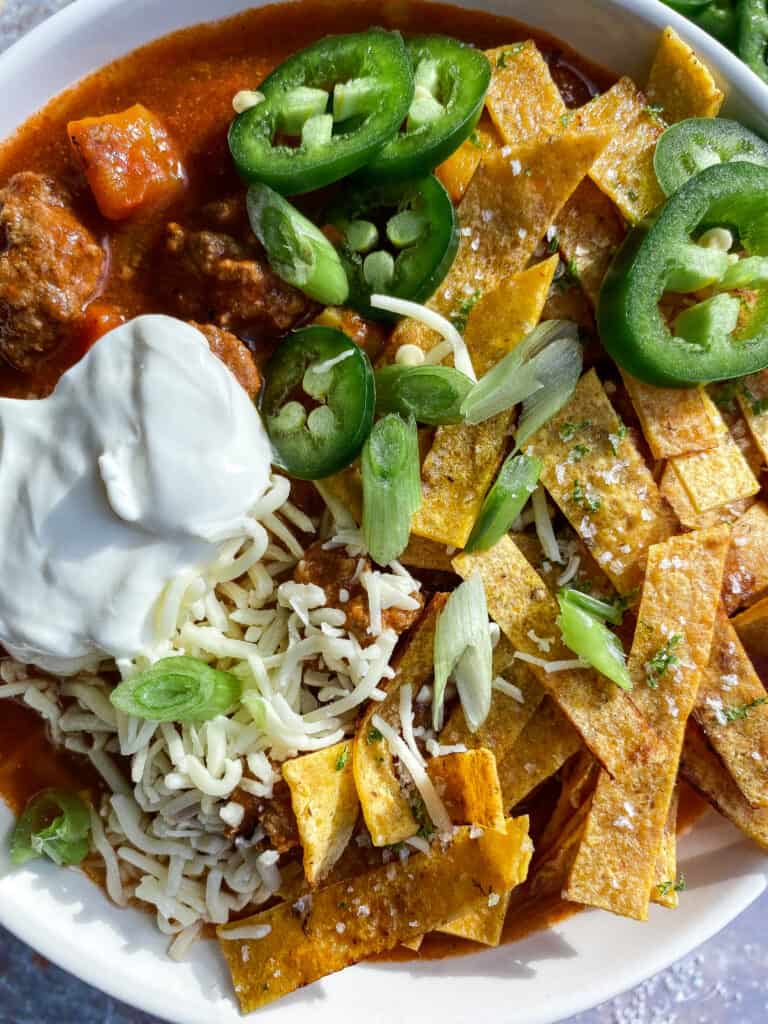 One of the first things I made for my husband when we were dating was chili. It quickly became one of his favorite dinners. He is not a fan of beans so we leave them out (if you like them add a can). It is not too spicy, super easy to make, and (my favorite part) loaded with vegetables.
My husband's diet (before we got married) consisted of primarily peanut butter & jelly, frozen pizza, and lots of takeout. So whenever I would cook for him, I was always (and still am) trying to "hide" vegetables in the dishes I cook.
My favorite ways to add in lots of veg are by adding in a handful of greens and cooking them down a lot or cutting the vegetables up really small. I do both in this chili and he did not even notice the first time I made it (score).
But more importantly, we both love the taste of this chili. And I love how simple it is to make and the variety of vegetables in it. Try my Crispy Brussel Sprouts With Soy-Ginger Vinaigrette or my Kale Salad with Parmesan & Shallot Dijon Dressing for some more tasty ways to eat your vegetables!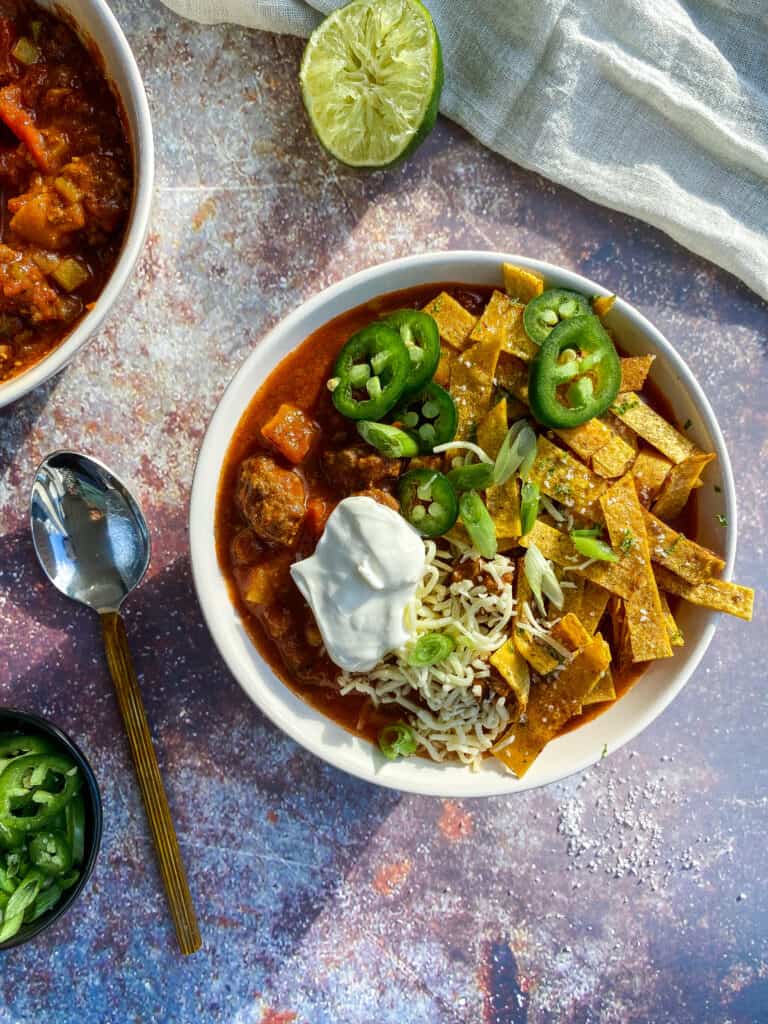 What's in This Easy Chili?
80/20 ground beef. I prefer using beef over turkey or chicken. I think it adds a lot more flavor, but of course you can substitute the beef for one of these.
Aromatics and spices. Garlic and onions are a necessity (in almost everything I make). Smoked paprika adds some nice smokiness.
Tons of veg. This easy chili is a great way to pack tons of vegetables into dinner. If you cut them small, you won't really taste them, but they are a great way to bulk up the soup and add tons of micronutrients.
Brown sugar. This touch of sweetness will balance out all the acidity from the tomatoes.
Tomato paste. The tomato paste has a very concentrated tomato flavor. It will deepen the flavor of the chili.
Worcestershire. Worcestershire adds a bit of acid, sweetness, and savoriness. It pairs well with the beef.
Jalapeños and cayenne. These add a touch of spice. You can add as much (or as little) of these as you please. If you like lots of spice, try doubling or even tripling the amount of cayenne pepper. But be careful! Be sure to taste as you go.
Tips for Making the Best Easy Chili
Cut your vegetables properly. I like to dice the bell peppers and onion a little larger, because the chili cooks for so long and I do not want them to disintegrate. However, I like to dice to jalapeños, zucchini, squash, and carrot a lot smaller. I use this chopper, which is a complete life saver. I use the bigger blade for the diced vegetables and the smaller blade for the finely diced vegetables. It ensures everything cooks evenly because the vegetables are the same size.
Cook low and slow. I highly recommend using the oven cooking method if you have time. The longer the chili cooks, the better it tastes.
Prepare some toppings. I love to serve my chili with all the toppings. I recommend cheese, fresh jalapeños, sour cream, tortilla strips, green onions, and a squeeze of fresh lime. You can serve this easy chili with raw diced red onion, cilantro, plain greek yogurt, crackers, or even gold fish. It is nice to add something on top with a little crunch.
Use smoked paprika. I highly recommend using smoked paprika (versus regular paprika). It has a lot more flavor and adds something smokey to the chili.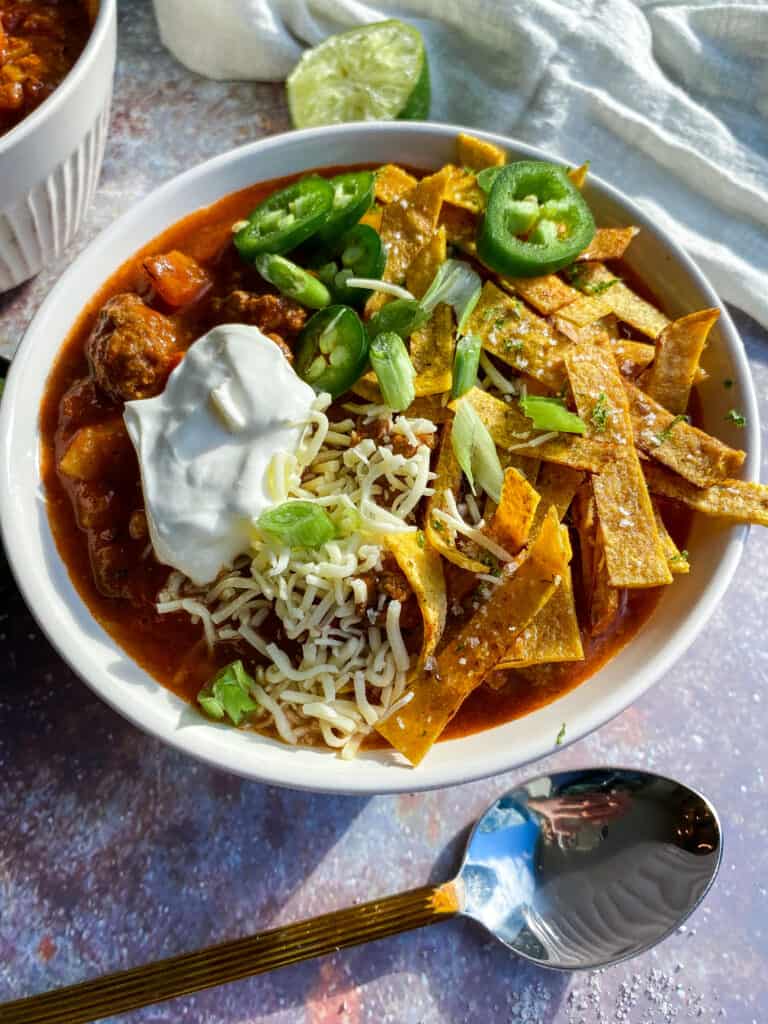 Let's Get Cooking
Brown the meat. In a large oven safe pot or dutch oven (if you are short on time or do not have an oven safe pot see the section below Short on Time?), cook the meat. You will not need to add any extra oil.
Sauté the peppers and onions. We want to lightly cook the onions and peppers in the excess fat from the ground beef.
Add the spices. Next we will add the spices and the garlic. We want to toast these over medium heat so they can become fragrant.
Add the sugar, tomato paste, and worcestershire. We want to stir all of this into the vegetables until it is well incorporated.
Add the canned vegetables. Lastly, we will add in all the canned tomatoes and chiles.
Bake. We will let the chili simmer in the oven for one hour to begin to develop flavor.
Add the rest of the vegetables. Now we will add in the finely diced squash, zucchini, carrot, and spinach. Give the chili a good stir. This prevents these vegetables from overcooking.
Bake some more & serve. Bake for another hour and let cool for a bit before serving.
Short on Time?
If you are short on time, you can fully make this chili on the stove. After you complete step 6 (adding the canned tomatoes and chiles). Skip step 7 and immediately add the squash, zucchini, carrot, and kale to mix. Let the mixture simmer covered for about 30 minutes.
It is better to let it simmer for longer, but sometimes you just need to get dinner on the table. It will still be very tasty!