This Easy Crispy Chicken Tender Dinner Salad is loaded with lots of fresh vegetables, chicken tenders, homemade crotons, and finished with buttermilk ranch dressing. This easy salad uses some of my favorite shortcuts, but sacrifices nothing in the flavor department. It's hearty, and satiating enough to serve as an entrée. This Easy Crispy Chicken Tender Dinner Salad is so good even my salad haters will enjoy it.
Something I have struggled with my whole life is my relationship with food. I have tried countless diets, and wasted so many hours feeling guilty about eating "bad/unhealthy" foods. In the end restriction always leads to binging to some extent small, or large. This is a topic I am very passionate and have read/researched about extensively. Let me know if you would like me to do a whole post about it.
In the past, I would have looked at a salad like this and said what's the point? Its not a healthy salad so why eat it? But now that I have transformed my relationship with food, I look at this salad, and say yum, because it tastes good and make me feel good.
I do not subscribe to a specific diet. I try to eat intuitively. I try not label food as good or bad. I try to just eat. It is an odd concept to most in a society so heavily polluted with diet culture. But it works for me, and at the end of the day that is all that matters.
So I am proud of this salad for many reasons. It tastes great! My husband who is not a salad lover enjoys it. This crispy chicken salad is full of crunchy and tasty raw veggies. To me it represents that food is energy, and should taste good. Chicken tenders don't cancel out the micronutrients in vegetables. It should not be an all or nothing mindset. This is something that has taken me a long time to learn.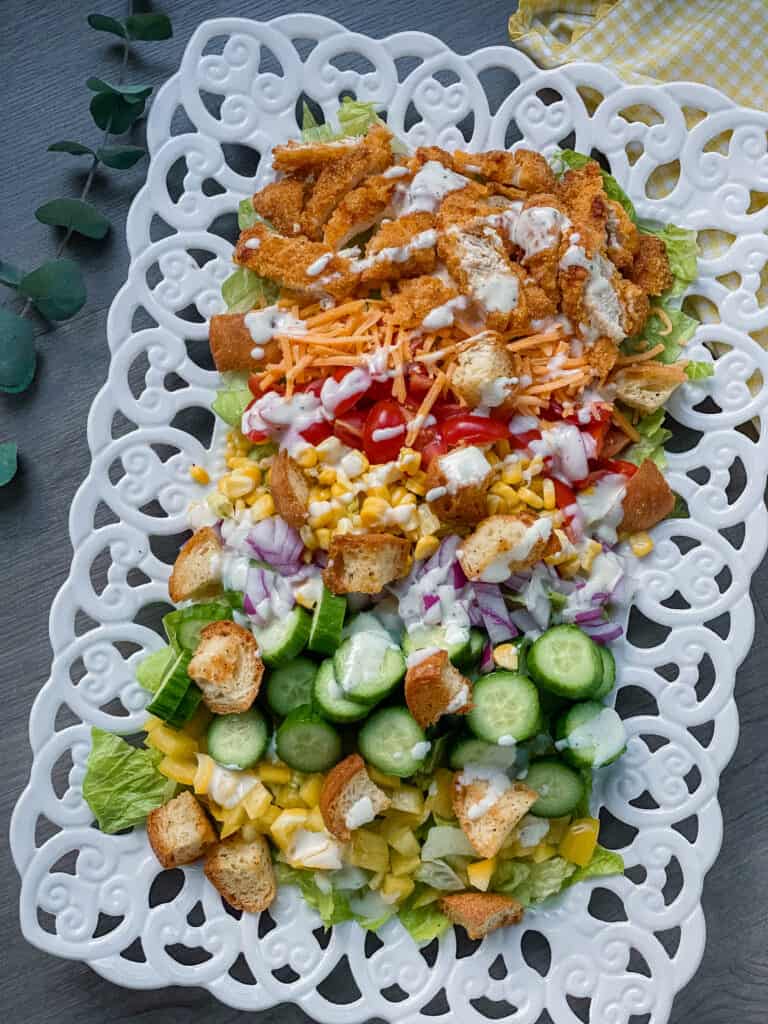 What Makes a Good Salad
Salads are super simple, but there are easy ways to take them to the next level. We have all had a bad salad, and vegetables tend to get a bad rep (especially with kids), but salads can and should taste good. So I want to share with you how to make a good salad.
Lettuce is the foundation of a salad. There many different kinds, romaine, iceberg, spring mix, arugula, green leaf, and the list goes on and on. Experiment with different kinds and find one that you enjoy. I really enjoy romaine, so that's what I picked. I also think it tastes better cut thinly. So I prefer to buy the head, and cut it myself. It also lasts longer than the precut stuff (win win).
Dressing is another important element. Ranch dressing is my all time favorite, but I also like a vinaigrette. I love homemade ranch, but if I can find a quality bottled one at the grocery store, I am going to just use that. This is supposed to be an easy meal after all. I find the best ones are in the refrigerated section. Litehouse Homestyle Ranch is in the glass jar, or Whole Food's 365 Organic Buttermilk Ranch in the glass bottle are the two best store-bought ranch dressings.
Knife cuts are super important! Cut all of the vegetables in ways you want to eat them. I like tomatoes cut smaller, and cucumbers cut larger. I highly recommend this chopper. It is a life saver.
Texture and variety are key. Experiment with different types of toppings. You need some crunch, so try adding nuts, seeds, croutons, crackers, etc. I also love adding cheese, or avocado (or both) for some creaminess (and fat). This will help make the salad more filling too. Try adding a sweet vegetable or a fruit to play off the savoriness of all of the other elements. Lastly, make sure (especially when making an entree salad) to add some protein. Legumes, or meats are great additions.
All of these techniques were how I created this simple and Easy Crispy Chicken Tender Dinner Salad. It is a complete hit, and is full of beautiful colors. I hope you enjoy!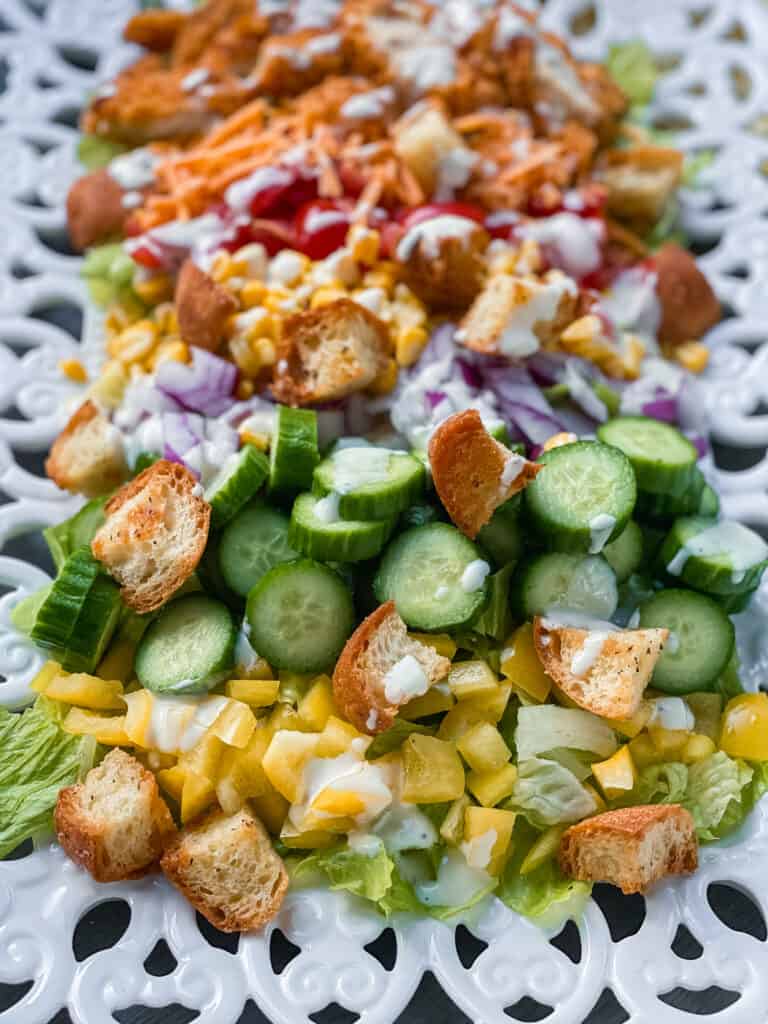 Let's Get Cooking (Kind Of)
First we will make our croutons. These only require a few basic ingredients, but make a huge difference. I like to use French bread, or sourdough, but feel free to experiment with different kinds of bread. Chop them up in 1 inch cubes. I like them a little on the large side. Toss them with some oil, and butter. Season generously, and off to the oven for a bit.
I use frozen chicken tenders in this recipe, because they are super easy to "cook". I like the frozen chicken tenders from Trader Joe's. I bake them according to the instructions on the package, and then crisp them up in the air fryer on high for a few minutes.
The most difficult part of a salad is chopping everything (check out this chopper). So the next step is to cut up all of the vegetables. Like I mentioned above cut them in the way you like to eat them. I recommend using fresh corn on the cob. I microwave one cob for a few minutes, and then cut it off.
Lastly, we will assemble everything. Throw it all in a bowl, and toss well with lots of ranch dressing. Emphasis on the lots.