This Easy Vegan Basil Walnut Pesto is the perfect addition to your morning toast, or favorite pasta. Check out this recipe for a Warm Butternut Squash Pesto Orzo Salad! It is loaded with basil, oregano, and green onions for extra flavor. It also has some lemon juice, and chili flakes for a little zing! And the best part yet, it takes about 5 minutes to make this delicious vegan basil pesto.
My husband and I moved into our current apartment about 4 months ago, but it truly feels like we just got here. I planted some herbs in this raised planter box on our little balcony. I highly recommend doing so to anyone that cooks, for a couple of reasons. Most dishes use fresh herbs, or can be finished with some for extra flavor. If you are constantly buying hers for the grocery store individually packed in the produce section, you are spending way more money than it costs to just a buy a plant. So add flavor, and save money (win, win)!
As the weather transitions for hot (well Seattle hot) to cold, herbs begin to die. So a great way to use them up is in a pesto. I didn't quite have enough basil, so I decided to throw some oregano in as well, and loved the extra flavor it added.
I am also trying to incorporate more plant-based recipes in my diet, so I figured I would keep this pesto vegan to boost the flavor in some of my vegan dinners. Plus in my opinion, it tastes just as good as a traditional pesto with dairy.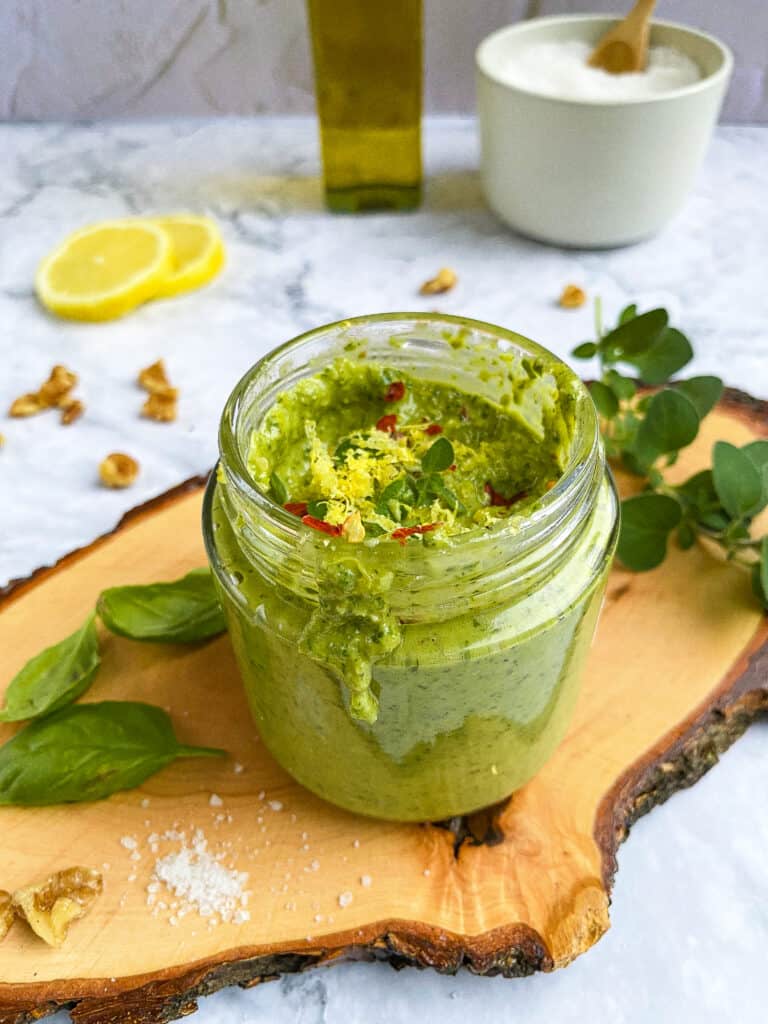 Where Does Pesto Come From
Pesto is Italian (no big surprise there)! More specifically pesto comes from Genoa, located in northern Italy. Traditionally it is made from basil, garlic, Parmesan cheese, olive oil, and pine nuts. So it really is not too hard to make vegan, pretty much just leave out the cheese.
The word pestâ in Genoese means to pound or crush. Since pesto is a blend of herbs, this is where it gets its name. Makes sense, right?
Pesto is used to refer to a variety of sauces now days. For example, there's a red sun-dried tomato version, and some even have different peppers added to them. The point is there are many different variations of this delicious Italian spread, and many different ways to use it!
Work With What You Have To Make Vegan Basil Pesto
Greens. You can use any greens you have, or like! Anything from kale, or arugula, to parsley (think chimichurri) would work. Feel free to use one type of green, or mix things up and a couple. Since winter is approaching, I did not have an abundance of basil on hand, so I supplemented with some oregano. This also adds more flavor!
Nuts. Like I mentioned earlier, pesto is traditionally made with pine nuts. If there is one thing I have learned from cooking/baking, it is that nuts are expensive! And pine nuts tend to be one of the pricier nuts. So I typically use walnuts in my pesto, but pine nuts, cashews, or even different seeds work great!
Cheese (or lack there of). Since we are keeping this pesto plant-based, there will be no parmesan. However, if you are not concerned about this pesto being vegan, add some for additional flavor. Nutritional yeast is also a great vegan parmesan substitute with lots of micronutrients. I just keep it simple, and don't use either, and I still find that this vegan basil pesto is loaded with flavor.
Oil. So when it comes to oil, there really is not a substitute, and if you are looking for vegan oil-free recipes, you are not in the right place my friend. You need to use a good quality, and tasting extra virgin olive oil. It adds a lot of flavor, and it also helps the texture to be nice and smooth, but not too watery.
How To Use Vegan Basil Pesto
Oh wow. There are so many great ways to use this vegan basil pesto. Let me list a few! But first, lets digress and talk about macronutrients real quick. It is important to get enough fat, protein, and carbs in your diet (blah, blah, blah, you know this). Pesto is a great source of fat, so you can add it to anything and it will boost the satiety factor (keep you full for longer). This is a good thing!
Spread it across of toasted piece of sourdough bread, and it breakfast, or an easy snack.
Toss roasted vegetables (brussel sprouts, zucchini, broccoli, cauliflower, etc.) in it to boost up the flavor of your veggies.
Boil some pasta. Toss the pasta with some pesto, and a drop (well not literally, but a small amount) of pasta water for a quick dinner.
Swap out your traditional red sauce, and use pesto as a pizza base.
Try adding a couple of tablespoons to your homemade cashew sauces, and cheeses for extra flavor.
You can simply drizzle some on top of salads or soups to mix things up.
Check out this recipe for a Warm Butternut Squash Pesto Orzo Salad!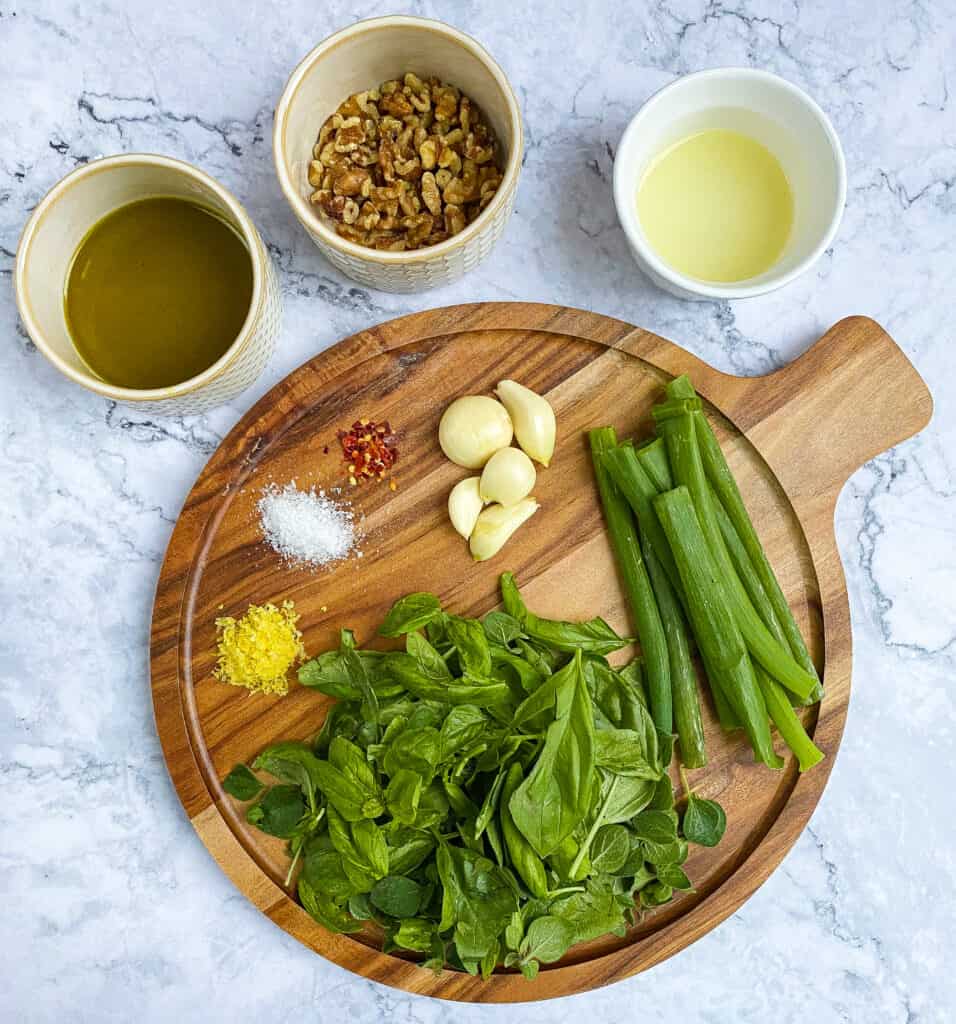 Let's Get Cooking (Kind of)
So not really any cooking going on here today. We are going to let the food processor do all of the work (score)! But we do need to prep our ingredients a bit first, so let's get to it.
Wash all of the green first. You do not need to spend too much time picking every leaf from the stems. The stems actually have a a ton of flavor too, so feel free to use some of them too. Leave the garlic whole, all you need to do is peel it. Zest your lemon, and then chop it in half. I recommend juicing it in a separate bowl so you don't end up with any seeds in your pesto.
Now all we have to do is blend! Add all of the ingredients to the food processor not including the oil. While the food processor is blend, drizzle the oil through the small opening on the top of the food processor. Pulse until it is combined, do not over pulse the mixture.