This Homemade Taco Seasoning is so flavorful and super easy that you will never go back to buying store-bought. Double or even triple the recipe to have in your pantry ready to go. Use it to season meat, veggies, or even grains for the most delicious Mexican flavor.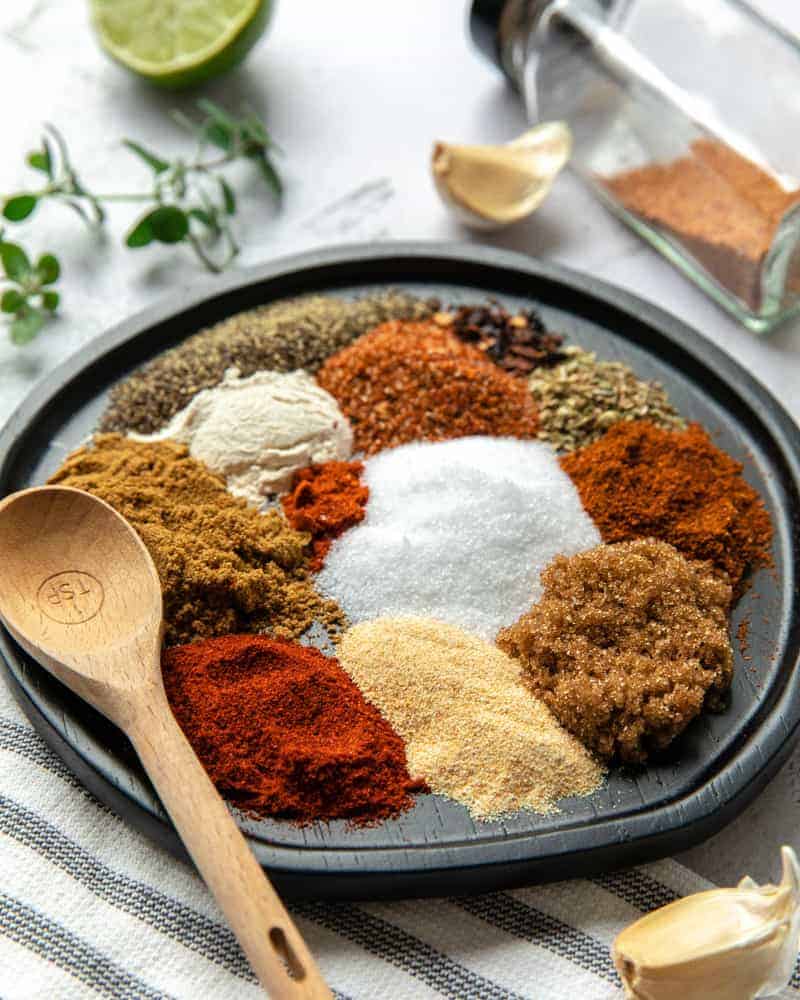 I have never been a fan of buying pre-made seasoning blends. Homemade spice blends are so easy to make at home and customize to your taste. The store-bought versions are loaded with unnecessary additives and are not nearly as flavorful.
So I think you get why you should ditch the store-bought stuff for good. But while we are talking about seasoning, I have to give a friendly reminder to season your food! Always use salt and pepper at a minimum.
I know a lot of you are still on your new year healthy eating kicks/diets. Seasoning is such an easy (and no calorie) way to make healthy foods (especially vegetables) actually taste good. You should enjoy what you eat right?
---
What Does Homemade Taco Seasoning Taste Like?
Cumin. Let's just start here. Cumin is one of the most prominent flavors in taco seasoning. It is rich and earthy and that is why it is used in so many different cuisines. Definitely a key flavor in this homemade taco seasoning, but also in Mexican cooking.
Salty. Salt is crucial. It helps bring out all of the other flavors. Please never cook anything without salt. I beg you.
Savory. Onion and garlic powder amp up the flavor of this spice blend and are staples in my pantry.
Herby. We always need some sort of herb in everything we cook right? Well mostly everything. Oregano pairs perfectly with these Mexican flavors.
Smokey. I always love to add something a little smokey where I can. It adds some depth. Smoked paprika does the trick!
A tad spicy. I want to preface this by saying that this taco seasoning is very mild so don't be scared. Between the chili powder, chile lime seasoning, cayenne, adobo chili flakes, and black pepper, we have got the spice covered. If you want more heat, double or triple the cayenne pepper.
A little sweet. To round out all of these savory flavors, a touch of brown sugar!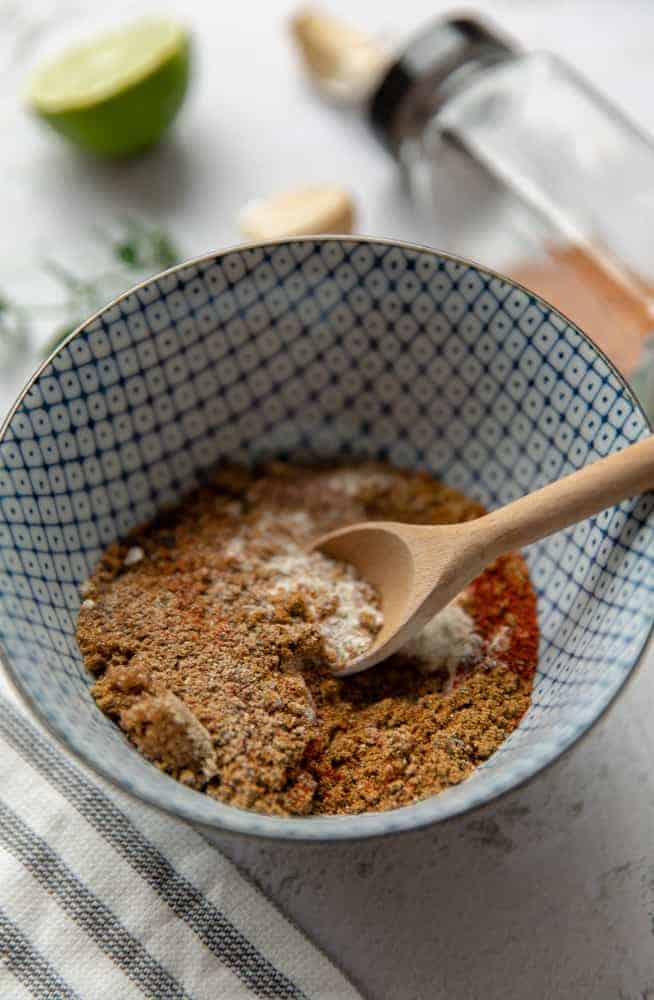 ---
How To Use Homemade Taco Seasoning
My recommendation is to use about two tablespoons of this seasoning per pound of ground beef, chicken, or turkey. The same applies for chicken breast for shredded chicken. Another way you can use this homemade taco seasoning is as a dry rub on skirt steak or sirloin for beef fajitas (two tablespoons per pound).
You can even use this to season white fish, like cod, tilapia, or orange roughy for some delicious fish tacos.
Don't just stop at proteins. You can use this seasoning on roasted or sautéed vegetables. Think broccoli, cauliflower, sweet potatoes, or white potatoes. Just toss with some seasoning, oil, and cook as usual.
Lastly you can use this seasoning to flavor your favorite grains, like white/brown rice, quinoa, or even riced cauliflower. For rice and quinoa, I recommend about one tablespoon per cup dry.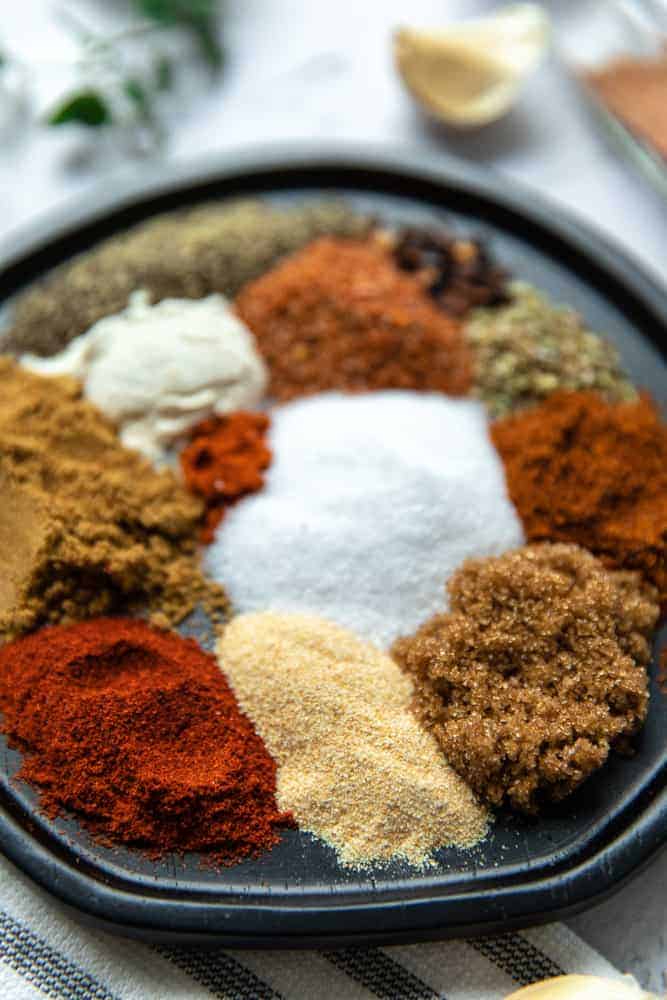 ---
Make Ahead & Store
This recipe yields a little more than four tablespoons of seasoning (roughly enough for two pounds of meat). I highly recommend doubling or even tripling this recipe. Especially if taco nights are a part of your weekly dinner routine, like they are at my house.
Find yourself a small jar (love these jars) or even a baggie. Mix up a big batch of this homemade taco seasoning. Store it in your spice cabinet or pantry. This makes dinner time even easier!
Pro tip: save your jars or empty spice container (especially if they are glass). Wash them well and remove the label. Save for your homemade spice blends or pantry organization. Easy, sustainable, organized, we love it!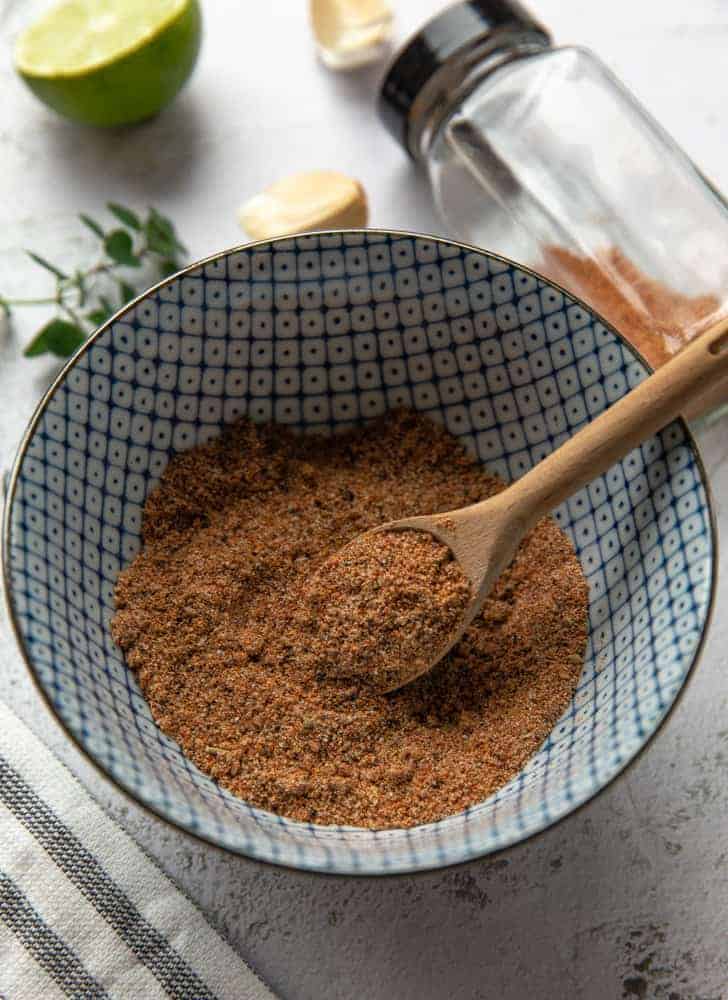 ---
Try these recipes for your next taco night: