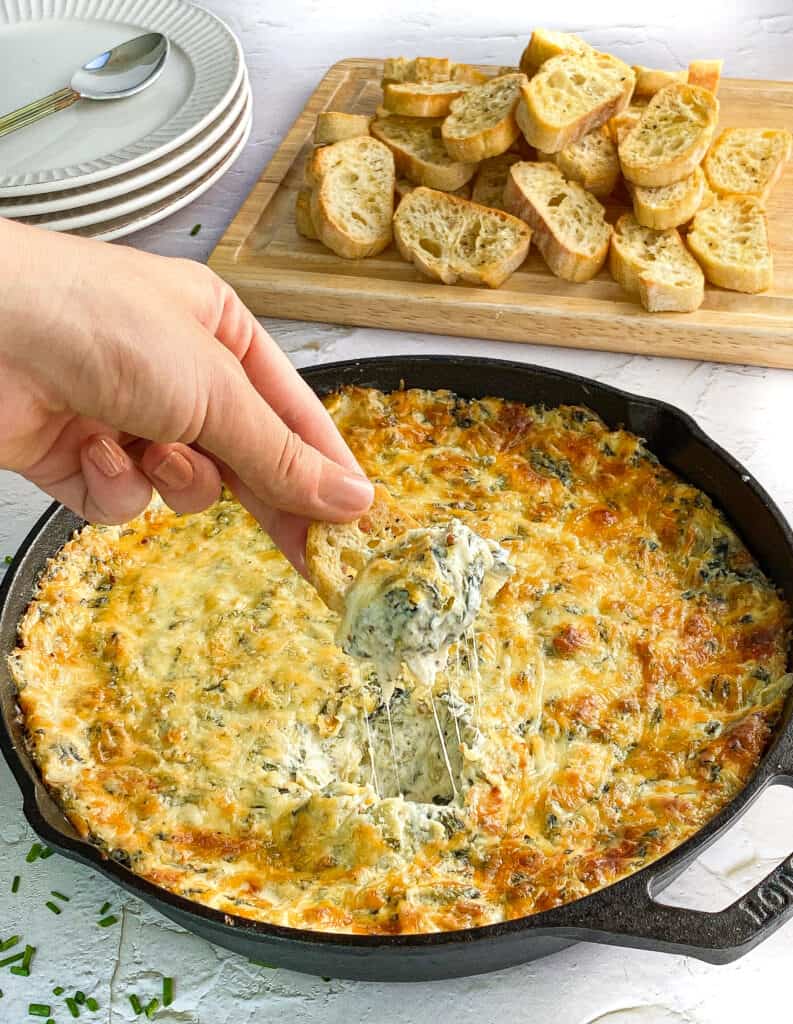 This Hot Spinach & Artichoke Dip is loaded with cheese, sour cream, spinach & artichokes of course, and the secret ingredient, ranch dip seasoning. It is absolutely addicting. This spinach & artichoke dip is the perfect appetizer for a football watch party or the upcoming holiday gatherings.
Every Sunday, we (we as in my husband) watch EVERY football game. My husband is really into it because he plays fantasy football. So I always use Sunday's as an excuse to cook lots of yummy snack food, like queso or my barbecue pulled pork.
Spinach & artichoke dip is an appetizer I feel like we have all had a million times (maybe it is just me). It can be served hot or cold. In my opinion it is best hot with lots of melty cheese. I wanted to put my own twist on this classic appetizer by adding some ranch seasoning. I am sure you can tell how much I love ranch at this point.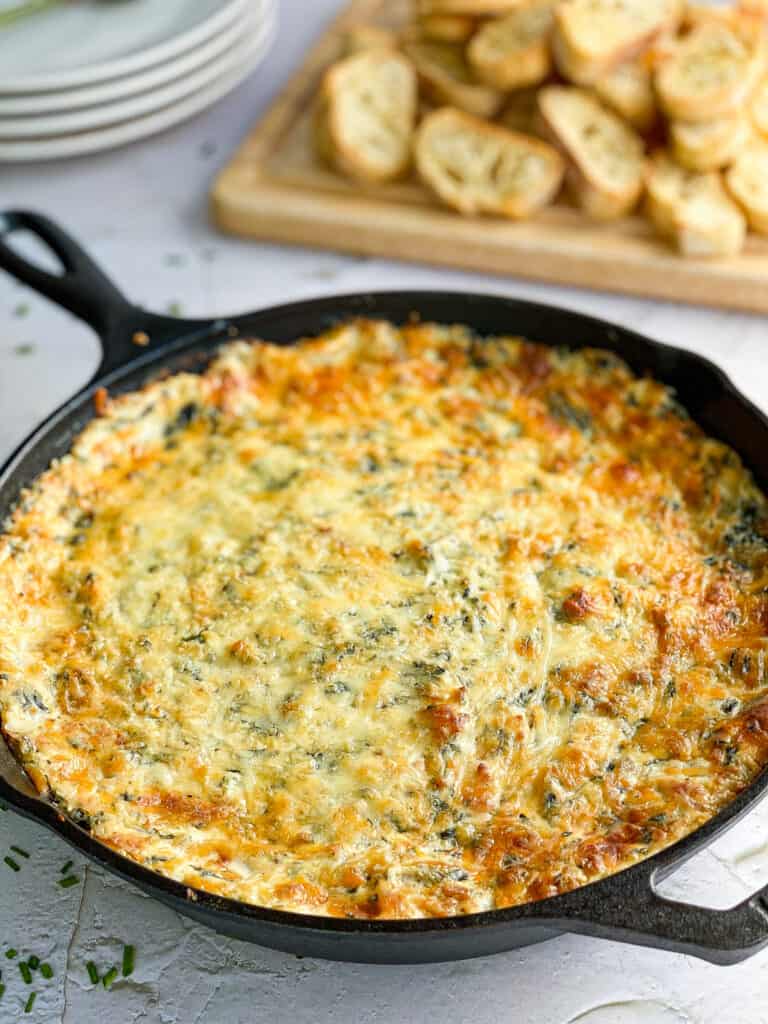 What's in Hot Spinach & Artichoke Dip
Cheese. I use a combination of 4 cheeses (well technically more because one is a blend). Sharp white cheddar (a little punchy), Italian blend (salty and mild), and lastly parmesan (nutty and rich), and cream cheese (tangy and soft).
Sour cream. This adds some tartness and even more creaminess.
Onions & fresh garlic. These add a ton of extra flavor.
Red pepper. This adds a little heat.
Ranch seasoning. This adds a little zesty kick!
Let's Get Cooking
Prepare the frozen spinach. We will line a plate with a paper towel and spread the frozen spinach out. Microwave it for about 7 minutes. Next we need to remove as much excess water. Use another paper towel to pat the spinach. Repeat this a few times. This helps to dip to stay thick and creamy.
Sauté the onions and garlic. I love to make this dip in this 10 inch cast-iron skillet. I sauté the onions and garlic in it and bake the dip in it to minimize dishes. You can also cook the onions and garlic in a small nonstick pan and bake the dip in any oven safe dish.
Whip cream cheese and sour cream. Next we need to whip the cream cheese. You will want to use a hand mixer to get it as smooth as possible. We will also use the mixer to mix in the sour cream and seasoning.
Fold in the rest of the cheese, onions, and garlic. We want to use a spatula to fold in these ingredients and not the mixer because we do not want to mash the cheese. Save about a half of a cup of the Italian cheese for the top.
Top with more cheese & bake. We will top the the dip with more cheese before it heads in the oven. Bake until nice and bubbly.
How To Serve Hot Spinach & Artichoke Dip
Obviously you can't just eat this hot spinach & artichoke dip with a spoon, although it is tempting. So here are a couple of my favorite things to serve with this dip.
Baguette. Slice a baguette and place the slices on a baking sheet. Season with a drizzle of olive oil, sea salt, and pepper. Bake at 350° for 5-10 minutes. You can let these get crispy like a cracker or leave them softer.
Tortilla Chips. You can easily pick up a bag of your favorite chips at the store and serve them with this hot spinach & artichoke dip. You also make your own chips with some corn tortillas. Season like the baguette and bake at 350° for about 15 minutes turning halfway through.
Crackers or pretzels. Serve this dip with your favorite snack foods. I would go for a lightly seasoned cracker to let the dip shine.
Pita chips. Once again you can pick the bagged chips up at the store or warm up some fresh pita bread for a more bread like vessel.
Make Ahead
If you are making this hot spinach & artichoke dip for a party, you may want to prepare it ahead of time. I typically like to get as much of my cooking as possible done before guests arrive.
Prepare the dip through step four. Spread it in the pan and top with cheese. Cover it and store it in the fridge. I recommend making it no more than one night ahead of time.
When you are read to bake, take it out of the fridge and let it sit at room temperature while the oven heats. Bake as instructed below. It may need an extra 5-10 minutes depending on how cold it is.