These Instant Pot French Dip Sandwiches are the perfect hearty dinner to help get you through the winter. The ingredients and steps for this recipe are super minimal, which is always a bonus. You can easily double or triple this recipe to have leftovers. The beef reheats great in the microwave!
A pressure cooker is the best way to cook meat that needs to be tender enough to shred. Not only will the meat always come out with the perfect texture, but it does not take nearly as long to cook as it would in the oven. So this makes stew meat a perfect candidate for the Instant Pot.
These Instant Pot French dip sandwiches are one of the few things getting me through the rest of winter. I just did a quick search and apparently winter does not end until March! That's crazy. I am a sunshine and warm weather lover so I will be counting down the days.
What's your favorite season? Although these sandwiches are perfect for a cold evening, it is always French dip season in my mind!
---
My Favorite Things About Instant Pot French Dip Sandwiches
So you might be asking yourself, Bri- what makes your French dip sandwich better than the others? Well let me tell you!
The Instant Pot does the work
Pressure cooking makes the most tender beef
Lots of caramelized onions
Extra spices and herbs
Super savory and salty
Soy sauce, red wine, and Worcestershire to give the most complex flavor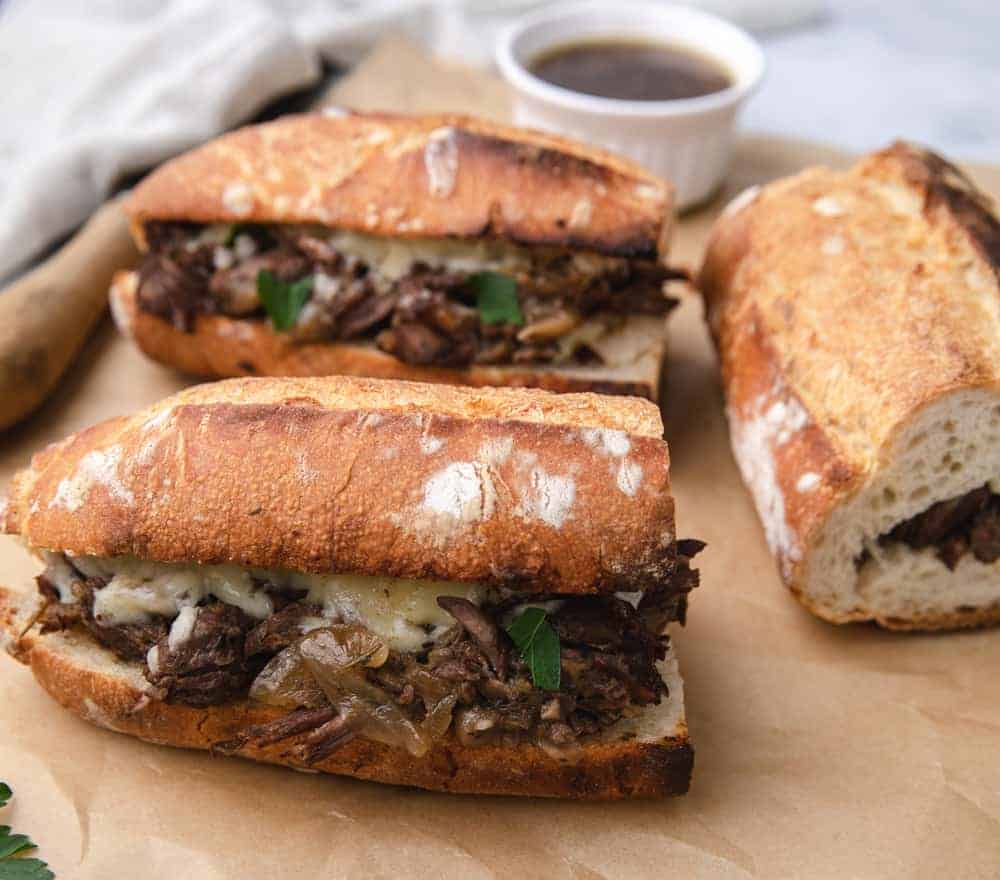 ---
Extra Onions & White Cheddar Cheese
So like I mentioned above there are a lot of things I love about these Instant Pot French dip sandwiches but the extra onions and cheddar cheese give these sandwiches an edge.
French dip sandwiches are typically made with no cheese or Swiss cheese. Well no cheese is absolutely never an option in my book, but I wanted to try something more out of the box than Swiss. I have been obsessed with the Tillamook Extra Sharp White Cheddar. I picked it up at Whole Food's. It is definitely extra sharp and very punchy but I love the contrast of that with the savory beef. I highly recommend trying this cheese out!
I have a serious obsession with onions and that is why 99% of my recipes call for them. I doubled the amount of onions that most recipes call for because I love the flavor and texture the onions add. It almost gives me a French onion soup vibe. So good.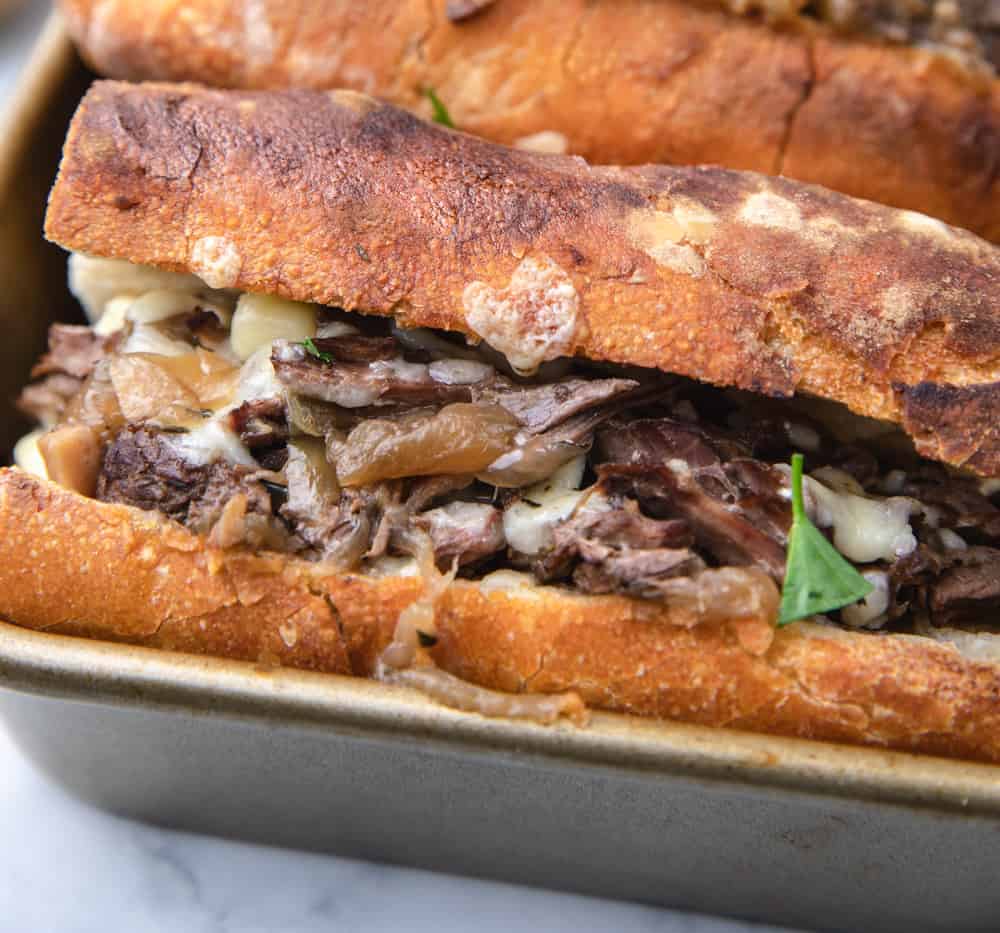 ---
How To Make Instant Pot French Dip Sandwiches
This recipe is very hands off! You basically let the Instant Pot do all the work and then you just have to prep the rolls. This is the Instant Pot I use!
Sauté. You will start by sautéing the meat, veggies, and spices. This dry heat allows the spices to become fragrant and the meat to brown before you add the liquids.
Pressure cook. Dump all the liquids into the pot and pressure cook on high for 35 minutes. In the meantime toast the rolls and melt the cheese.
Build. Pile tons of that juicy tender beef on your toasty cheesy roll and enjoy.
---
Serving Instant Pot French Dip Sandwiches
So the key is serving these sandwiches with loads of au jus. Au jus is simply the broth that is created in the instant pot that has all of the beef drippings. In my opinion this is the best part. I recommend serving the au jus in individual ramekins with each sandwich.
Make sure you give your bread a nice toast so it can stand up to all of the meat and the au jus. You do not want soggy bread. You also want to be sure to melt the cheese before serving, because warm bubbly cheese is much better than cold cheese.
As for sides, I like pairing these sandwiches with a simple side salad or some chips.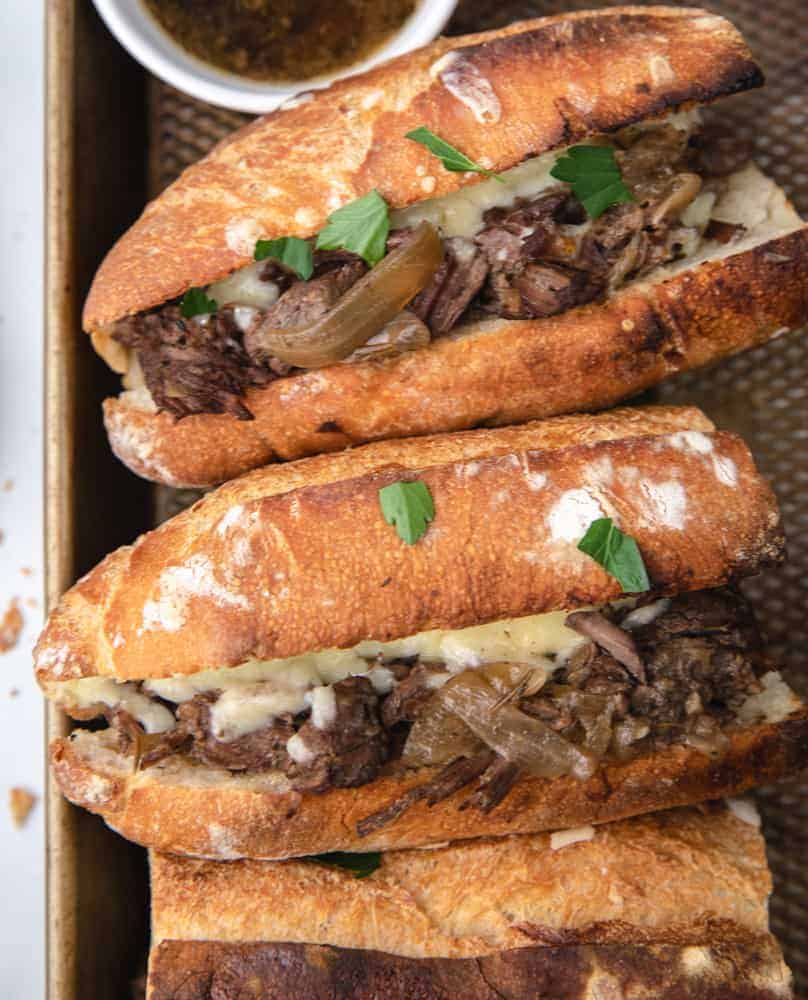 ---
More Instant Pot recipes: