These Peppermint Mocha Brownies are my favorite holiday sweet treat. They are loaded with melted chocolate, cocoa powder, chocolate chip, and peppermint chocolate bark. Oh and I almost forgot, marshmallows! These peppermint mocha brownies are the gooey, chocolatey, and highly addictive.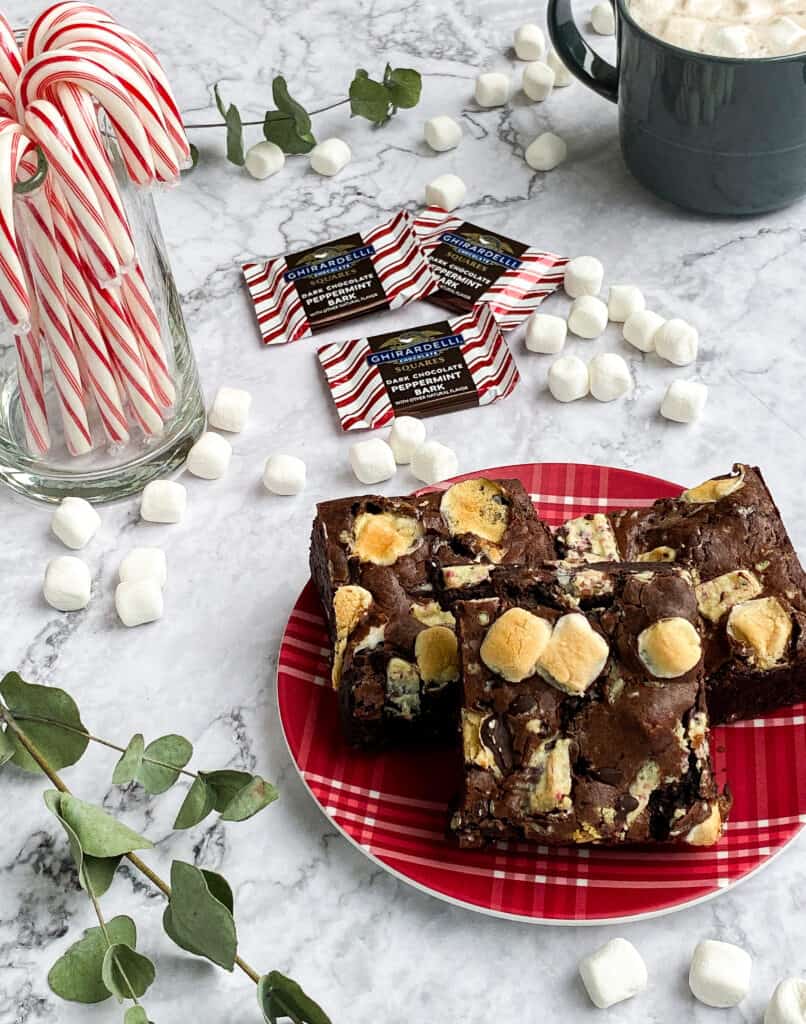 I have a weird relationship with mint and chocolate. I hate mint chocolate ice cream and I am not a fan of peppermint patties or andes chocolates. However I love the Hershey candy cane kisses, Ghirardelli peppermint bark, and Starbuck's peppermint mocha. I don't know why this is, but there are certain mint chocolate combos I love and others I hate.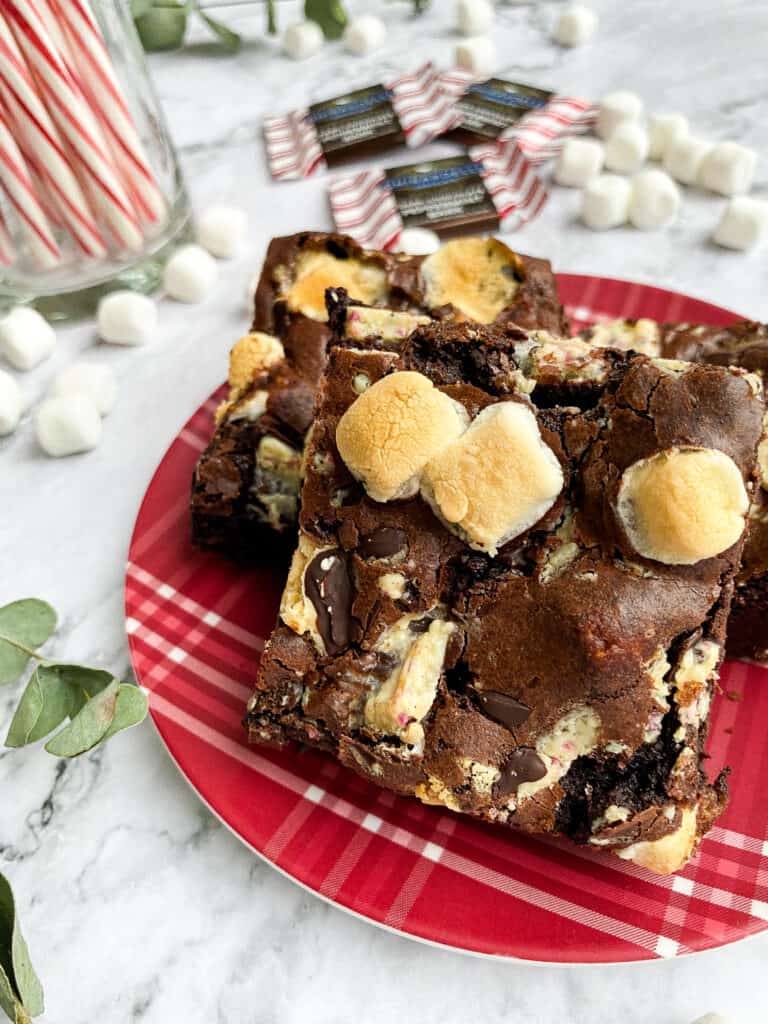 Needless to say these peppermint mocha brownies fall in the love category for me. These brownies are dense and rich (not cake-like). The are extra chocolatey and extremely moist. There are not overly sweet or overwhelming pepperminty.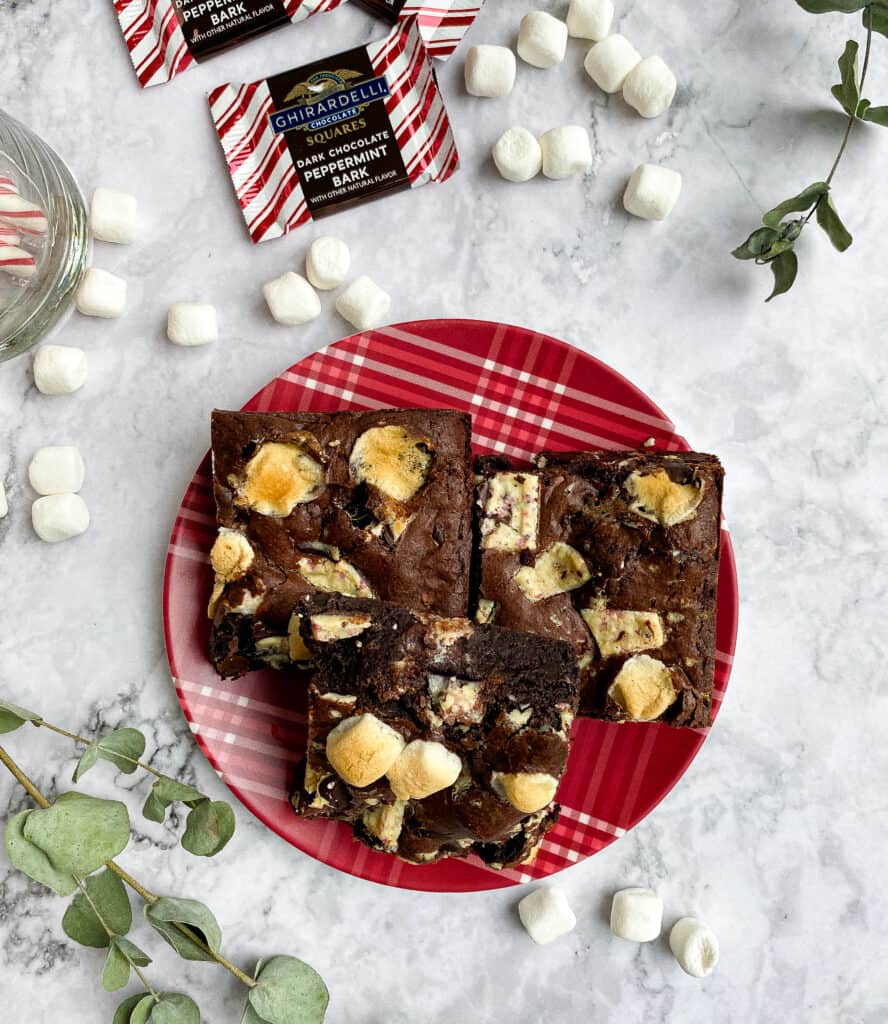 These peppermint mocha brownies are my favorite Christmas dessert because of their festive flavors. They are perfect to bring to a holiday party or serve for dessert after Christmas dinner. Brownies are best warm and served with ice cream in my opinion, but I dare I say these are good enough on their own. Heaven, trust me.
Try some more of my other favorite festive sweets:
What's in Peppermint Mocha Brownies
Butter. Fat equals moisture when it comes to baking. One and half sticks of butter in these brownies will do the trick. No milk or other liquids, just pure melted butter. The butter makes the brownies rich and keeps them from drying out.
Semi-sweet chocolate. Semi-sweet chocolate has the perfect amount of sugar for these brownies. I do not recommend milk chocolate or dark chocolate. The sugar level and amount of marshmallows have been adjusted using semi-sweet chocolate creating a peppermint mocha brownie with the perfect level of sweetness. Chips, chunks, or cut up chocolate works.
Salt. Salt is absolute must in baking. We want to balance out all the sweetness and make it pop with a little bit of salt. Sea salt or table salt works.
Instant coffee. The mix of chocolate and coffee in these brownies is what creates the mocha flavor. The bitterness balances out the sweetness of the peppermint bark and marshmallows. It gives these peppermint mocha brownies a lot of depth.
Cocoa powder. Cocoa powder adds rich and intense chocolate flavor. Make sure it is unsweetened!
Sugar. This one is obvious, but we have to sweeten the brownies. Brown sugar helps keep the brownies chewy.
Eggs. We have to bind all of these ingredients together so eggs are important.
Marshmallows. These add such a nice chewy texture to the brownies. They really melt into the batter as it cooks, so you will not get chunks of marshmallows throughout. You also can't really identify that there are marshmallows in the brownies, but it is so important for the texture. They also replace some of the sugar.
Peppermint chocolate. I use Ghirardelli Peppermint Bark Dark Chocolate Squares. You can use the milk chocolate version of this candy too. You can also use Hershey's Candy Cane Kisses for a sweeter brownies.
Tips for Making the Best Peppermint Mocha Brownies
Line the pan with parchment. This is key for easily being able to remove the brownies from the pan and being able to cut them into bars.
Use a double boiler to melt the chocolate and butter. See the section above on how to make one.
Do not over mix the ingredients. The butter is melted so the sugar easily melts into it. The eggs and flour just need to be combined.
Fold in the marshmallows and chocolate. If you using a stand mixer, make sure to fold in the chocolate and marshmallows by hand, so that they do not break apart.
How To Make a Double Boiler
Start with sauce pot and a bowl that will sit on top of the pot without falling into the pot (see the photo on the recipe card below).
Add enough water to cover the bottom of the pot. It should be about one to two inches deep. You do not need much water to create enough steam to melt the chocolate. You do not want the water to touch the bottom of the bowl. Bring this to a boil. It does not need to be a raging boil.
Place the bowl on top of the pot. Add the chocolate and oil (or butter) to the bowl. Stir continuously. The chocolate will begin to melt quickly. Once about three quarters of the chocolate pieces have melted, remove the bowl from the pot and continue stirring on the counter.
See this video for a quick demo.
I find this method better than microvvng the chocolate because it can easily seize. Not to mention, everyone's microwaves are so different. However, if you have a trusted method for melting chocolate in the microwave, do what you are comfortable with. The important thing is that the chocolate is melted.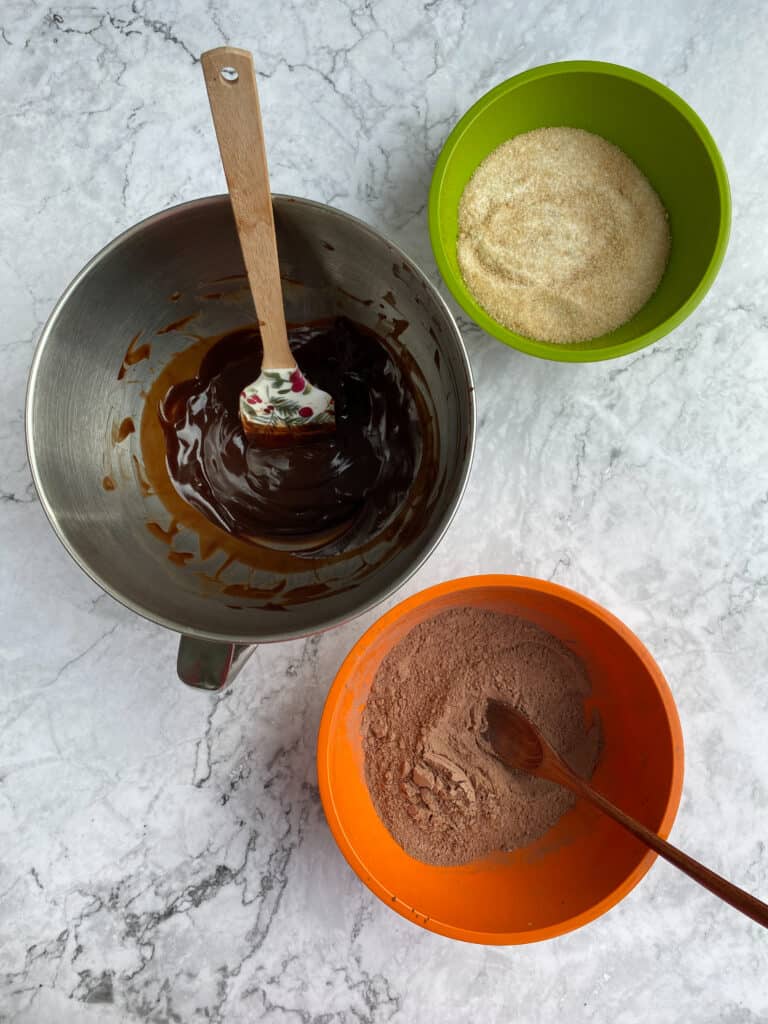 Let's Get Baking
Melt the chocolate and butter. We are going to start by melting 3 ounces of the semi-sweet chocolate and all of the butter in a double boiler. This will give it time to cool while we prepare the other ingredients.
Prepare the dry ingredients. Whisking the flour, salt, and instant coffee together all make sure it evenly distributes in the wet ingredients. Next we need to sift the cocoa because it is normally lumpy.
Add the sugar. We will add the sugars to the butter and chocolate and mix it until just combined.
Repeat with the eggs and vanilla. We add the eggs and vanilla next.
Stir in the chocolate and marshmallows. Fold in the goodies so they don't break apart.
Sprinkle some more on top. Save about a quarter cup of the chocolate and a quarter cup of the marshmallows to sprinkle on top of the batter.
Bake & cool. Bake until a tooth pick come out clean and let cool for 1 hour before cutting.
Substitutions for Peppermint Mocha Brownies
You can substitute the Ghirardelli Peppermint Bark Dark Chocolate Squares for another type of peppermint chocolate candy. I have not tested the recipe with anything besides the Ghirardelli squares, but I think the Hershey's Candy Cane Kisses would be a great substitution. They are also a little less expensive.
If you do not like the taste of coffee, you can leave out the instant coffee. I would replace it with one tablespoon of unsweetened cocoa powder so that the brownie is not overly sweet. However, I highly recommend trying the recipe with instant coffee. The brownies do not taste overly coffee like.
If you are a dark chocolate lover you can swap the semi-sweet chocolate for dark chocolate. This creates a less sweet and more intense brownie, which I enjoy. But I find semi-sweet chocolate is a good middle ground (milk is too sweet).
If you do not have a stand mixer, you can mix the ingredient by hand in a large bowl.