This Salsa Verde is my current obsession. Full of flavor, loaded with herbs & veggies, and so easy to make. This salsa verde will quickly become a favorite in your house too! Perfect for dipping, seasoning, dressing - the possibilities are endless.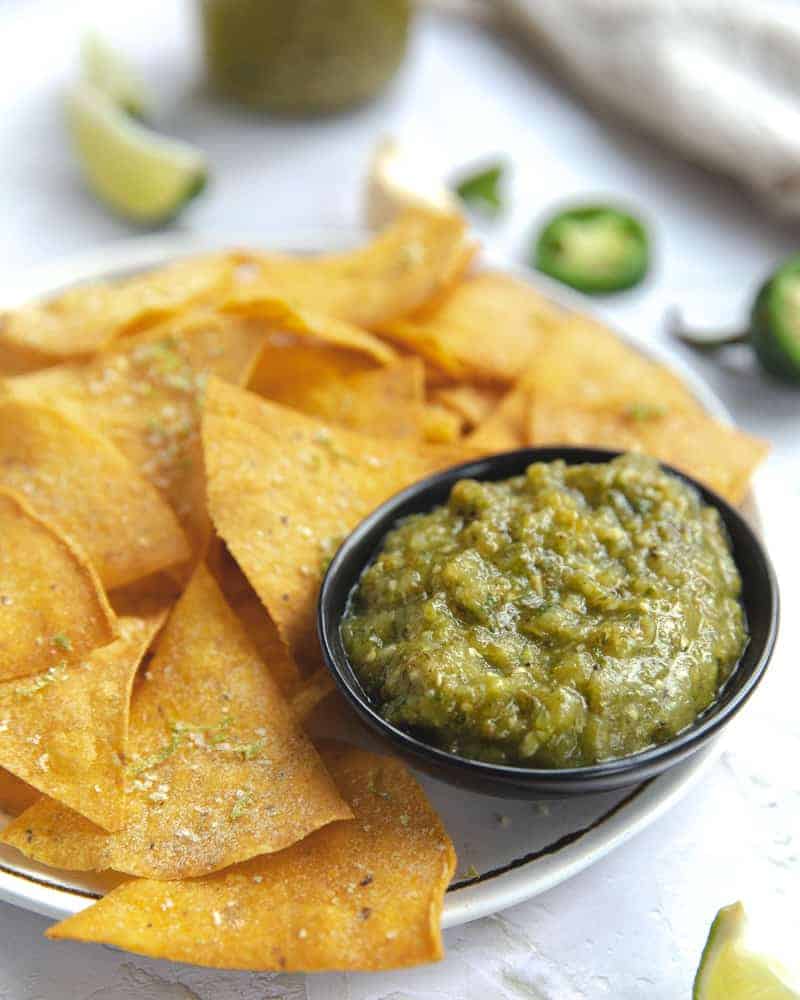 This salsa verde recipe is next level, I promise. I used to think I could take or leave salsa, because I just had not found the right salsa. But first off, homemade doesn't even compare to store-bought. Second, green is much better than red (personal preference here).
Growing up in Texas, I have had a lot of salsa. I worked at two different Mexican restaurants in High School, so you could say I have tasted a fair share of salsa. My stepdad is a little salsa obsessed and got me hooked on salsa verde.
So we perfected our recipe and now I make it all the time!
This salsa verde is way better than my favorite Tex Mex restaurants' versions and that is a high bar. If this is your first time making homemade salsa or green salsa, this will definitely not be your last.
What Does Salsa Verde Taste Like?
All of the best flavors come together in this salsa! Here are a few of the flavor notes I would like to highlight, if you have never had salsa verde.
Tangy. A good bit of lime is a necessity for me in a good salsa. Lime brightens up all of the other ingredients and really packs a punch of flavor.
Spicy. Jalapeños add some heat that will slowly build in the back on your mouth as you eat this salsa. For me, salsa has to have a bit of a kick, but if you're sensitive to heat, see the section is Salsa Verde Spicy?
Garlicky. I mean is it really a Bites with Bri recipe without garlic? Garlic makes everything better, but is an absolute must in salsa.
A tad sweet. I like to balance the acidity from the lime and the bitterness from the roast with a touch of honey. This creates a balance that is very pleasing to the palette.
Charred. Broiling and roasting all of the veggies adds such a nice flavor. It softens them and brings out all of the juices.
Salty. Salt is a must! Don't be shy; it helps bring out all of the flavors.
I highly recommend tasting the salsa after you blend and then adjust. This is how you will get the best tasting salsa. You can add more heat if it needs it (be careful). If it seems a bit bland or like it is missing something, add more salt and cilantro.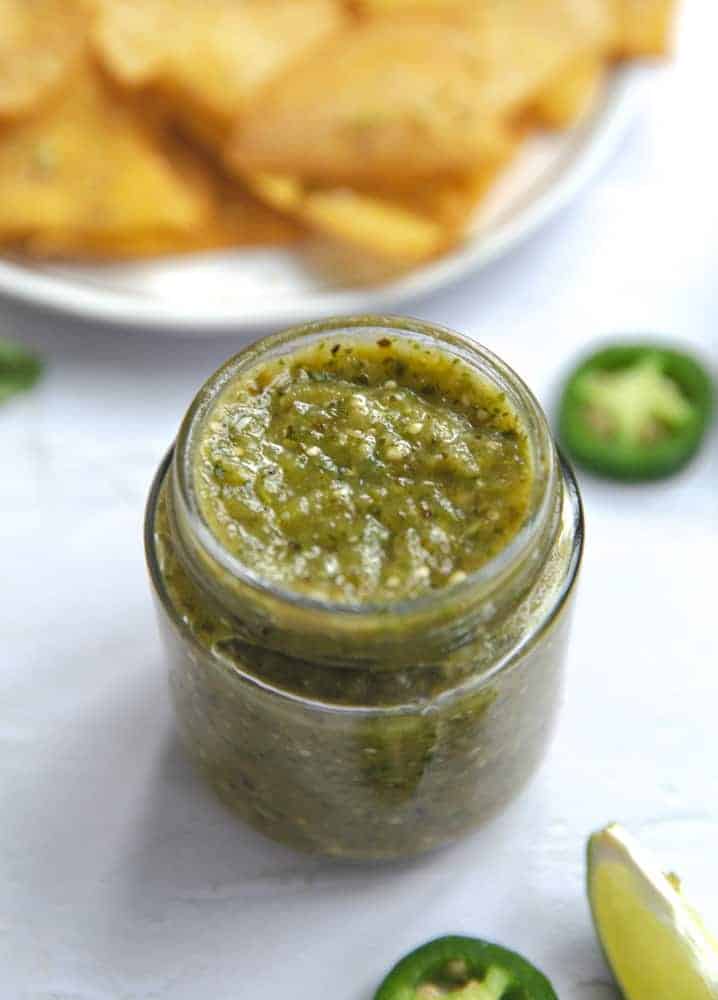 ---
Roasted Tomatillos Are Key
Have you ever cooked with tomatillos? I can't say they are an ingredient I find myself using often, but for this salsa verde, they are a must! They are a staple in many Mexican dishes.
Tomatillos are like tomatoes, but they are green. They will come in an easily removable husk, which you can just discard. I recommend giving them a good wash after removing them from the husks. They are a little more acidic and less sweet compared to a red tomato.
They contain a little less water than red tomatoes. So roasting them helps them release more of their liquids. The skin will become a little black in the oven. This charred flavor adds even more dimension to the salsa. That is why I prefer roasting compared to boiling.
Read more about tomatillos here!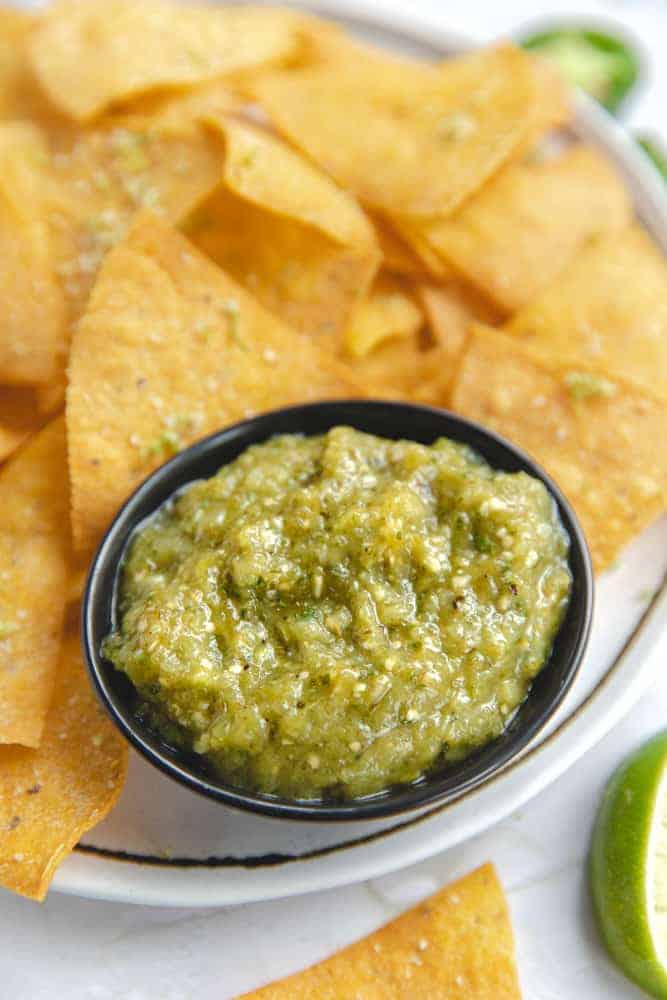 ---
Is Salsa Verde Spicy?
So the answer to this question is yes and no! It can be, but it does not have to be. It is totally up to you because I mean you are the chef after all.
If you want little to no spice, I recommend roasting one jalapeño. Once it has cooled enough to handle, Remove the membranes and seeds with a small pairing knife.
If you are like me and you want a more punchy salsa, I typically use two whole jalapeños seeds and membranes included.
If you don't know how much heat you want, start with a little and add more as you taste. Start with half a jalapeño with seeds and membranes or even a whole jalapeño with no membranes and seeds. You can always add more heat, but it is much more difficult to takeaway heat.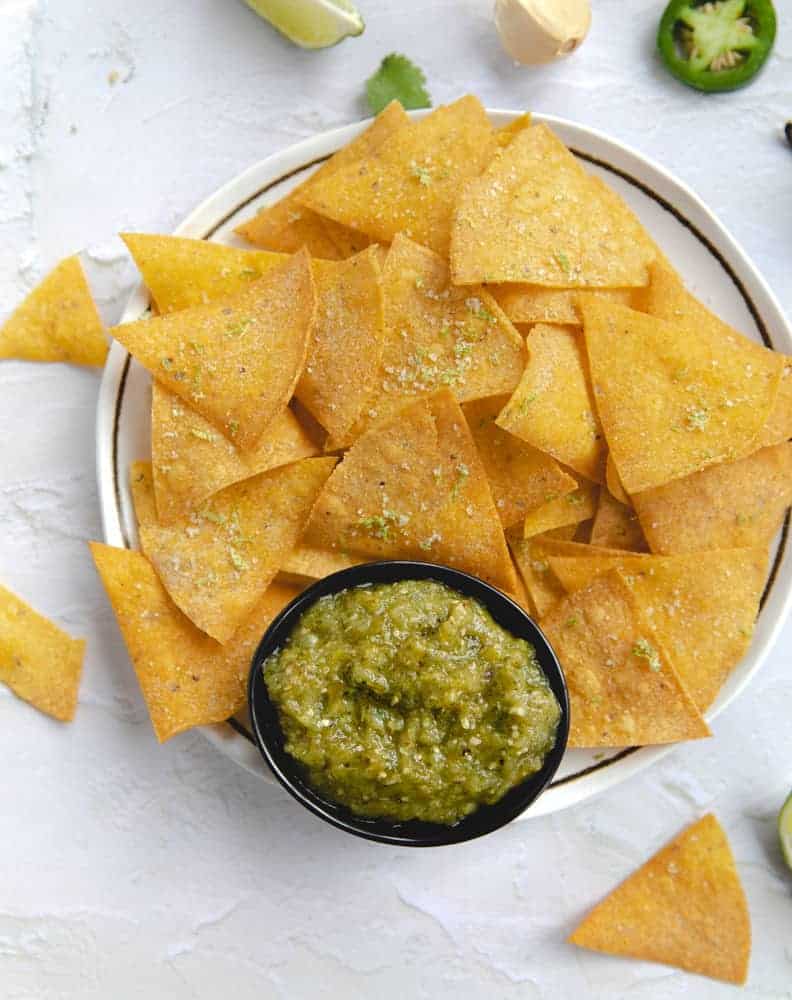 ---
How To Use Salsa Verde
Dipping. This is probably the most obvious and why you are making the salsa in the first place, for dipping with chips. This definitely is my favorite way to snack on salsa, but if you find yourself with leftover salsa, check out some of the ways below to repurpose your salsa verde.
Proteins. You can add this salsa to proteins, like chicken or fish, to season it. Whip up a batch of Instant Pot shredded chicken and toss a few heaping spoonfuls of this with the shredded chicken. So flavorful. You can also spread some salsa on your favorite fish and then roast the fish in the oven. Delish!
Salad or bowl dressing. This salsa verde is the perfect salad dressing! So flavorful and light. It also is awesome on a taco bowl or vegetable grain bowl.
Grains. Fold a few spoonfuls of this salsa into rice or quinoa. Super simple short cut for a cilantro lime rice.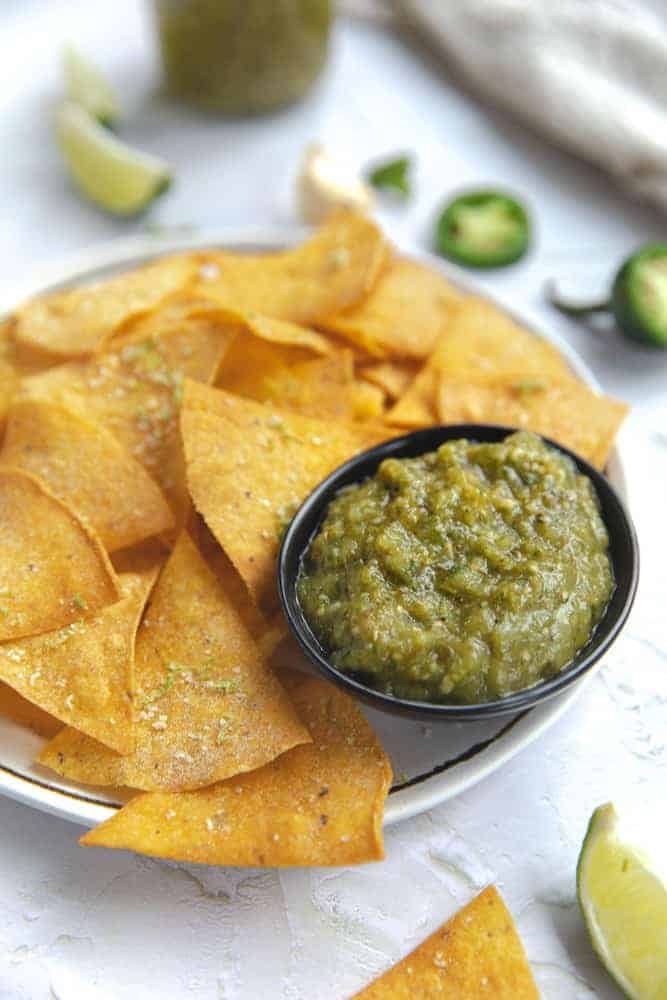 ---
Some more of my favorite Mexican recipes: