These Quick & Easy Southwestern Breakfast Quesadillas are the perfect way to mix up your breakfast routine, and start your day! They are loaded with veggies, sausage, cheese, and lots of spices. You can easily prep these southwestern breakfast quesadillas ahead of time, freeze, and heat them up throughout the week before work, or school for a quick and hearty breakfast.
I love anything in the realm of Mexican food (check out my barbacoa recipe, or favorite queso). If it is in a tortilla, I want it! However, breakfast is one of those meals I never really mix up. Normally, I am grabbing a bagel, or skipping it all together. It really depends what I am feeling that day. But its not because I don't love breakfast, but my priority in the morning is caffeine.
I was brainstorming breakfast ideas that are different from what I usually eat, and thought to myself, "I have not made breakfast burritos in a while". And what is even better than a breakfast burrito? You guessed it... southwestern breakfast quesadillas! Think more cheese, and a crunchy exterior.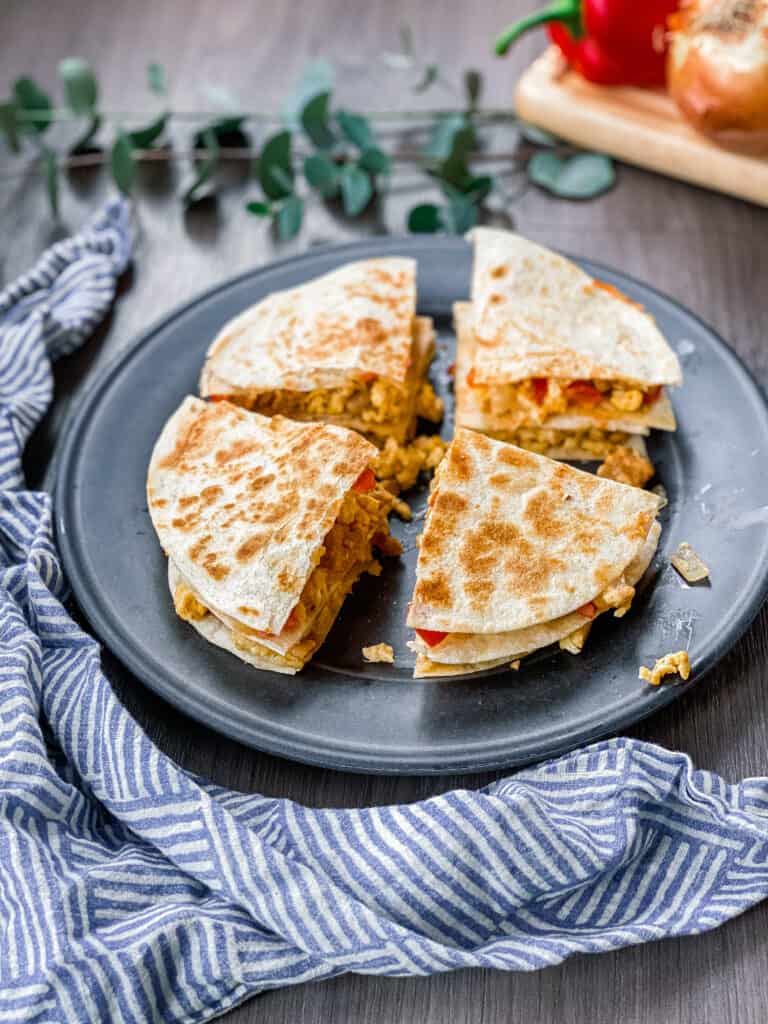 Work With What You Have
Chicken Sausage. I love the jalapeño and Monterey Jack flavored chicken sausage from Whole Food's. So that is what I use for this recipe, but you can use any of your favorite breakfast proteins. Try pork sausage, turkey sausage, bacon, chorizo, etc. For a vegetarian option red potatoes, sweet potatoes, or hash browns make a great filling.
Cheese. Use whatever cheese you have on hand! I like to use cheddar, Mexican blend, or Monterey Jack, but anything that melts will work. For a vegan option, you can also use nutritional yeast.
Veggies. Don't skip out on the veggies! They add wonderful flavor and texture. I think onions and peppers are a must in these. Use any type of bell pepper you like, or even jalapeños for more spice. Spinach or tomatoes are also great add ins.
Tortillas. I prefer some good quality locally made flour tortillas for this recipe. However, you could also try corn, or almond/coconut flour tortillas for gluten free options.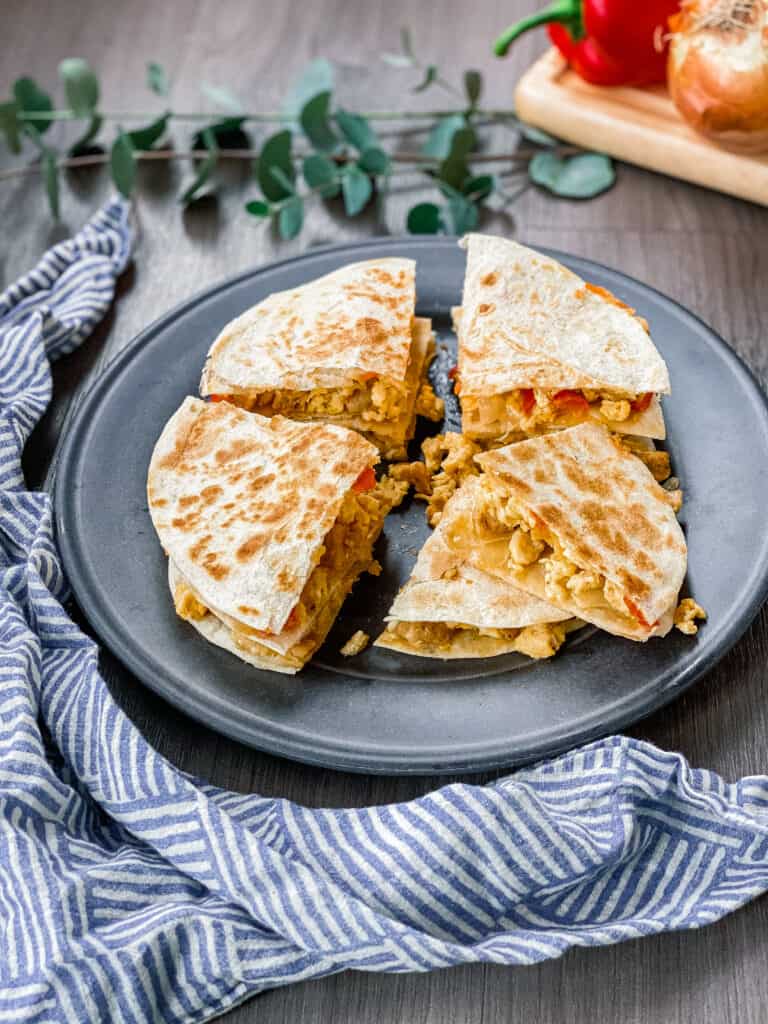 Tips for Making Southwestern Breakfast Quesadillas
These southwestern breakfast quesadillas fall into the super super easy to make category, but I still have a few tips, and techniques I want to highlight for you.
Make sure you dice the vegetables and meat into the same size pieces. This ensures everything is uniform, and cooks at the same rate. Try this chopper!
Don't skip out on the heavy cream. This adds incredible richness, and makes the eggs extra silky.
Make sure you add some cheese to the egg mixture. This helps the eggs and the other add-ins bind together well.
Scramble the eggs low, and slow. You want the eggs to be creamy and soft, not dry and brown. It is best to keep the heat low so that the eggs do not crust. When you are stirring the eggs, be gentle and use a folding motion. Avoid using your spatula to chop them up.
If you have a large pancake griddle, you can cook multiple quesadillas at a time. This is super convenient if you are prepping at the beginning of the week.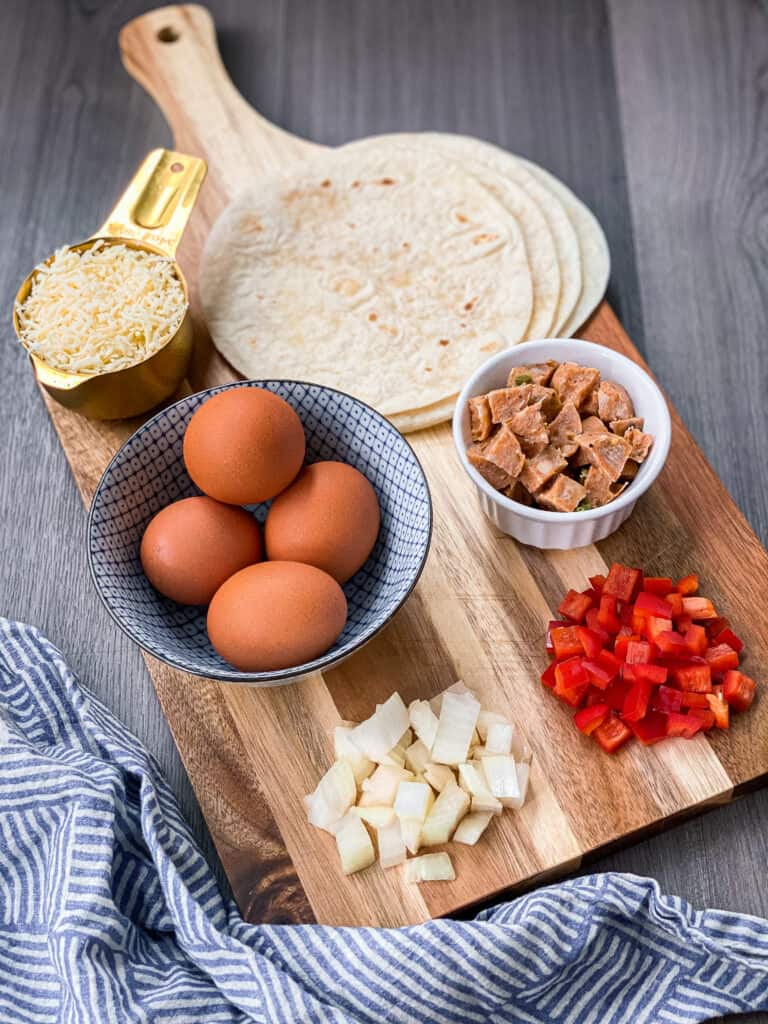 Let's Get Cooking
We want to start by making the egg mixture. This consists of eggs, cream, and cheese. Whisk the eggs and cream well. You want to mixture to be smooth, and homogenous.
We also want to brown our vegetables, and sausage a bit before adding the eggs, as the eggs will be cooking on a lower temperature. Sautéing in butter adds a great flavor.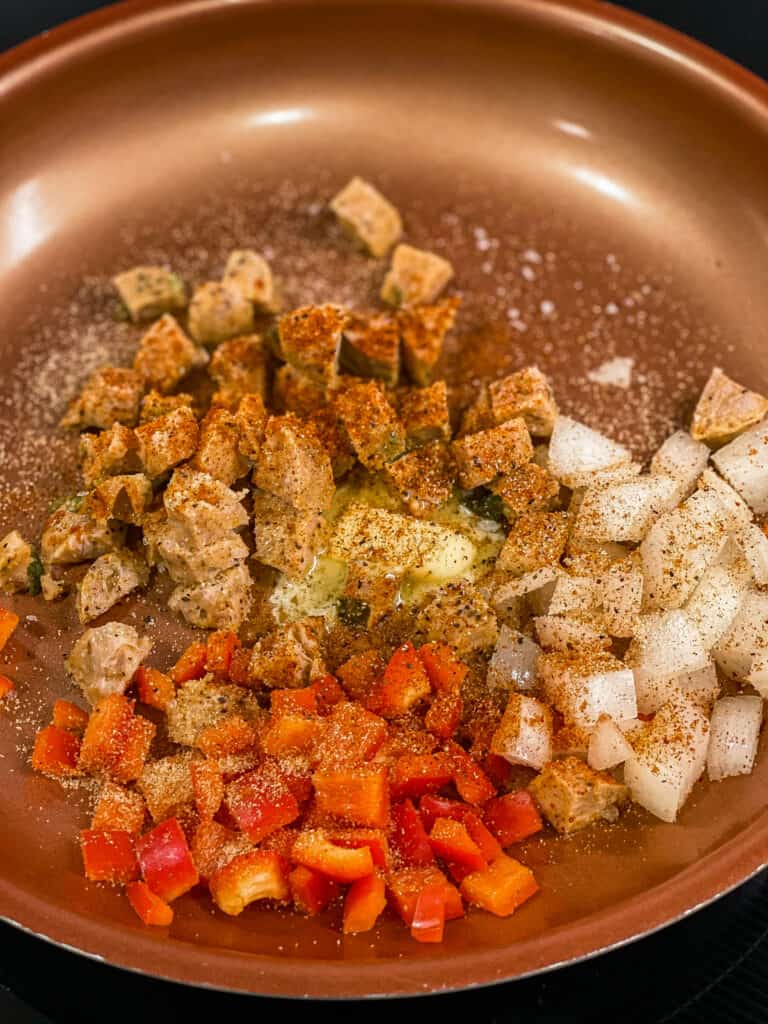 Once we add the egg mixture, we want to turn the heat down, and let the eggs slowly cook until there is no more liquid.
Lastly, we want to assemble the quesadillas on a greased griddle or pan. I like to layer them in this order, tortilla, cheese, egg mixture, cheese, tortilla. This ensures everything sticks, and is nice and cheesy. Once the cheese is melted, and both sides are browned, you are ready to dig in!
How To Freeze & Reheat Southwestern Breakfast Quesadillas
On a baking sheet lined with parchment, place all of the cooked southwestern breakfast quesadillas. Freeze these for about 2 hours. This is called flash freezing, and ensures the quesadilla do not all stick together and freeze in a giant clump. Place all of the quesadillas into a baggie, or air tight freezer container, and they are good to go!
When you are ready to reheat, simply place the frozen quesadilla in the oven at 375°, until the cheese is melty. You can also heat them in the microwave in one minute increments, until they are heated through. Another option is to put them back into a greased skillet and cook on both sides, until hot.