Easy, cheesy, and low carb, these Spaghetti Squash Taco Bowls are the perfect week night meal for 2 (or double the recipe to feed your whole family). Think all of the things you love about a taco in a spaghetti squash instead of a tortilla. I promise you will not miss the tortilla at all. Such an easy way to incorporate more veggies in your day in a flavorful way.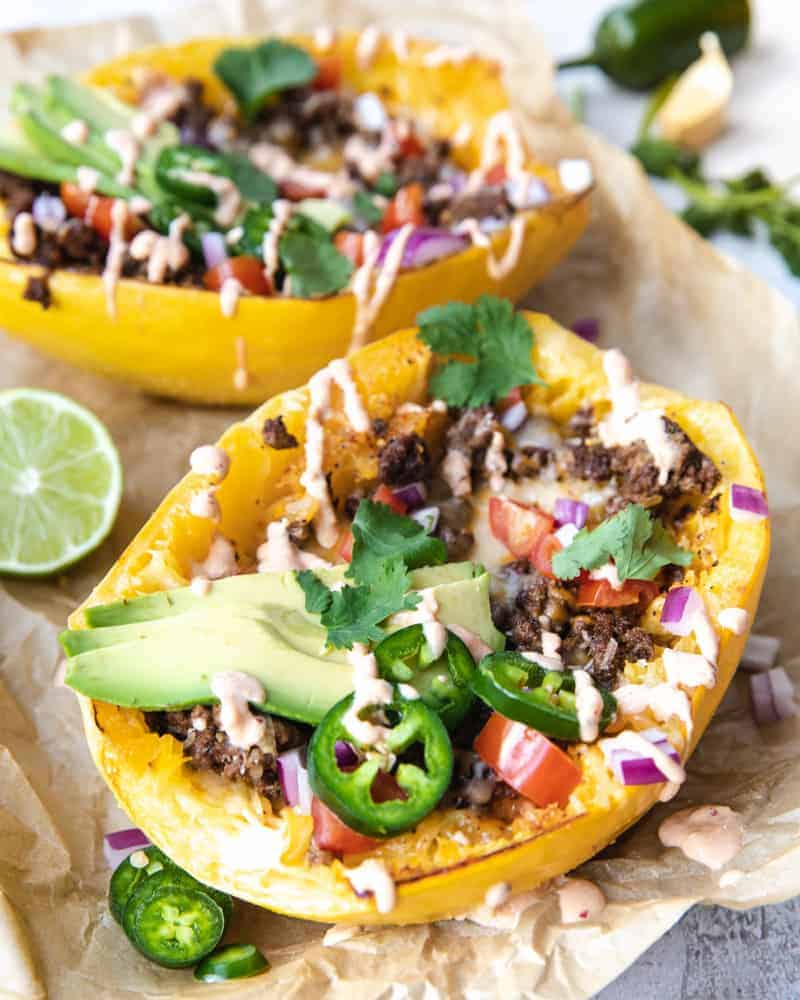 Even my husband, who is not a big fan of vegetables thoroughly enjoyed this dish. I was a little worried the texture of the squash might not be his favorite. He did not mind it at all! I think all of the yummy taco toppings really make these spaghetti squash taco bowls so good. So great for even your pickier eaters!
I eat a pretty balanced diet and I do not follow a certain way of eating (all foods welcomed here). But I feel my best when my veggie and water intake is higher. This definitely does not happen around Christmas so when January came around I started brainstorming ways to eat more veggies. What better way than a play on a taco?
Since the spaghetti squash is picky husband approved, I am already thinking of more recipes to include them in. What are your favorite veggie centered recipes? I will be working on more of my own because I want you and your family to enjoy eating your vegetables.
---
Tell Me About a Spaghetti Squash
So I am sure you have seen these magic squashes all over the internet by this point, but if you somehow still have not or have but have never tried one, let me tell you what they are like!
They are large bright yellow squashes that you can find at your grocery store in the non-refrigerated produce section. They come in all different sizes and that is why the cook time will vary slightly. The size squash you use for this recipe is not too important. Just think about the ratio of toppings to squash you want to have.
They have to be roasted at a high temperature for a fairly long time (about 40 minutes) to cook properly. But once they are tender, you simply take a fork and begin to scrape the inside. This cooked squash will shred into "spaghetti" (not really, but the size and text is very similar). See more here!
It is a great substitute for pasta and a great vessel. It has a very mild flavor, making it very versatile (something I love).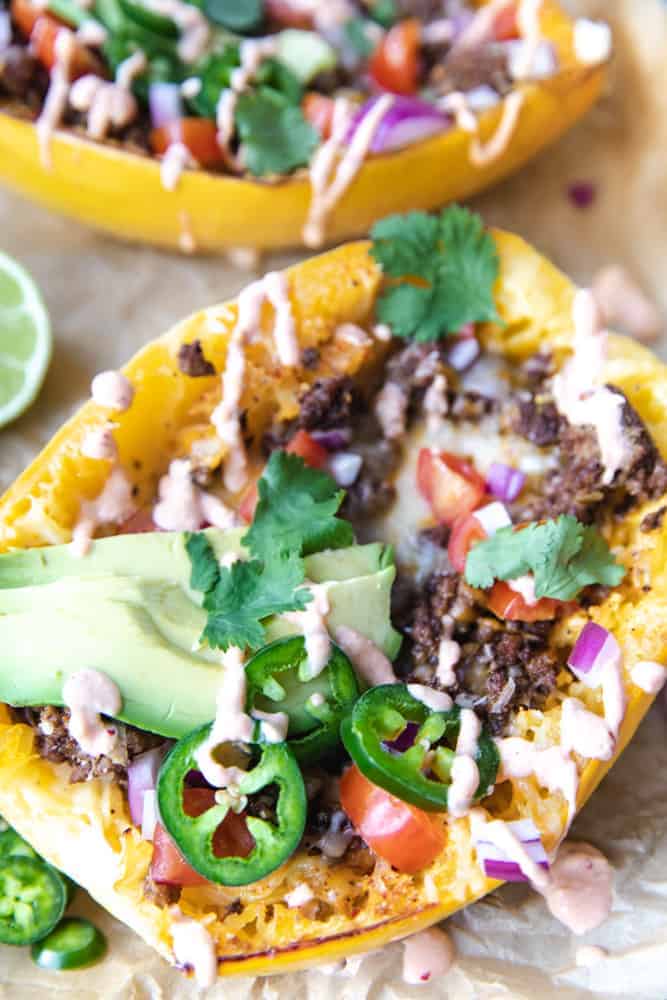 ---
Why You'll Love These Spaghetti Squash Taco Bowls
Simple ingredients
Less than an hour cook time start to finish
Veggie (and fiber) heavy
Low carb
Full of flavor
Like a taco (what is not to love about this one?)
---
Spaghetti Squash Taco Bowls Substitution Ideas
One of the reasons I love this recipe is it is very adaptable. Whether you are cutting carbs, dairy free, gluten free, eat plant based, or vegetarian, this recipe can be easily altered for you!
Low carb. Load this bowl with extra meat (see recipe notes), cheese, avocado, and sour cream/Greek yogurt. This will keep the fats high still making it very satiating.
Dairy free. Skip the cheese, sour cream, or yogurt. You won't even miss it, if you add loads of veg and avocado. You could also use dairy free cheese (unfortunately I can't offer any recommendations in this department). Try drizzling a cilantro lime or Mexican vinaigrette on top for moisture and flavor.
Gluten free. Thankfully this recipe does not have any gluten in it, so this one is easy! Spaghetti squash is a great gluten free option.
Vegan or plant based. See dairy free bullet above. Swap the ground beef for black or pinto beans, but do not skip out on the taco seasoning! You could also add white or brown rice. Try my recipe for The Best Cilantro Lime Rice!
Vegetarian. See vegan bullet point. But still add cheese, because if you can eat cheese why would you EVER skip out on cheese?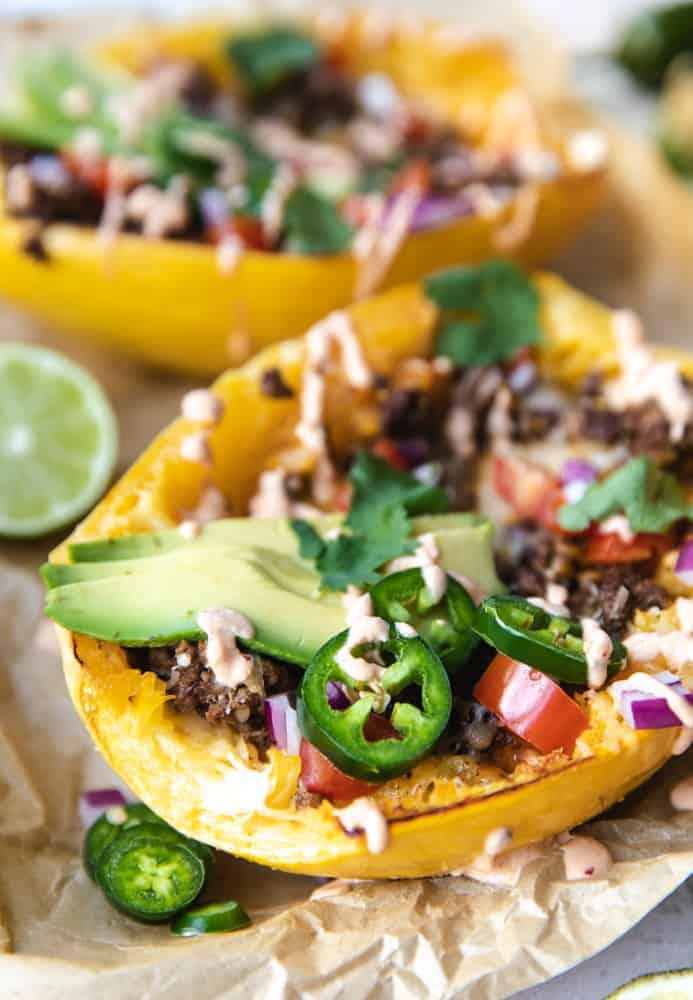 ---
My Favorite Toppings & Accompaniments
So the base of this recipe is pretty simple. Roasted spaghetti squash. Ground beef flavored with taco seasoning. Melted cheese. The magic is really in the toppings. They add so much additional freshness, color, and flavor. Do not over look these.
Where do I even start? I guess we will start with more vegetables! Add pico de gallo, tomato, red onion, jalapeño, cilantro, iceberg/romaine lettuce, or any vegetable that you would put on a taco. These toppings are a great low calorie way to add more flavor and texture. Another way to do this is store-bought or homemade salsa.
For some creaminess, add sour cream or Greek yogurt (see my sauce recipes below). Avocado or guacamole is also a great vegan way to add some creaminess.
Like I mentioned above, beans, rice, black or pinto beans are also great additions to these spaghetti squash taco bowls.
Try these recipes: