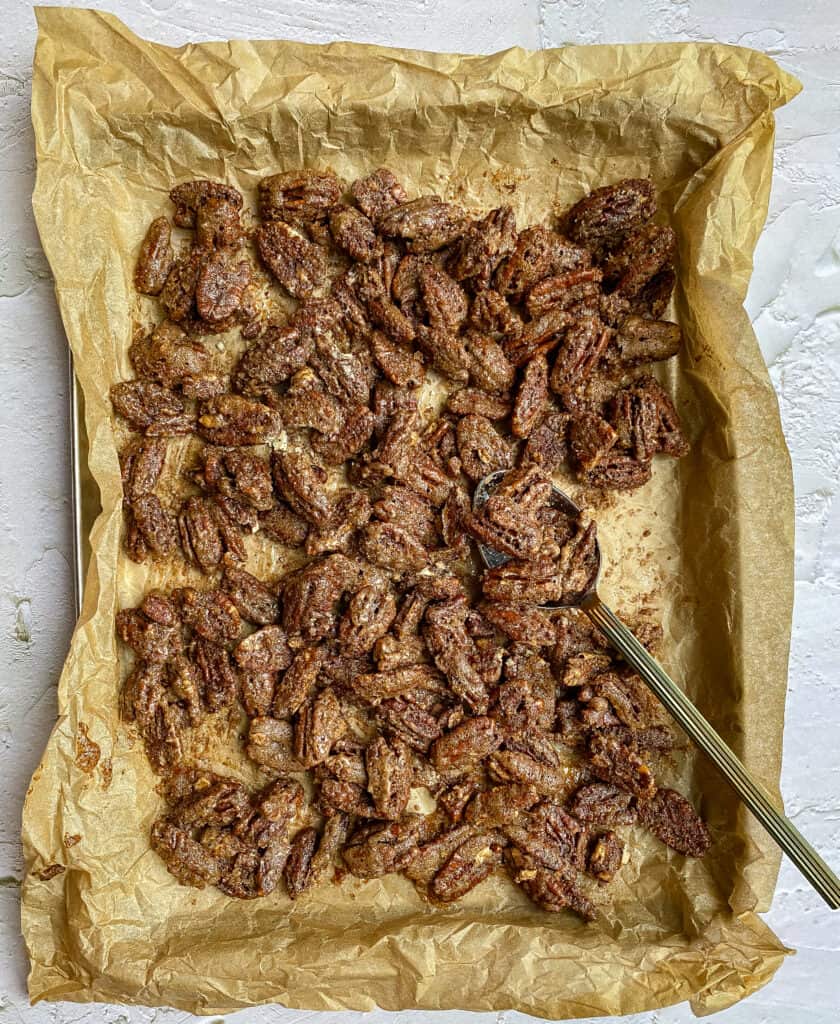 These Spiced Candied Pecans are spicy, salty, sweet, and toffee-like bites of crunchy goodness. The key ingredients to getting a crunchy irresistible coating are egg whites and pumpkin pie spice. These candied pecans are super easy to make and very difficult to stop eating. They only require a handful of ingredients that you probably already have in your pantry. Spiced candied pecans are the perfect holiday treat.
As soon as November 1st hits, it is officially Christmas time in my mind. Last week we took down all the fall decor and got our tree up. I wanted to make a whole evening out of putting up the Christmas tree, since it is my husband and my first Christmas married. So we turned on some Christmas music, I had these spiced candied pecans cooking, and we lit the tree (and managed to only argue a little bit).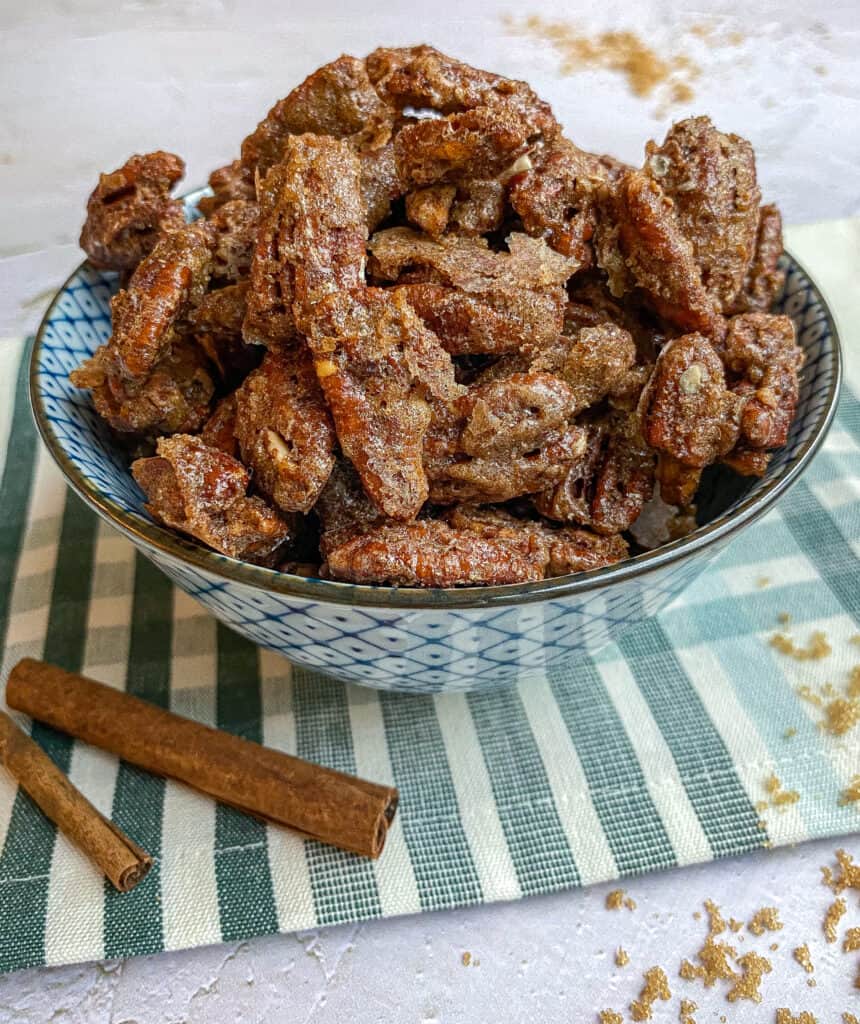 These spiced candied pecans just give me all the cozy holiday vibes. They remind me of the warm pecans you can find on a street cart in Manhattan and NYC's Christmas decor. Is there anything more festive? They will also make your house smell of cinnamon sugar which is just another reason I love these especially at the holidays.
For those of you who could never even think about Christmas until after Thanksgiving is over, they can still fit under the fall umbrella with the addition of pumpkin pie spice. These spiced candied pecans really are a bridge between fall and the holiday season. If you are looking for another festive treat, try out my Brown Butter Apple Pecan Cookies.
Let's Get Cooking
This is going to be short one, because these spiced candied pecans are so easy! Yay for an easy, tasty, sweet, and salty snack.
Whip the egg white. You want whip the egg white with an electric mixer until it it foamy, light, and airy. It will take a few minutes. See my video above.
Fold in the spices and pecans. Gently fold in all the spices and the vanilla. Then we will add the pecans. We want to maintain as much of the air we just whipped into the egg white.
Spread onto a baking sheet with parchment. We want the pecans to be spread into a single layer. Check out my favorite baking sheets.
Bake for 45 minutes. Stir the pecans halfway through. Let them cool completely on the baking sheet.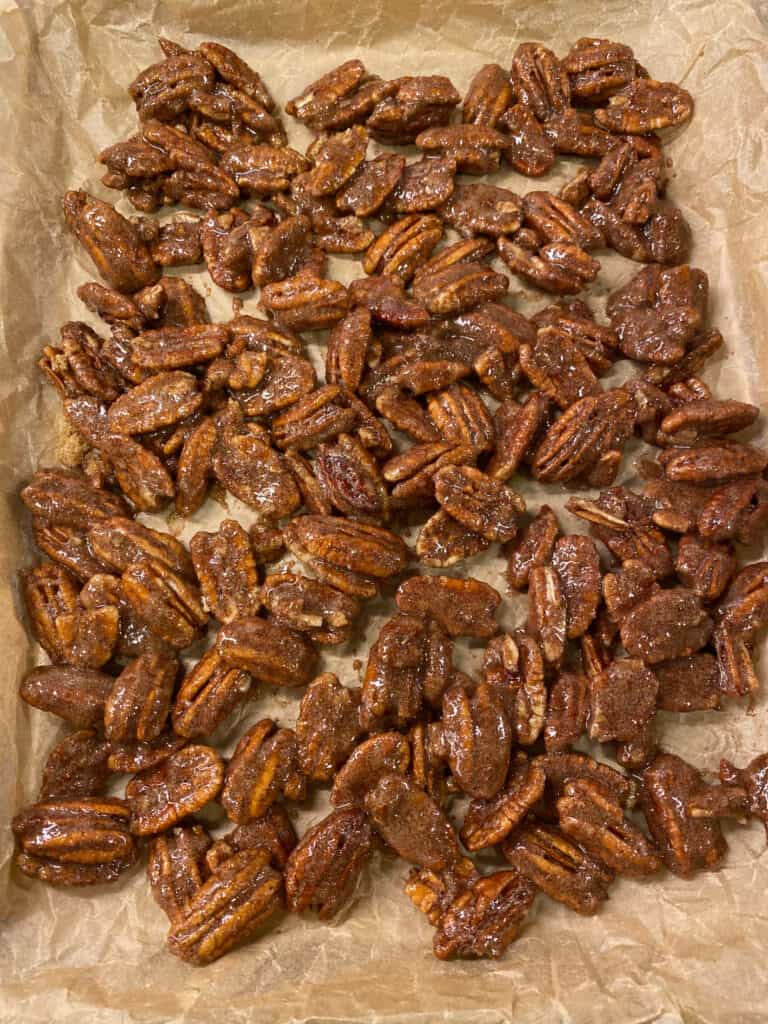 Tips for Making Spiced Candied Pecans
Use egg whites. The whipped egg white is really the key to getting the best candied coating around the pecans. I do not recommend leaving this ingredient out.
Make sure you line your baking sheet with parchment. The sugary (and very sticky) egg mixture is going to turn into candy in the oven. Once cooled it will be very hard and difficult to remove from an unlined pan. Parchment is the only way to ensure the pecans slide right off the pan after they cool.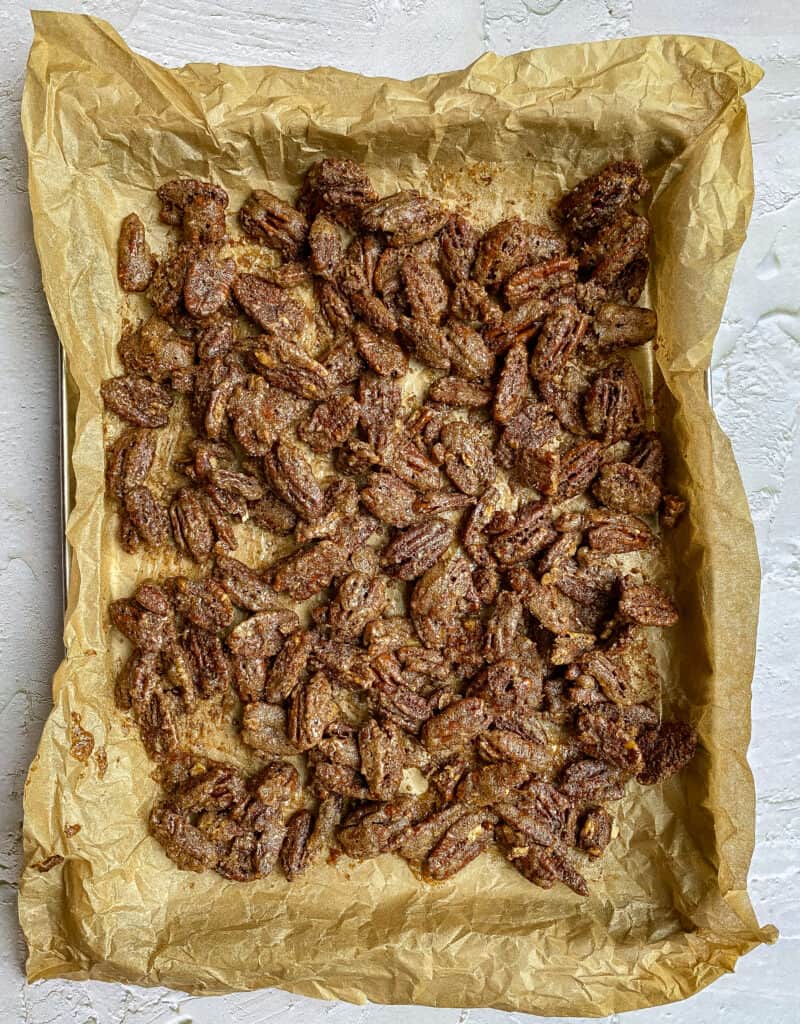 How To Use Spiced Candied Pecans
Use them in salads. These nuts not only add a touch of sweetness to salad, but a much needed crunchy texture. Try a simple lettuce base, some goat cheese, an apple or some dried cranberries, your favorite vinaigrette, and the star of the show, these spiced candied pecans.
Use them in place of pecans in your favorite desserts. These pecans are great in pies, cookies, bars, etc. Try swapping the raw chopped pecans in my Brown Butter Apple Pecan Cookies for these spiced candied pecans.
Add them to your next charcuterie board. Everyone (including myself) is cheese board obsessed right now and these are the perfect addition to your next board. Think Thanksgiving and Christmas gathering appetizer for guests to snack on as they arrive.
Gift them. These nuts are the perfect holiday gift. Fill a cute glass jar with these spiced candied pecans and tie some festive ribbon around the top with a simple gift tag. This is a great holiday party favor for each guest to take home.