This Spicy Italian Sausage Pasta With Kale, Onions, & Peppers will quickly become your new go to pasta dish. See you later spaghetti! This spicy Italian sausage pasta is loaded with veggies, parmesan cheese, and has a little bit of a kick. The only non negotiable: Serve with warm garlic bread and lots of red wine.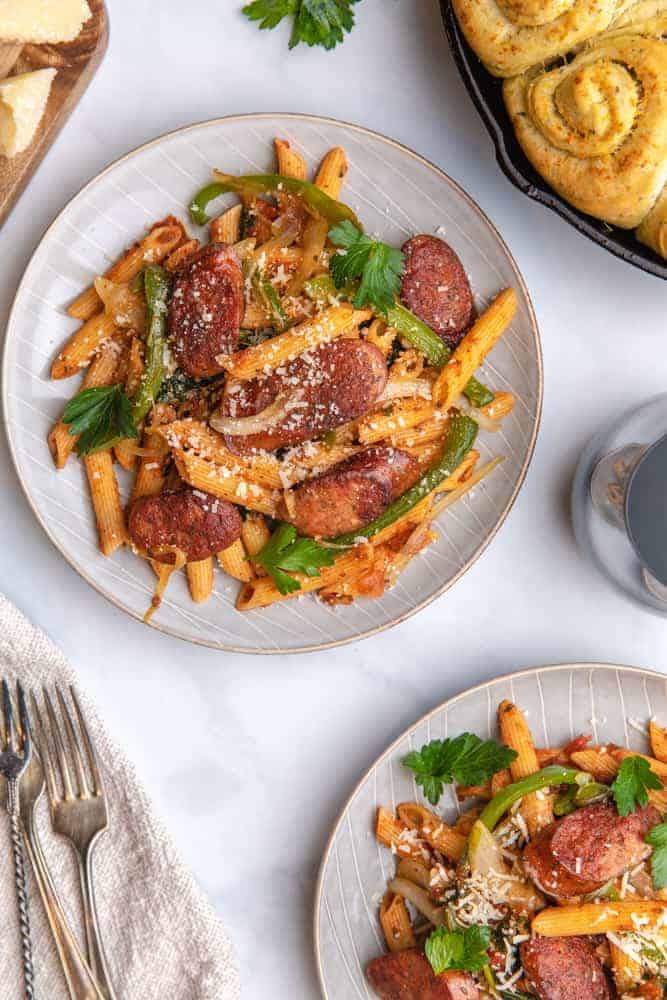 Spicy Italian sausage pasta is one of those easy dinners I make on repeat. I keep asking myself why this awesome recipe has yet to make its way to my blog. Well thankfully today is the day.
This recipe is special to me because it is one of the first things I made for my husband. It quickly became one of his favorites and I would say it is the dish he requests that I make most often other than my slow cooker Olive Garden chicken recipe or Pink Sauce Pasta.
As for inspiration, my mom used to make something similar growing up with chicken sausage. I always liked it so much more than traditional spaghetti with meat sauce. I put my twist on spicy Italian sausage pasta by adding a pinch of red pepper and wilted kale. Because the kale makes it healthy right?
---
My Favorite Things About Spicy Italian Sausage Pasta
Three different kinds of veggies - onion, green bell pepper, & kale
Robust flavors - red wine & tomatoes
Cheesy - parmesan reggiano
Herbaceous - oregano, basil, & thyme
A hint of spice - red pepper flakes
Ready in 30 minutes
An excuse to have a glass of red wine (as if you even need one)
---
Why a Jar of Pasta Sauce?
So if you scroll down to the recipe you will see it calls for a jar of pasta sauce, instead of crushed tomatoes. And here's why:
Time. I am all about making things from scratch, but sometimes there is simply not enough time. Most people have one hour max to prepare dinner after work and most people do not want to spend hours in the kitchen (I am the exception). The solution? Jarred sauce.
Crushed tomatoes are great for making homemade sauce. You can develop wonderful flavor, but I find that you need to let the sauce simmer for at least one hour to develop enough flavor when you use crushed tomatoes.
Flavor. Unlike crushed tomatoes, a jar of pasta sauce has spices, herbs, and olive oil already in it. This adds so much flavor. This combined with the spices and herbs the recipe calls for creates the most flavorful sauce that only needs to simmer for 15-20 minutes.
So not only is it easier and faster to use jarred sauce, I think it tastes just as good if not better! The herbs, fresh garlic, wine, and spices bring take this store-bought jar of sauce to the next level.
Any jar of sauce works! Such as marinara, tomato basil, roasted garlic, veggie, etc. Use whatever is already in your pantry.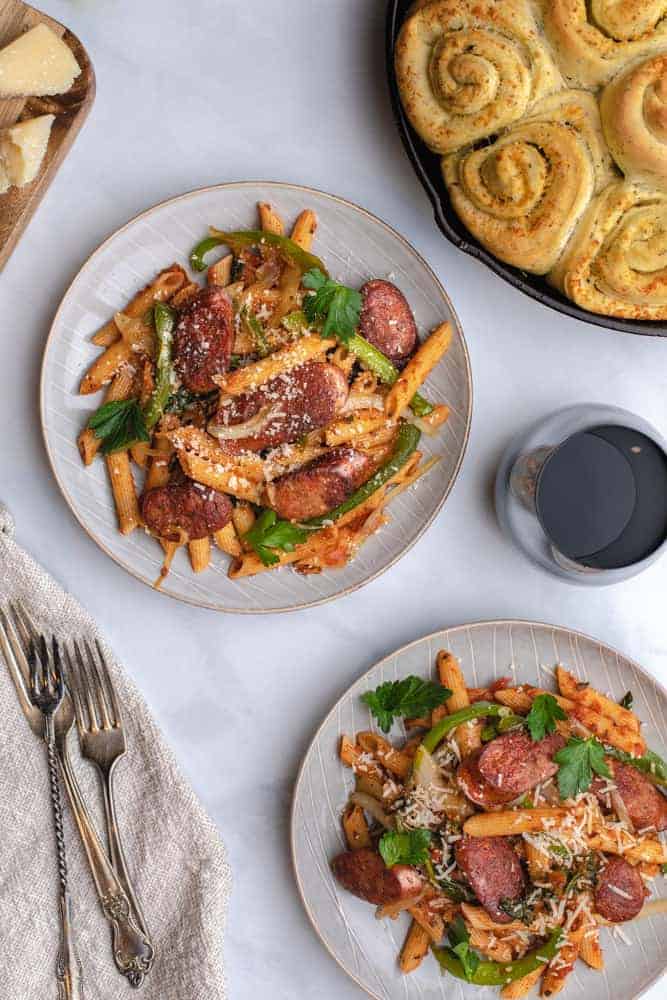 ---
How To Make Spicy Italian Sausage Pasta
Doctor up the sauce. First you will get the sauce going. It is best to do this first so that it can simmer while you prepare the rest of the ingredients. Most of the spices for the sauce are dried, but fresh garlic is a must. Red wine is also a must. These aromatics and spices are always great additions to pasta sauce.
Boil the pasta. My biggest piece of advice here is to set a timer. Set a timer based on the instructions on the pack of the package. If there is a cooking time range, set the timer for the shorter time. Taste the pasta once the timer goes off, and if it is not done cook for another minute or two max. You do not want to overcook your pasta. And do not rinse! Why? Read more here on Delallo on How To Cook Perfect Pasta.
Sear the sausage. Even though the sausage I typically use for this recipe is already cooked, I like to sear it a little bit to get some color and a bit of a crust on the outside. This adds such a nice flavor.
Sauté the veggies. In the same pan that you browned the sausage in, cook the onion and bell pepper. I like my veggies crunchy so I give it a quick cook on higher heat. Cook the vegetables until they are done to your liking. You will add the bell pepper first because they take longer to soften.
Spicy Italian Sausage Pasta
This easy and healthy Spicy Italian Sausage Pasta With Kale, Onions, & Peppers is the perfect 30 minute weeknight dinner recipe. It loaded with veggies and parmesan cheese. Chicken or pork sausage works great.
Ingredients:
1

tbsp

olive oil

4

cloves

garlic

,

grated

½

tsp

dried oregano

½

tsp

thyme

½

tsp

dried basil

½

tsp

onion powder

½

tsp

red pepper

⅓

cup

dry red wine

28

oz

red pasta sauce

,

1 jar

2-3

cup

kale leaves

¼

cup

grated parmesan reggiano

12

oz

penne pasta

4

links

spicy italian sausage

1

green bell pepper

,

sliced

1

yellow onion

,

sliced

grated parmesan, parsley, and basil for serving
Instructions:
In a medium saucepan, heat the olive oil on medium. Add the garlic and sauté for about 1 minute. Add the oregano, thyme, basil, and onion powder and cook for another minute or until fragrant. Deglaze the pan with the wine. Let the wine boil and alcohol cook off for a couple of minutes. Add the sauce, kale, and parmesan reggiano and bring to a boil. Cover and let simmer on low while you prepare the rest of the ingredients.

Boil the pasta until it is al dente. Drain and set aside.

While the pasta is boiling, grease and heat a large skillet on medium high. Sear the sausage pieces until they are browned on each side. Add the peppers and sauté for 1-2 minutes. Add the onion and sauté until softened and browned.

Two options for serving. You can add the sauce and pasta to the large skillet and serve the pasta tossed with the sauce and sausage mixture. You can also serve the dish layered, starting with the pasta, then piling on the sauce and the sausage mixture.
Notes:
Sauce: I like to start with a jar of my favorite red pasta sauce. Rao's is a great brand. I find starting with a jar of pasta sauce adds more flavor to the dish. You can also use crushed tomatoes but you may need to add more seasoning.
NUTRITION:
Calories:
365
kcal
|
Carbohydrates:
68
g
|
Protein:
12
g
|
Fat:
5
g
|
Saturated Fat:
1
g
|
Polyunsaturated Fat:
1
g
|
Monounsaturated Fat:
3
g
|
Sodium:
7
mg
|
Fiber:
4
g
|
Sugar:
4
g