This cilantro lime rice is the perfect addition to your weekly taco night, or my Instant Pot Beef Short Rib Barbacoa. After lots of research, and experimenting in the kitchen, I have mastered this rice. It tastes bright, tangy, and herbaceous. This cilantro lime rice has a light and fluffy texture. In order to make the best rice, you must rinse, and brown the rice with butter. The best way to infuse the cilantro lime flavor is to fold a pesto into the cooked rice. And that's the gist!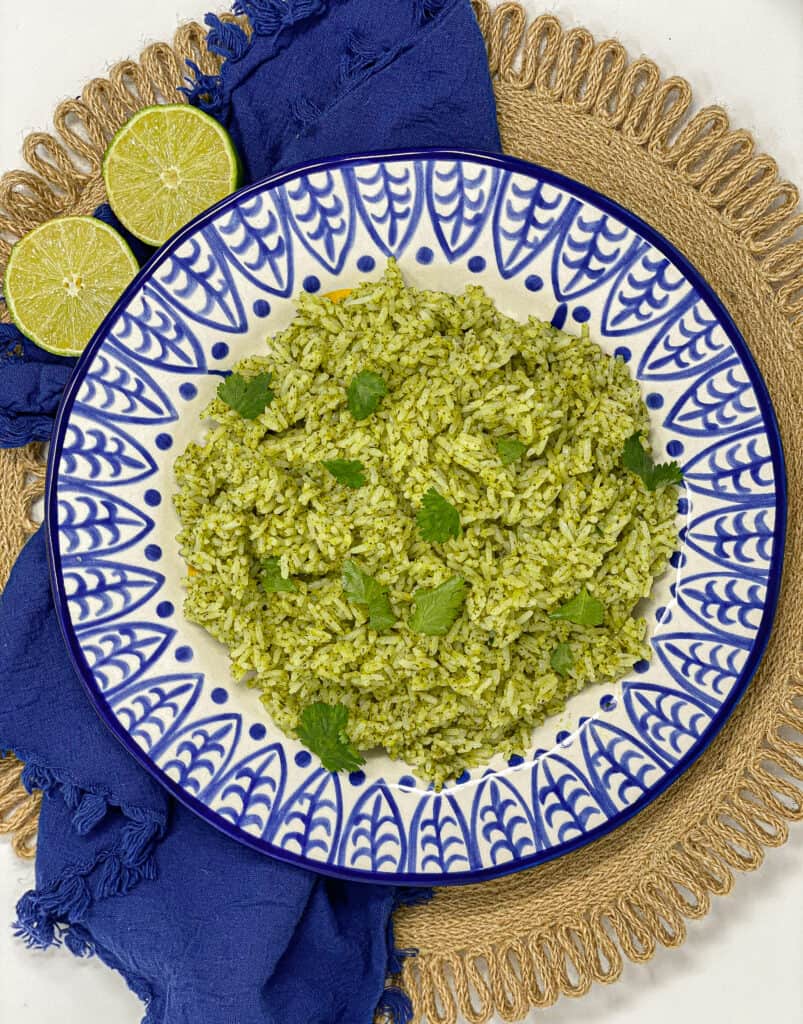 Why This Cilantro Lime Rice Is the Best
There are a few reasons why this cilantro lime rice really is the best. But first let's talk about what this rice is not. This is not like Chipotle's rice. I personally think theirs is bland. Don't get me wrong its good rice, just more on the plain side. This rice is not plain. The pesto packs an intense cilantro lime flavor.
Speaking of pesto, that is what makes this rice so flavorful and good! I am sure when you think of pesto, you think of nuts, cheese, and basil. So ~technically~ speaking this is not a pesto, but its very similar, so I am going with it. It uses cilantro, instead of basil, and no cheese.
Lastly, sautéing the rice in some butter is key (not just in this recipe but anytime you are making rice). The butter becomes nutty, and fragrant. And the rice browns just a bit. When does butter not make a dish better?
There are so many different types of rice. Two of my favorites kinds to cook with are jasmine and basmati.
Let's Talk Rice
Basmati rice grains are long and skinny. It is very light, and fluffy. Basmati does not have sticky texture, and is almost pasta like in my opinion. When I think of basmati rice I think of Indian and Middle eastern cuisine, as it is the perfect accompaniment to a hearty curry, or a grilled kofta.
So you might be asking yourself if you like basmati rice so much why didn't you (spoiler) use it in this recipe? Well, I think basmati is a little too delicate to hold up to the pesto. So jasmine rice is another great long grain alternative. It is often used in Asian cooking, but today it is getting a Mexican flare.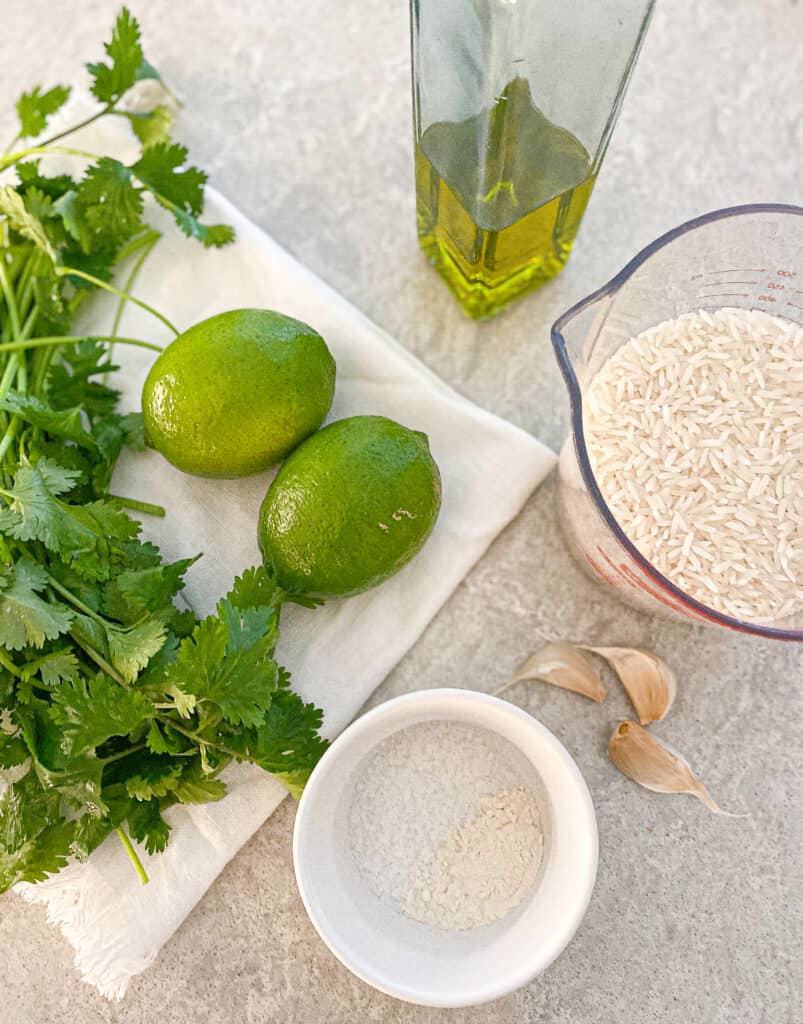 Let's Get Cooking
First, we are going to start by rinsing the rice. I recommend using these hand strainers for rinsing grains, and legumes. This will remove some of the starch from the rice, making it less sticky once cooked, and easier to fold in the pesto.
Next we will sauté the rice in some butter. This just takes a few minutes, but makes a big difference. I also like to add the dry spices before the liquid so they can toast, and become fragrant.
The ratio of water to rice is the most important part of cooking it. Do not eyeball this one. Be sure to measure the rice, and the water carefully. For every cup of jasmine rice, 1 ¼ cup of water is needed.
Once the rice has come to a rapid boil, cover it, and turn it to low. Set a timer for 15-20 minutes, and do not lift the lid until the timer has gone off. All of that powerful steam that has built up to cook the rice will be released (and we do not want that).
While the rice is cooking, we will make the "pesto" in a food processor. Once the rice is cooked, we (very gently) fold the pesto into it. Folding ensures that we are not mashing the rice causing it to become dense, and sticky.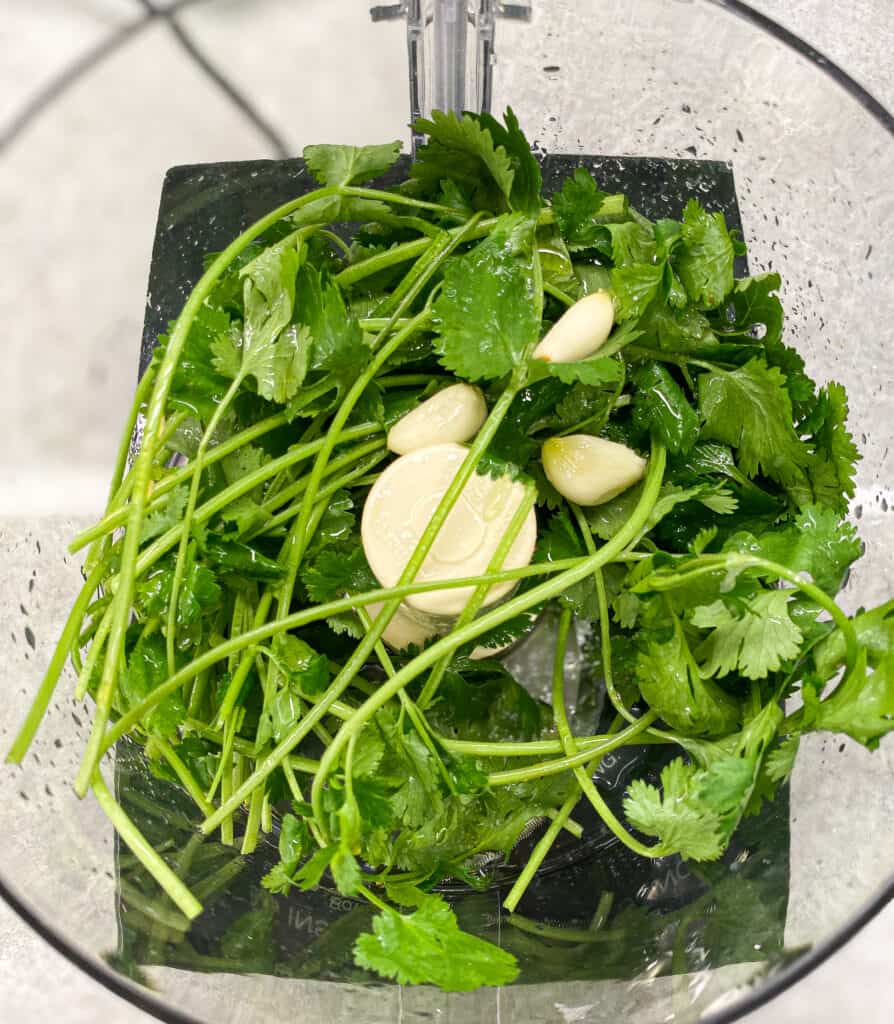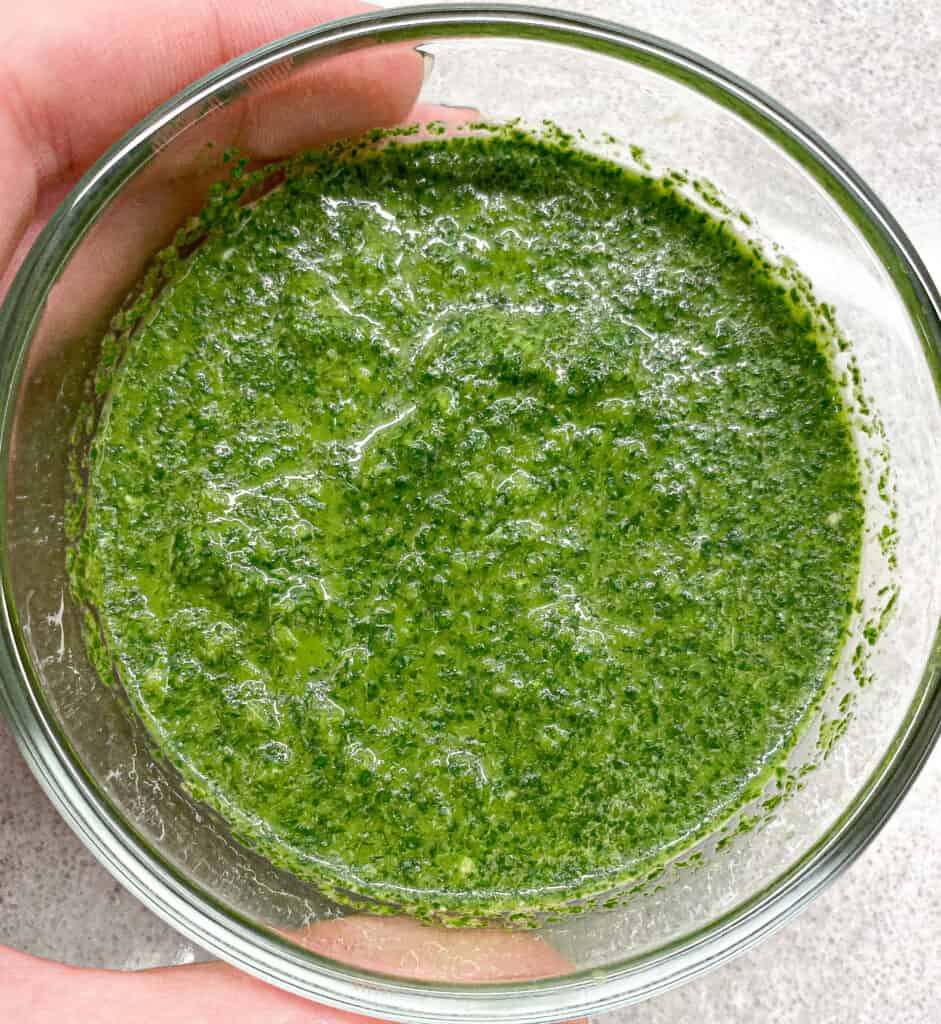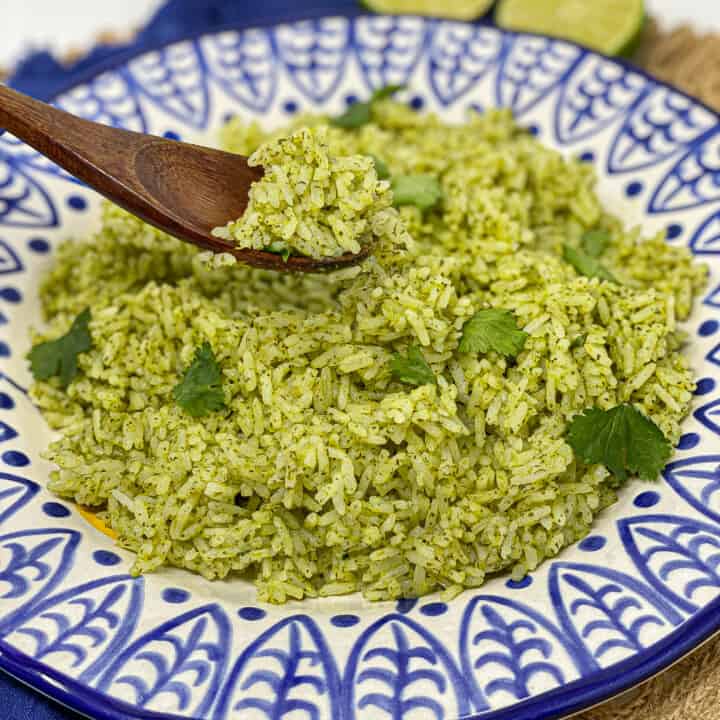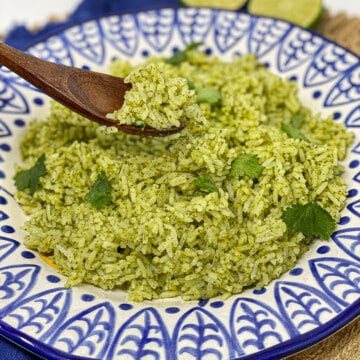 The Best Cilantro Lime Rice
This is the best cilantro lime rice. It is super fluffy, and full of flavor. It packs a punch with a cilantro lime garlic pesto folded in.
Ingredients
Rice
1

Tablespoon

butter*

unsalted

1 ½

cup

jasmine rice*

rinsed

1

teaspoon

onion powder

1

teaspoon

salt
Cilantro Pesto Sauce
1

cup

cilantro

leaves & stems

3

cloves

garlic

peeled

1

lime

juiced

t

tablespoon

olive oil
Instructions
Let's cook the rice!
In a medium sized pot, melt the butter on medium high heat. Add the rice, and sauté for 2-3 minutes. Continuosly stir the rice so it does not burn.

Add in the onion powder, and salt. Sauté until fragrant for about 1 minute.

Add the water. Once it is rapidly boiling, cover, and turn the heat to low. Cook for 15-20 minutes, so that all of the water has absorbed.
Let's make the pesto!
While the rice is cooking, in a food processor, add the cilantro, garlic, lime, and olive oil. Blend well, until completely smooth.
Let's finish it!
Fold the pesto into the rice until fully combined.
Notes
* You can replace the butter with 1 tablespoon of olive oil to make the dish vegan.
* You can use a different kind of white rice. Be sure to follow the instructions on the package for the rice to water ratio, and the cook time
Shop my Amazon storefront for all of my kitchen favorites!
Try some of my other recipes!