The Best Pizza Dip is extra cheesy and loaded with onions, peppers, and pepperoni. It is super easy to make and you will only need 6 ingredients. It is perfect to make ahead and bake right before you are ready to serve on football Sunday or at your upcoming holiday parties.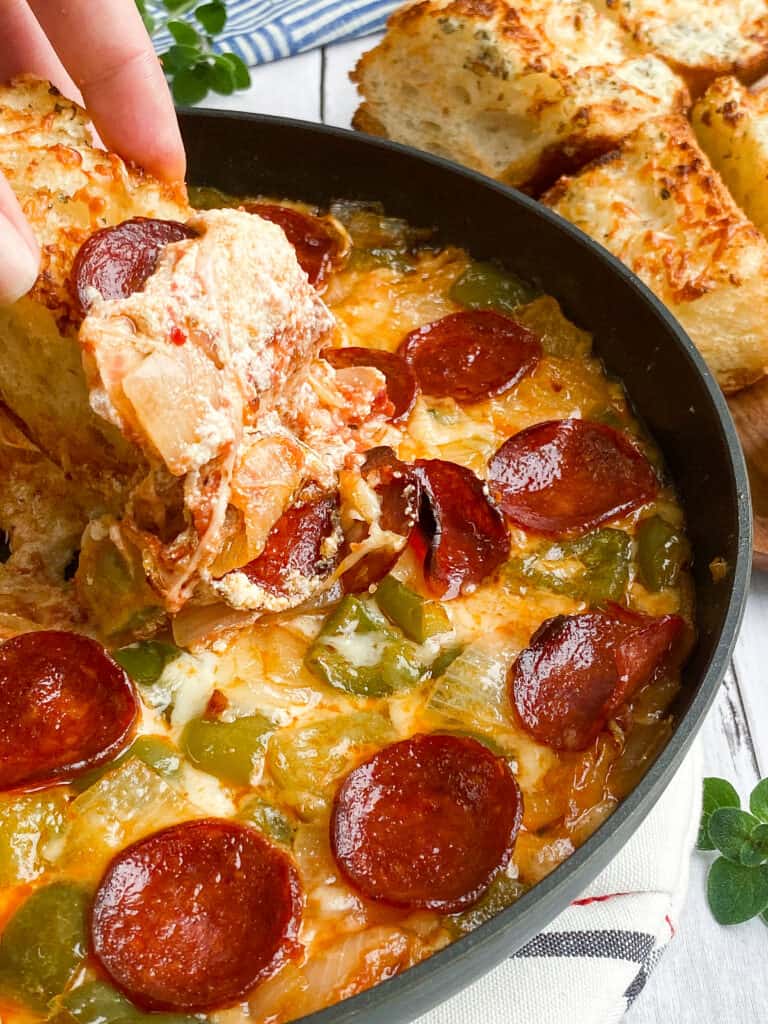 Football season equals appetizer recipe testing for months for me. My husband is a football fanatic (watches all the games, plays fantasy, yells at the tv, you get the gist). Every Sunday, we snack all day on a random assortment of gamely snacks (or keep it simple and order pizza).
I love making homemade pizzas and always have all of the ingredients on hand for them. So I figured I would mix things up and try out a pizza dip. I love my toppings so I knew I had to add more than just cheese and pepperoni.
So one Sunday, I whipped this pizza dip up, and it really is the best pizza dip. The onions and peppers add so much flavor. I could not stop eating it.
If you are looking for other game-day snack or party appetizers, check these out recipes out: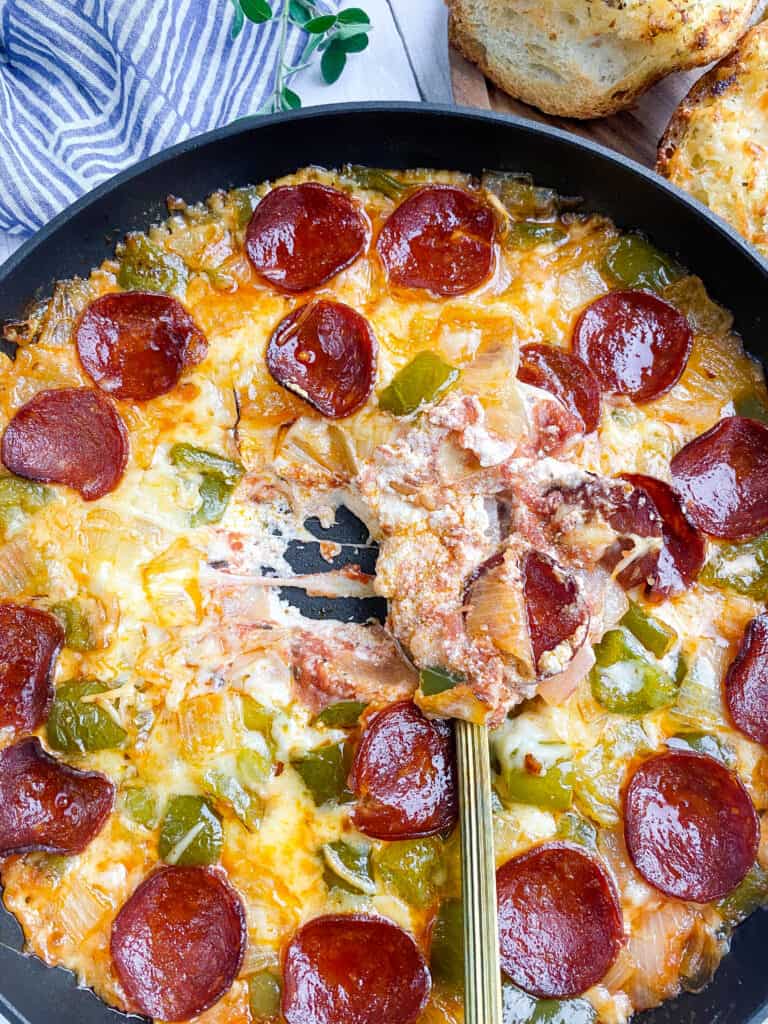 Let's Get Cooking
Make the sauce. We are going to combine the crushed tomatoes and all the seasonings in a small sauce pot. We will let this simmer while we prepare the other ingredients so it can develop flavor.
Sauté the onions and pepper. In a small pan, we will lightly sauté the onions and peppers. This will remove some of their water.
Layer. We will start with the cream cheese, then the sauce, then the shredded cheese, then the pepper and onions, and lastly the pepperoni.
Bake. Let the dip bake until the top is slightly browned and the edges are bubbling.
Tips for Making the Best Pizza Dip
Make sure your dish is oven safe. I show my dip going into one of my Calphalon frying pans, which is stove and oven safe. Not all stove top pans are oven safe so a round pie dish, casserole dish, cast-iron skillet, or corning ware dish will work.
Use whipped cream cheese or soften. I always use whipped cream cheese for this dip because it is so easy to spread into a smooth even layer. If you use a brick of cream cheese, you will need to let it soften at room temperature for at least 30 minutes, so it is spreadable.
Cook your veg. It is super important to sauté the onions and peppers for a couple of minutes before they go in the dip. This will help evaporate some of the excess water so the dip does not get watery. I recommend just sautéing them dry or with very little oil so we do not add any more oil to the pizza dip.
Blot the grease. I know this might seem like a sin to some, but I always blot some of the oil off the top of the dip with a paper towel before serving. I find it can be too greasy if you do not remove some of the excess grease.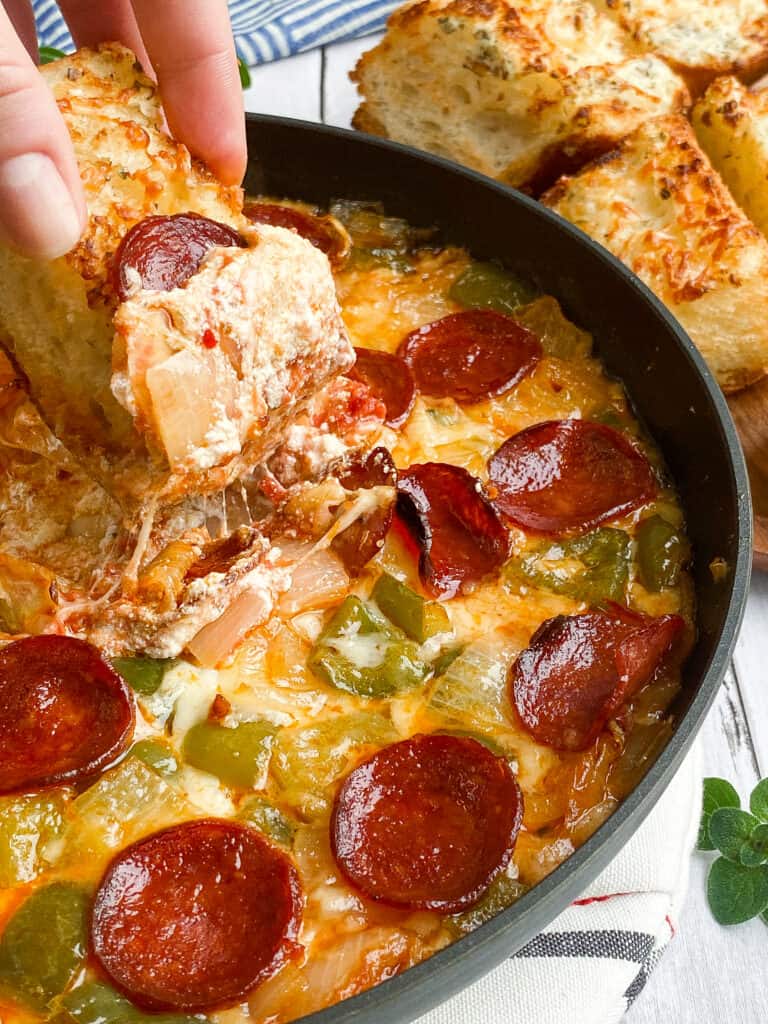 Variations & Shortcuts for Making the Best Pizza Dip
You can use store-bought pizza sauce. I use crushed tomatoes and season them myself to make my version of a pizza sauce or marinara. But if you have a favorite store-bought sauce, use it! I am all about keeping things easy.
Feel free to mix up the toppings. Use whatever pizza toppings you love. I wouldn't recommend anything with too much water. I also recommend cooking any meats before putting them in the dip, like Italian sausage.
What To Serve With Pizza Dip
There are so many different things to serve this dip with but my Garlic Bread Recipe pairs perfectly. You can also use soft French bread chunks on their own and just microwave them for about 10-15 seconds.
Pita chips are a great option because they are ready to eat and add some nice crunch. These come in many different flavors, but the cheese, herb, or sea salt pita chips are my personal favorites.
Soft bread sticks or the cracker like bread sticks also make a great vessel for this pizza dip. Really any cracker or bread like item works for this dip. Keep it simple and easy.