This Warm Butternut Squash Pesto Orzo Salad is full of roasted vegetables, vegan pesto, and (best of all) pasta! This recipe is completely plant-based, and it can be served as an entrée or side dish. Fall meets summer, with warm vegetables, and homemade pesto. Enjoy this pesto orzo salad on Meatless Monday, or as a Thanksgiving side dish.
Fall is in full swing here in Seattle. So naturally, I have been craving all of the hearty vegetables, and warm foods. I bought some orzo over the summer that I have been meaning to incorporate into a recipe. I have seen so many recipes on Instagram for beautiful fall salads. So I merged the two and put my own twist on a traditional fall salad, to create this fall pesto orzo salad
I decided to keep this pesto orzo salad vegan, because I wanted to highlight the herbs and vegetables, and I also want to cater to different eating styles. I do not adhere to a specific diet, but I love to dabble in each of them. I try my best to eat lots of vegetables because they make me feel good.
So I am going to challenge you to incorporate more plant-based meals in your routine!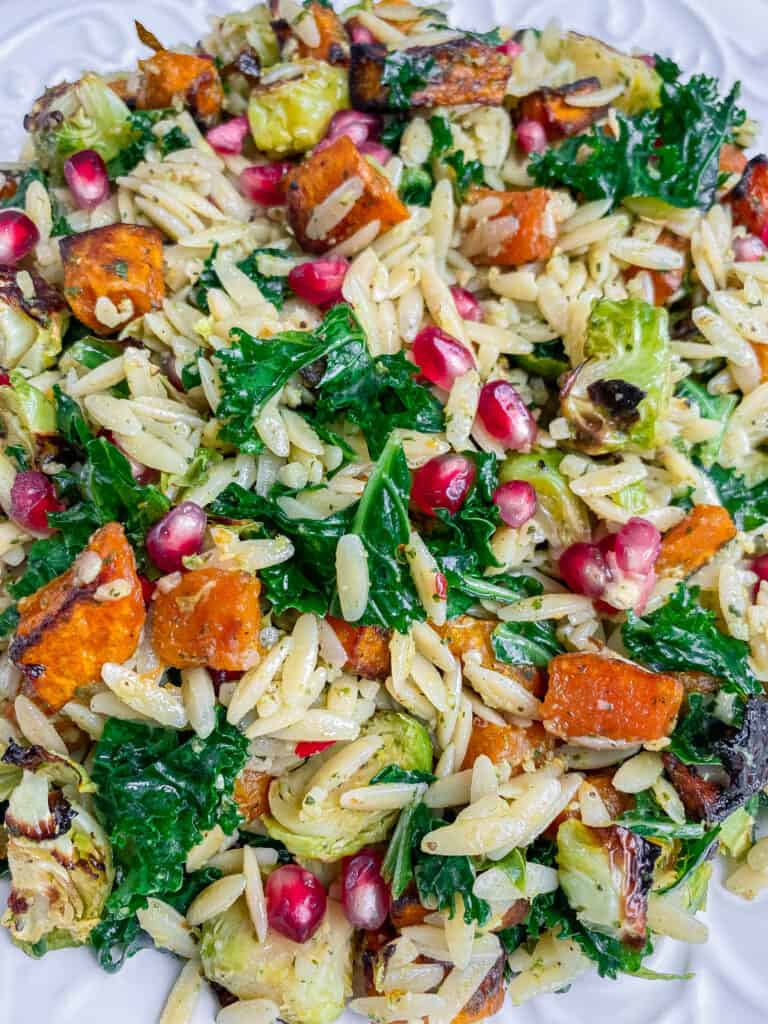 Fall Flavors
Butternut squash. Butternut squash has a sweet and nutty taste, and is similar to a pumpkin. When roasted at a high temperature, the sugars begin to caramelize, and it will have a soft and smooth texture.
Brussel sprouts. Brussel sprouts remind me of mini cabbages. When they are not over cooked, they add a nice crunchy texture. When broiled or roasted, the leaves will turn a dark color, and the bitterness plays well with the sweet squash.
Kale. Kale is a great vessel. You can dress and season it anyway that you like. It adds nice texture, and freshness to this cooked salad. It adds a lovely deep green color.
Pomegranate seeds. These small little gems add a burst of acidity, and tartness to the salad. They bright up all of the flavors, and add the most beautiful color.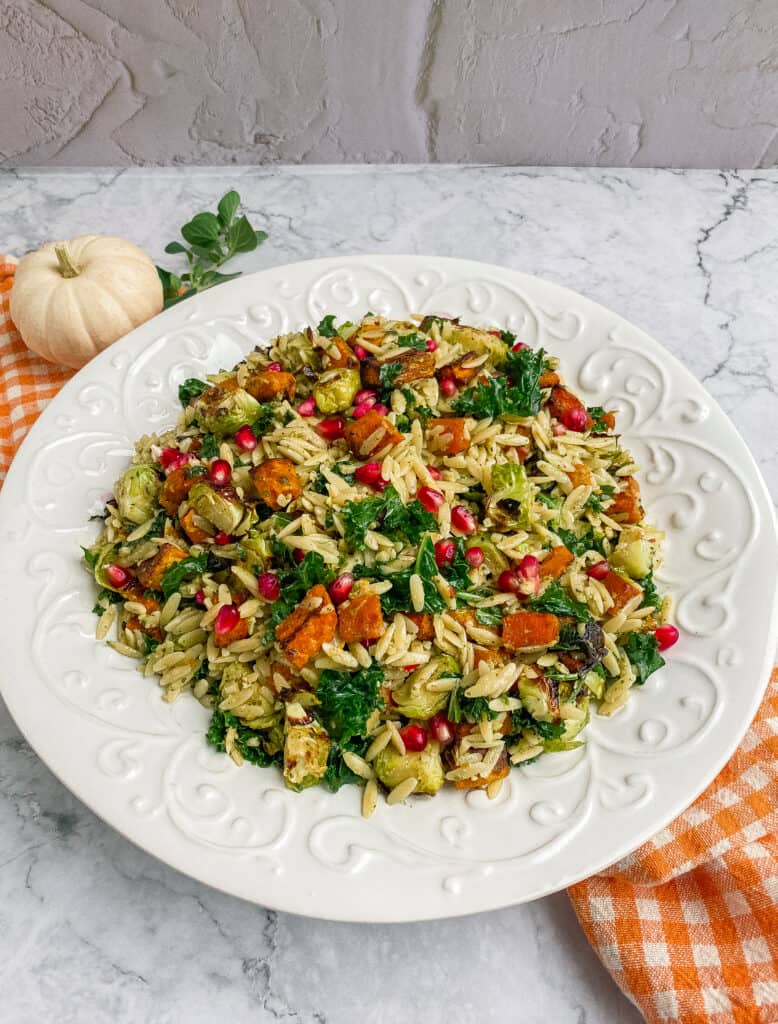 Tips for Making This Pesto Orzo Salad
I like to broil the vegetables before I roast them. This helps this to develop color, and ensure that they are not over cooked. I prefer my vegetables to have a bit of a crunch, and some char. I recommend broiling for a couple of minutes and then checking them. Keep a close eye on them so they do not burn. If you roast them, and then broil at the end they over cook easier.
Season each component. It is so important to season each element of this salad, so nothing tastes bland.
Cook the orzo al dente. I find the best way to do this is to follow the package instructions and use a timer. There is normally a time range suggested for cooking on the back of the package. Start with least amount of time, and then taste.
If the vegetables finish roasting before the other components are ready, cover with them foil, and leave them on the stove. This will keep them warm.
Massaging the kale is an important step that you do not want to skip. It helps to make it more tender and palatable. I also recommend only using the leaves, as the stems tend to be too tough.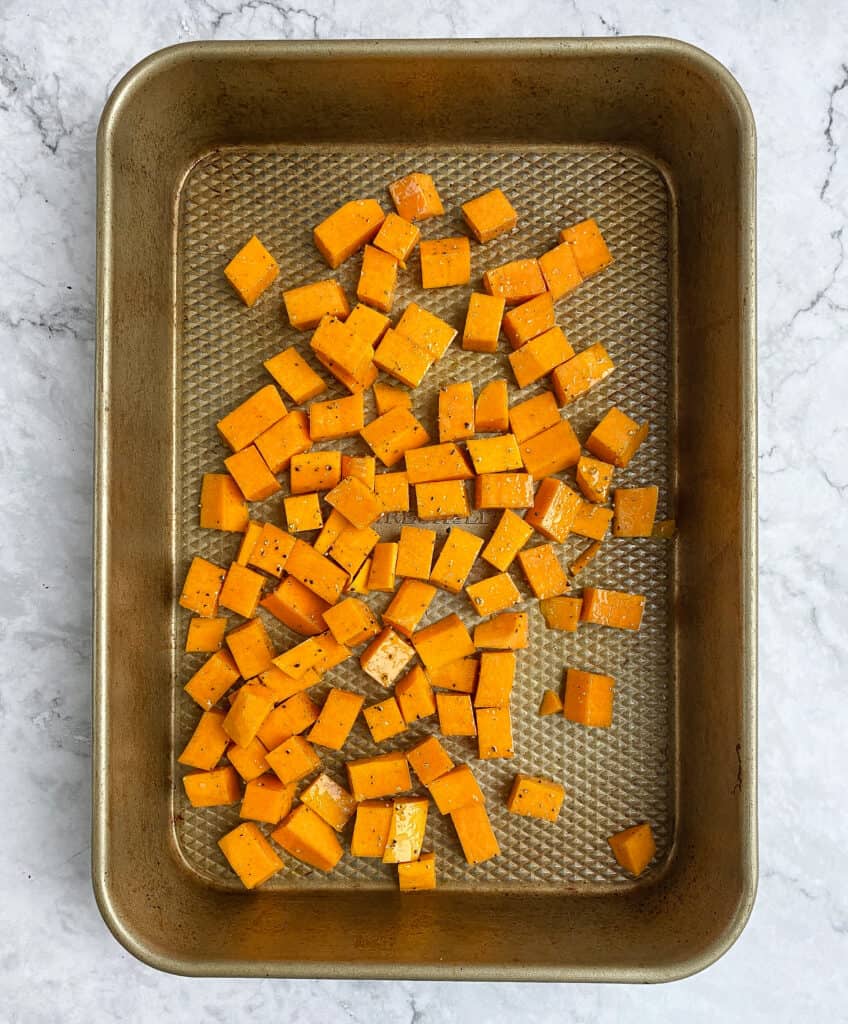 Let's Get Cooking
Let's start with some vegetable prep. I always like to get this knocked out. The easiest way to breakdown the butternut squash is to start by cutting off the ends. Then, you need to completely peel it using a vegetable peeler. After it is peeled, make one long cut from end to end, and remove the seeds with a spoon. Then, cut it the opposite direction into pieces about ¾ inch thick. You will end up with half circle shaped pieces. To make this next part easier, I use my trusty chopper. If you are using a knife, just cut the pieces into long strips, and then cubes.
Depending on the size of your brussel sprouts, and the size that you prefer to eat them, either cut them in half, or quarters. If you decide to cut them smaller, be sure to adjust the cooking time, and keep an eye on them, because they will cook a lot quicker.
The next step is to clean, and cut the kale. Remove the stems, and tear into small leaves. Place into a bowl and set aside.
Next we will season the other vegetables with salt, pepper, and oil. The squash will go into the oven first. It takes much longer to cook it. After about 25 minutes, we add the brussel sprouts to the squash. Once these are done roasting, we will cover them, and set them aside.
While the vegetables are roasting, we will dress the kale with olive oil, lemon, honey, salt, and pepper. Don't forget to massage it! We also will cook the orzo according to the instructions on the package.
Lastly, we will combine the orzo and the pesto. Then, add all of the remaining components, and the pomegranate seeds. And then enjoy this yummy fall pesto orzo salad!