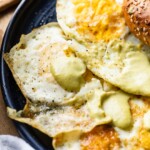 Print Recipe
Over Hard Eggs
Over Hard Eggs are delicious on a sandwich, piece of toast, or just on their own. The yolk is firm, just like a hard boiled egg. The best way to cook over hard eggs is low and slow in a little bit of butter. This ensures they do not dry out and are not over cooked.
1

teaspoon

salted butter

1

large egg
In a small frying pan, melt the butter over medium heat until the butter is foaming.

Add the egg. Turn the heat immediately down to medium low. Season the egg with pepper (and salt if needed).

Cook for about 2 minutes. The yolk will be runny still but the white should be opaque. (If you prefer to break the yolk, gently use a spatula to break it before flipping.)

Flip the egg. Cook for another 2 minutes or until the middle of the egg feels firm when pressed with a spatula. Remove from the heat immediately.
Salted Butter: Swap for unsalted butter and add a pinch of salt. You can also use bacon grease.
Season before flipping. The seasoning will stick to the egg better while it is still raw. I recommend adding any spices immediately after cracking it into the pan. 
Break the yolks before flipping. If you want the yolk to be more distributed across the surface, break it with a spatula before flipping. Tilt the pan to control the yolk from running off. This is not necessary, but some prefer it. Flip and cook as stated below.
Do not flip too early. Since this is an over hard egg, there is less of a risk of over cooking the yolk. You want the egg white to be completely opaque before flipping.
Remove from the heat. As soon as the egg is finished cooking, remove it from the pan. The residual heat in the skillet is enough to overcook it.
Add extra seasoning. Aside from salt and pepper, you can add whatever spices you prefer on these eggs. Some of my favorites include, everything but the bagel seasoning, za'atar, Italian seasoning, and chili flakes.
Add cheese. You can add a slice or cheese or a sprinkle of shredded cheese to these over hard eggs right after flipping.
Calories:
107
kcal
|
Carbohydrates:
1
g
|
Protein:
6
g
|
Fat:
9
g
|
Saturated Fat:
4
g
|
Polyunsaturated Fat:
1
g
|
Monounsaturated Fat:
3
g
|
Trans Fat:
1
g
|
Cholesterol:
197
mg
|
Sodium:
107
mg
|
Sugar:
1
g