Banana bread is a treat that's both delicious and versatile. Whether you make it from scratch or it is store-bought, you'll want to savor every last crumb! As with any baked good, banana bread has a limited amount of time before it goes stale. In this blog post, I will share tips on how to store banana bread to extend its shelf life.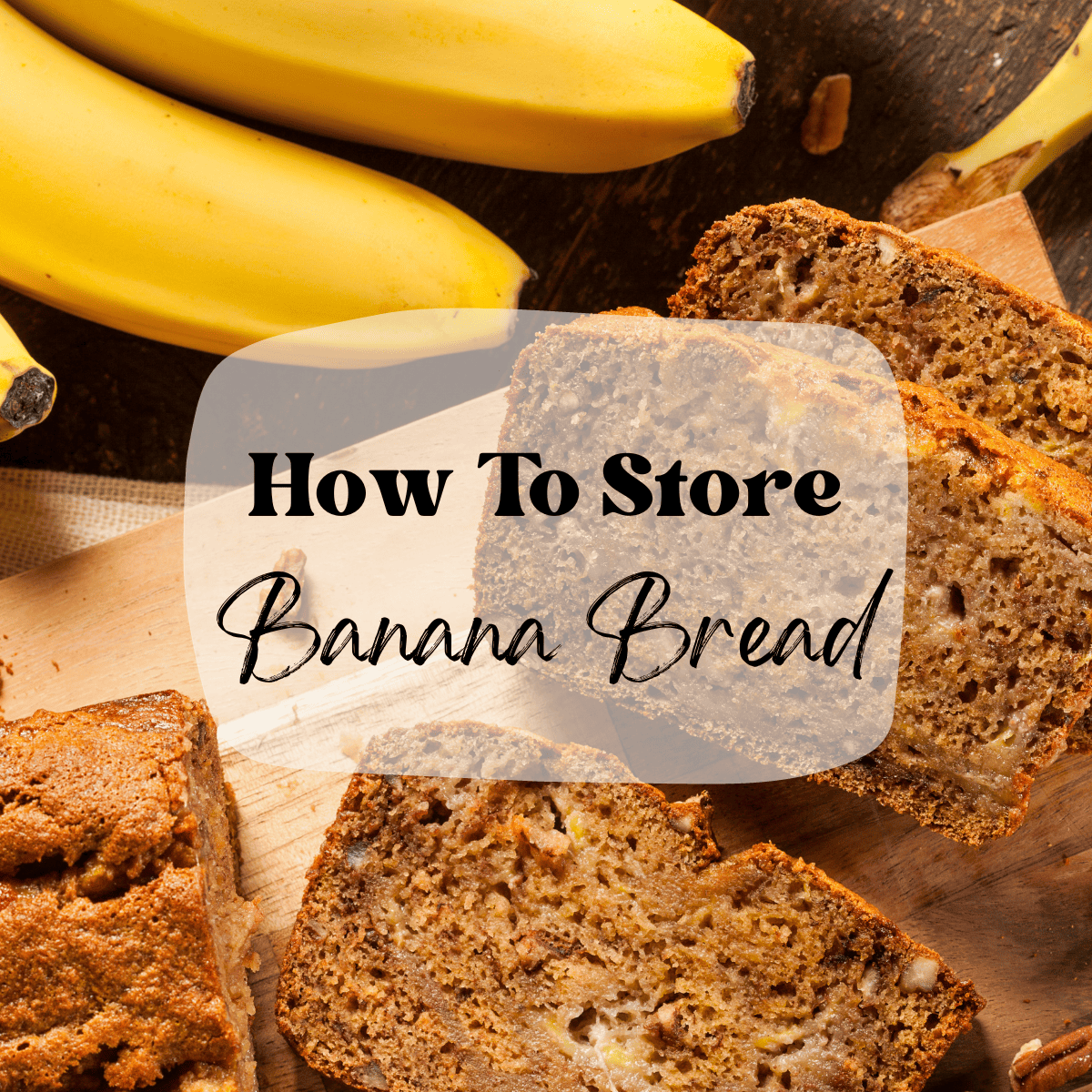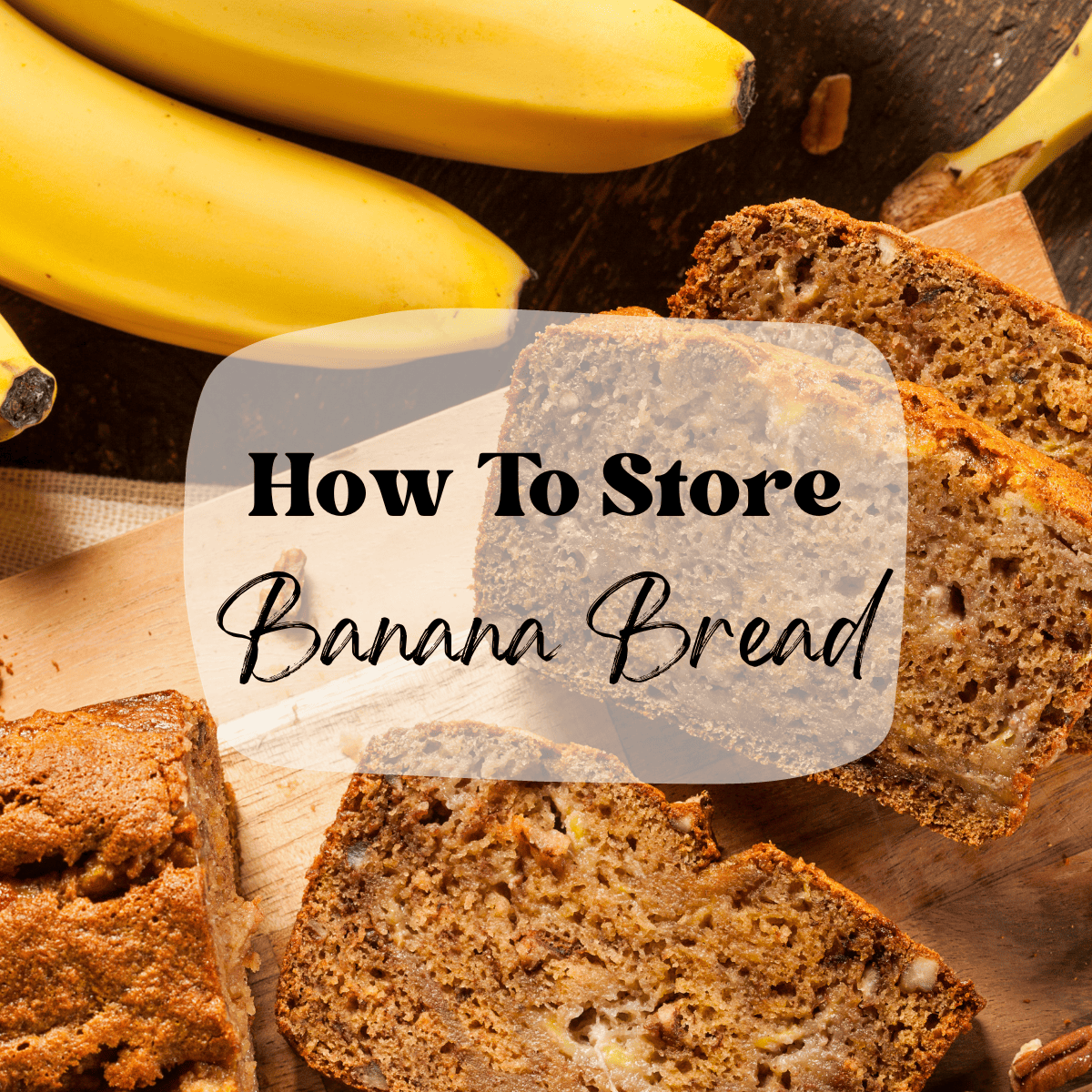 Jump to:
Best Way to Store Banana Bread
Room Temperature vs. Refrigeration
Banana bread can be stored at room temperature for 2-3 days. However, refrigeration is your best bet if you want to extend its shelf life. When refrigerated, banana bread can last up to a week. Just be sure it's well-wrapped to prevent it from absorbing any odors from the fridge.
How to Store Banana Bread
Cooling Down: After baking your banana bread, allow it to cool completely in the baking pan on a wire rack. This helps prevent condensation from forming inside the container, which can make the bread soggy.
Wrap It Right: Once your banana bread has cooled, wrap it tightly in plastic wrap or aluminum foil. Alternatively, you can use a resealable plastic bag. Press out as much air as possible to reduce moisture buildup.
Use an Airtight Container: For long-term storage place the wrapped banana bread in an airtight container.
How to Freeze Banana Bread
Wrap it in plastic wrap or aluminum foil and place it in a freezer-safe bag or airtight container. Frozen banana bread can last for up to three months. When you're ready to enjoy it, thaw it in the refrigerator or at room temperature.
How to Know if Your Banana Bread Has Spoiled
Remember that banana bread can spoil if it's not stored correctly or if it's kept for an extended period. Here are some ways to know if your banana bread is no longer edible:
Mold: The most obvious sign of spoilage is the presence of mold. If you see any green, black, or fuzzy spots on the bread's surface, it's a clear indication that it has gone bad.
Smell: Fresh banana bread has a pleasant, sweet aroma. If your banana bread smells off, sour, or rancid, it's a sign that it has gone bad.
Dryness: As banana bread ages, it tends to dry out. If the bread feels excessively dry, crumbly, or has hard spots, it might be past its prime.
Excessive Moisture or Sogginess: If the banana bread becomes excessively moist or develops a soggy texture, it may have absorbed moisture from the surroundings.
Off Taste: If your banana bread tastes sour or has an unpleasant flavor, it may have spoiled.
If you want to keep your banana bread fresh for a longer time, you need to store it properly. The key is to wrap it well and protect it from moisture and air. Keep these tips in mind the next time you bake banana bread from scratch or pick up a store-bought loaf!
FAQS
Can you eat banana bread that was left out overnight?
If you'll be eating it right away, it's perfectly fine to leave it sitting out on the counter. If you plan to keep it for a few days, it's better to keep it sealed in an airtight container at room temperature.
How long should you let banana bread cool before wrapping?
Allow the banana bread to cool in the pan on a wire rack for 10 minutes, then remove from the pan to cool completely.