My Pumpkin Pie With Graham Cracker Crust is one of my favorite recipes! With its velvety texture and warm spices, Pumpkin pie is an essential treat, especially during the fall and holiday seasons. Whether you've just baked a fresh pie or have leftovers from a festive gathering, properly storing pumpkin pie is essential to maintaining its flavor and freshness. In this blog post, I will cover how long pumpkin pie lasts in the fridge and share some best practices for storing it effectively.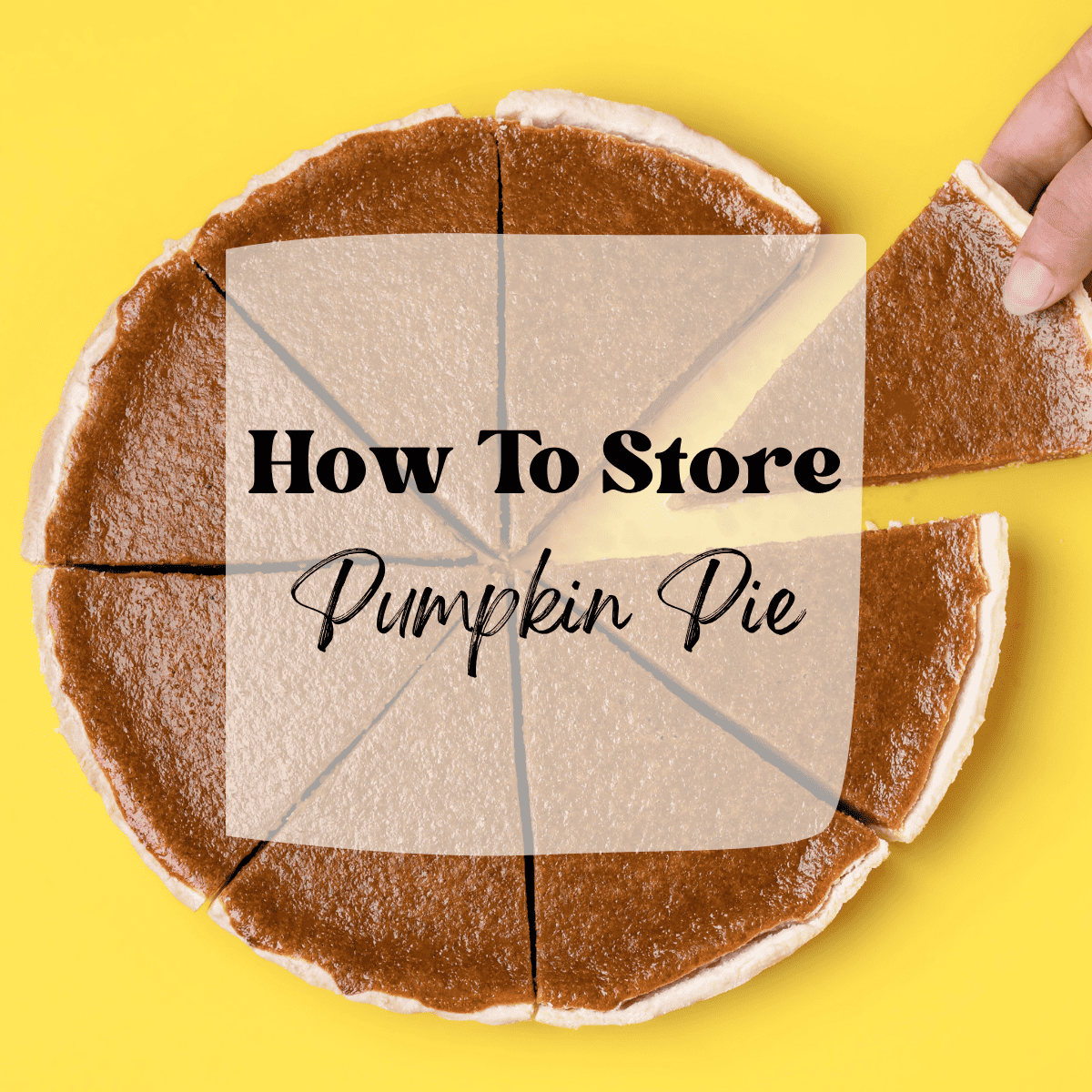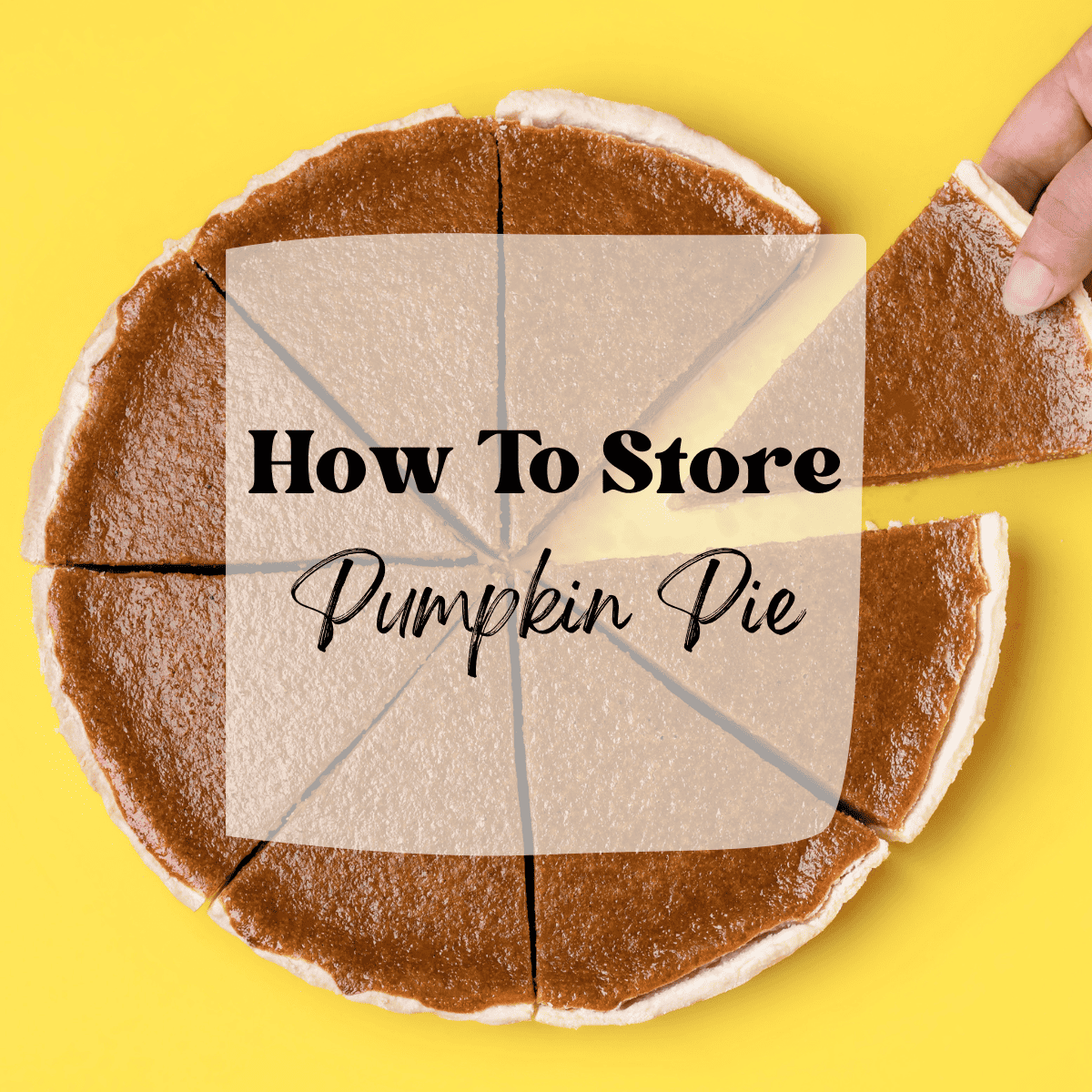 Jump to:
The Best Way to Store Pumpkin Pie
Cooling: Allow your baked pumpkin pie to cool completely at room temperature before refrigerating it. This helps prevent condensation from forming on the surface of the pie, which can lead to sogginess.
Covering: Use plastic wrap or aluminum foil to cover the pumpkin pie securely. This prevents the pie's surface from drying out and protects it from absorbing odors from other foods in the fridge.
Avoid Humidity: Excess moisture can compromise the texture of your pumpkin pie. If your fridge tends to be humid, consider placing the pie on a plate or a shallow container lined with paper towels to absorb any excess moisture.
Isolation: Store your pumpkin pie away from strong-smelling foods. Pies can easily absorb odors, which might affect their flavor.
How Long Does Pumpkin Pie Last in the Fridge?
The lifespan of pumpkin pie in the refrigerator primarily depends on how it has been prepared, baked, and stored. Generally, an unbaked pumpkin pie can last longer than a baked one due to the perishable nature of dairy and egg-based fillings.
Unbaked Pumpkin Pie: If you have an unbaked pumpkin pie – that is, a pie with the filling in the crust but yet to be baked – it can last for about 1-2 days in the refrigerator. Make sure to cover it with plastic wrap or aluminum foil to prevent the filling from drying out.
Baked Pumpkin Pie: Once a pumpkin pie has been baked, its shelf life in the fridge is shorter. On average, a baked pumpkin pie can be safely stored in the refrigerator for 3-4 days. Again, use plastic wrap or aluminum foil to cover the pie to retain moisture and prevent it from absorbing other flavors from the fridge.
How Long Does Pumpkin Pie Last on the Counter at Room Temperature?
Freshly Baked Pumpkin Pie: If you've just baked a pumpkin pie, it's safe to leave it at room temperature for a few hours, usually no more than 2 hours. This allows the pie to cool down before you refrigerate it.
Thawed Pumpkin Pie: If you've thawed a frozen pumpkin pie, you should follow the same guideline of not leaving it at room temperature for more than 2 hours.
Store-Bought Pumpkin Pie: Store-bought pumpkin pies that are sold at room temperature (not in the refrigerated section) usually contain preservatives that extend their shelf life. However, it's still a good idea to refrigerate them after opening or serving.
How to Know When Pumpkin Pie Has Spoiled or Gone Bad
Here are some signs to look for to determine if your pumpkin pie has gone bad:
Visual Changes: If you happen to see any mold on the pie's surface or around the crust's edges, or if you notice any discoloration in the filling or crust, then the pie is no longer safe to eat.
Texture and Consistency: If the filling appears watery, curdled, or has an odd texture, likely, that the pie is no longer safe to eat.
Off Odors: If the pumpkin pie has an unusual, sour, or foul odor, it indicates spoilage.
Taste Test: If the pie tastes sour, off, or has an unusual flavor, do not continue to consume.
Time and Temperature: If the pie has been left at room temperature for more than 2 hours, discard the pie.
Signs of Freezer Burn: It is not recommended to eat a frozen pie that shows signs of freezer burn, such as dry and discolored patches on the surface.
Can You Freeze Pumpkin Pie?
Yes, you can freeze pumpkin pie to extend its shelf life. Freezing pumpkin pie is a great way to preserve its freshness and enjoy it at a later date, especially if you have leftovers or want to make pies ahead of time for special occasions.
How to Store in Freezer
Wrap the pie tightly in plastic wrap, followed by aluminum foil, and place it in an airtight container or a resealable freezer bag. Try to position it in a way that it won't get squashed by other items. Keep it in the coldest part of your freezer for best results. Frozen pumpkin pie can last for several months.
Use a marker to label the pie with the date it was frozen. This will help you keep track of how long the pie has been in the freezer and when it should be consumed.
How to Thaw
Refrigerator Thawing: The best way to thaw a frozen pumpkin pie is in the refrigerator. Transfer the wrapped pie from the freezer to the refrigerator. Allow it to thaw slowly for 24 to 48 hours, depending on the size of the pie. Thawing in the refrigerator helps maintain the pie's texture and flavor.
Reheating (Optional): After the pie is fully thawed, you can reheat it in the oven at a low temperature (around 300°F or 150°C) for about 10-15 minutes to help restore its texture and flavor.
How Long Does Store-Bought Pumpkin Pie Last?
Always pay attention to the expiration dates. An unopened store-bought pumpkin pie can last at room temperature for about 1-2 days. An opened store-bought pumpkin pie can typically last in the refrigerator for 3-4 days. Frozen store-bought pumpkin pie can last in the freezer for 2-3 months.
How Long Does Homemade Pumpkin Pie Last?
An unbaked homemade pumpkin pie should be stored in the refrigerator and baked as soon as possible. It's recommended to bake the pie within 1-2 days of assembling the filling and crust. A homemade pumpkin pie that has been baked should be refrigerated to maintain its freshness. It can typically last in the refrigerator for about 3-4 days. Frozen homemade pumpkin pie can last in the freezer for 2-3 months.

When you indulge in a homemade pumpkin pie, it's best to enjoy it within a reasonable timeframe to fully appreciate its delicious taste and quality.
Tips to Extend Shelf Life
Refrigerate within two (2) hours.
Store and freeze properly.
Timely consumption.
By following these tips, you can enjoy your pumpkin pie for a longer period while ensuring it remains safe to eat and maintains its delicious taste and texture.
FAQS
How many days before Thanksgiving should I make my pies?
For best results, no more than 2 days in advance!
Is it better to serve pumpkin pie warm or cold?
Pumpkin pie is traditionally served warm, however, some people prefer to eat their pumpkin pie cold. Ultimately, it depends on your preference.
Why are store-bought pumpkin pies not refrigerated?
Usually, commercially produced pumpkin pies contain preservatives that help them stay fresh for a longer time, even when stored at room temperature.
More Cooking Resources