This Queso Chicken & Mexican Rice Skillet is all cooked in one large pan and only takes about 30 minutes to make! It is loaded with chunks of spiced chicken, Mexican rice, and tons of queso blanco. This queso chicken & Mexican rice skillet is perfectly served own its on or in tacos.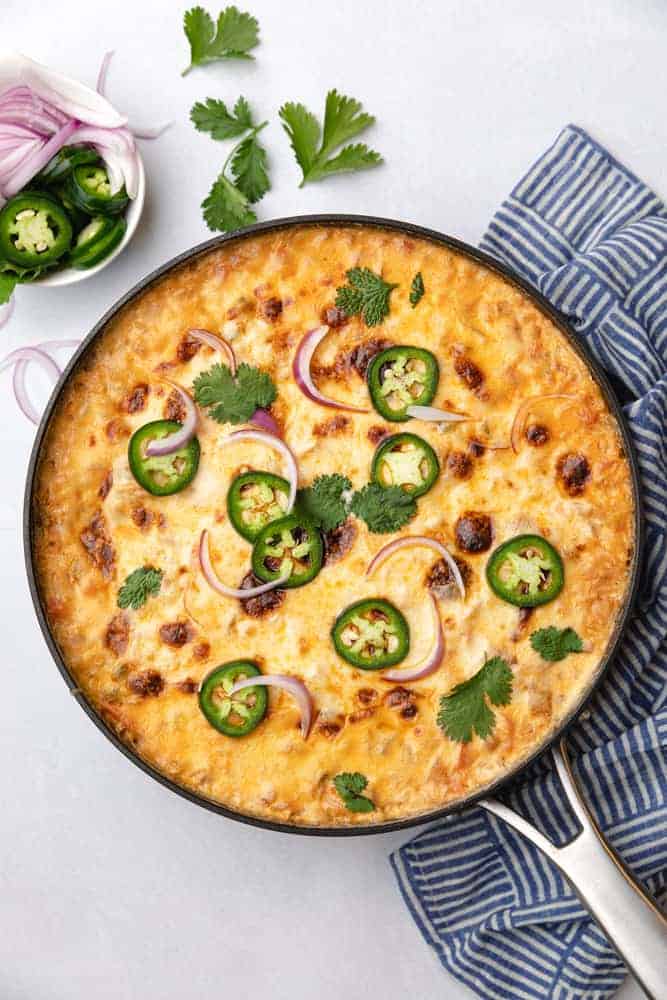 I have been on a skillet, one pot, baked casserole kick this month. All of my dinner recipe ideas seem to fall in this category. I just love the ease of prepping all the ingredients at once, throwing everything together in one pan, and letting it do its thing.
This recipe is inspired by a Mexican dish that all of the Mexican restaurants in my college town served called the "Steven's Special". It is basically fajita chicken served on a heaping bed of Mexican rice topped with loads of white queso. This dish was definitely a fan favorite.
My queso chicken & Mexican rice skillet is a play on the "Steven's Special". But obviously even better because it has extra herbs and spices and is finished in the oven with another layer of melted cheese. Heaven
---
My Favorite Things About Queso Chicken & Rice Skillet
Quick & easy
Extra cheesy (queso blanco & melted cheese on top)
A little spicy (jalapeño)
Comfort food
Simple ingredients
Picky eater approved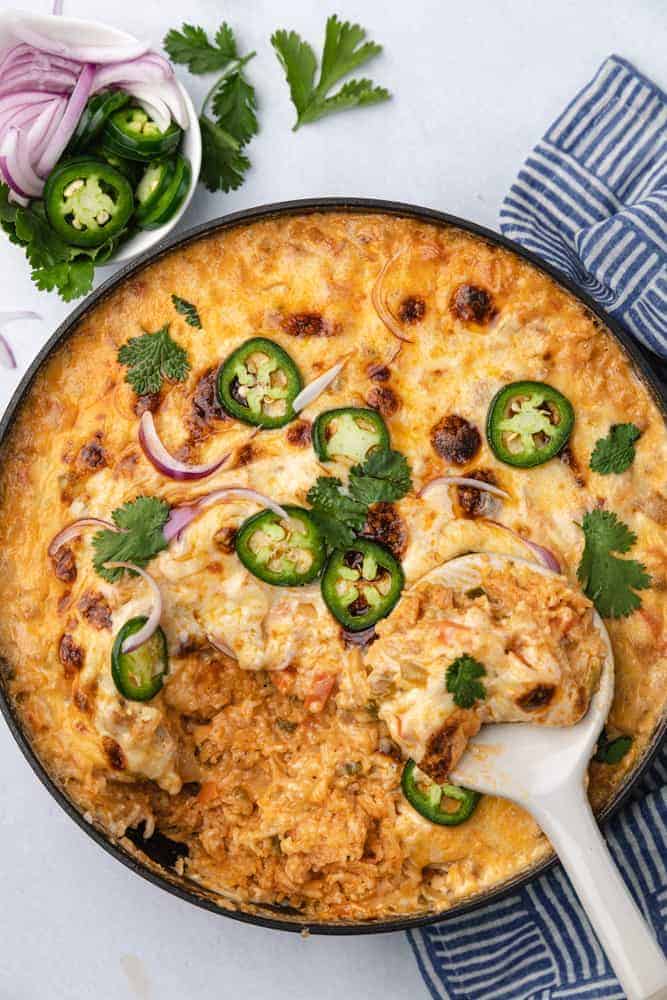 ---
The Queso Blanco
The creamy queso blanco is what brings this queso chicken & Mexican rice skillet together. It coats all of the chicken, rice, and vegetables creating the smoothest texture and richest flavor. But there are a few things I would like to note about it.
The queso blanco you will make for this recipe is made specially for this recipe. It is not great on its own as a dip because it does not have any spices or aromatics (since they are all in the skillet already). The main focus for this queso blanco was loading it with cheese.
You will need white American cheese for this queso blanco. This type of cheese melts easily and also adds the perfect flavor to the skillet. You can normally find it at the deli and have them slice the exact amount you need for the recipe. I do not recommend substituting the white American cheese for anything else.
You might notice the queso blanco is a bit thin. That is exactly what you want! It makes it easy to pour into the skillet and allows it to permeate the chicken and rice mixture. The consistency is another reason why this queso is not great on its own.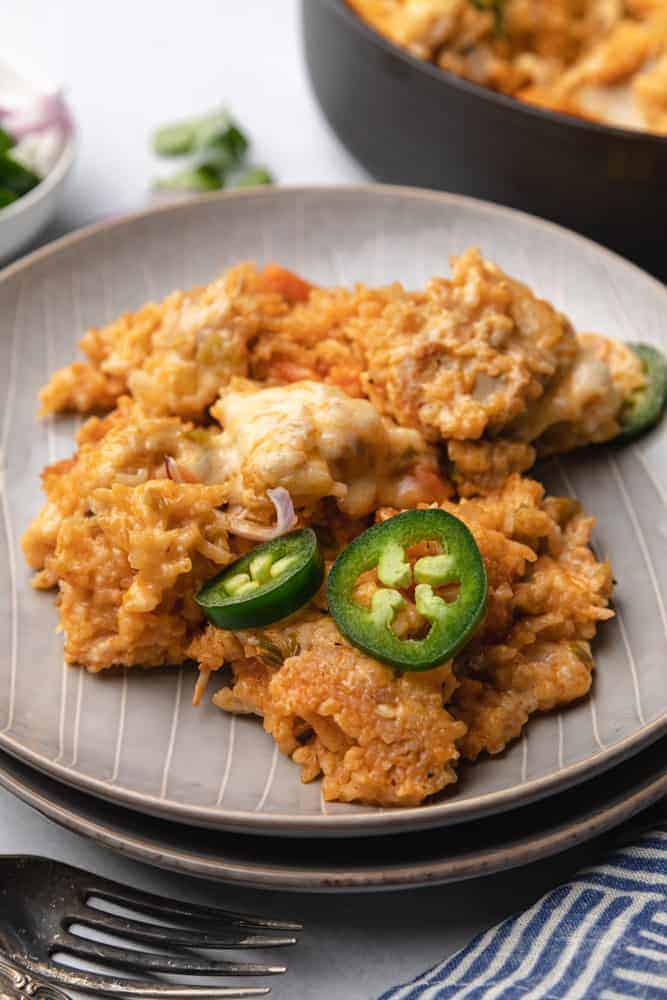 ---
Simple Steps for Queso Chicken & Mexican Rice Skillet
Make sure you have a hefty oven safe skillet before you start! These Calphalon pots and pans are my favorite.
Sauté the chicken and veg. You will start by browning the chicken. You do not need to cook it completely through as it will continue to cook with the rice. Same goes for the vegetables. They do not need to soften completely.
Cook the rice. You will add in 2 cups of chicken broth. This will give the rice liquid to absorb and cook properly. Be sure to not uncover the pan while the rice is cooking.
Make the queso. You should make the queso while the rice cooks. It will a thinner consistency (see section above).
Put it all together. After you add the queso to the chicken and rice mixture, it is time for more cheese! Top with shredded cheese and broil until browned and completely melted.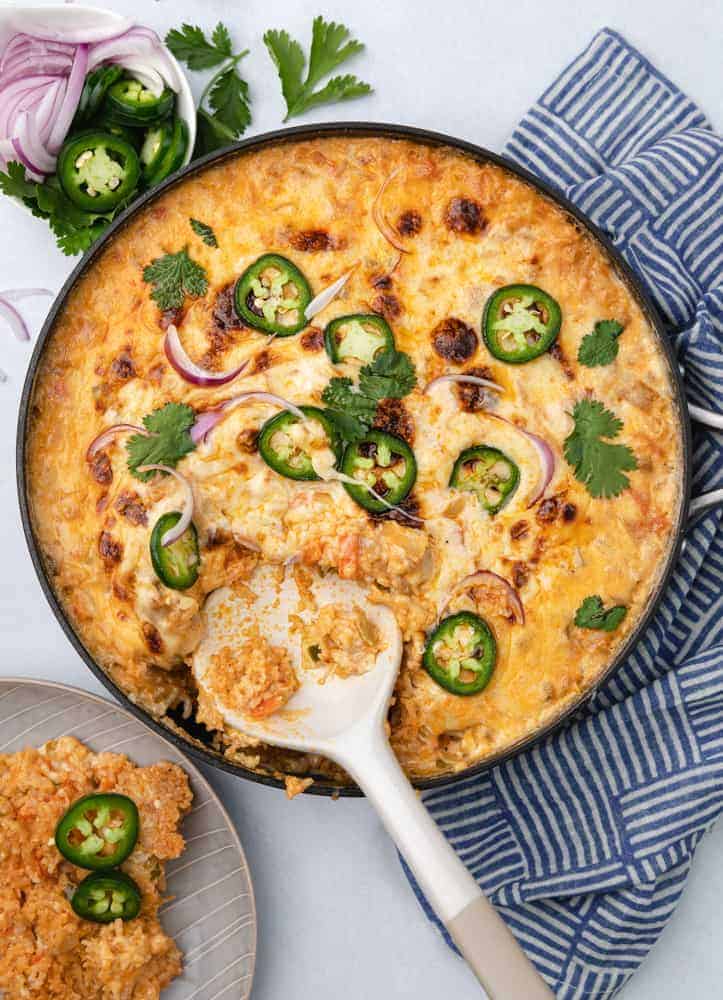 ---
How To Serve
This queso chicken & Mexican rice skillet can be served in a couple of different ways, but regardless it tastes absolutely incredible.
You can serve it in soft or hard taco shells. This is my personal favorite way to eat it because this is how they always served it in the restaurants. I like to top the tacos with raw jalapeño, sliced red onion, and cilantro for some added freshness.
You can also serve it in a taco bowl. I will prep some lettuce or throw together a store-bought southwest salad kit. Then layer the greens in a bowl with lots of the cheesy chicken and rice on top. This adds some crunchy textures and fresh flavors.
Lastly, serve the queso chicken & Mexican rice skillet as is! Scoop heaps of the cheesy chicken and rice on your plate and enjoy.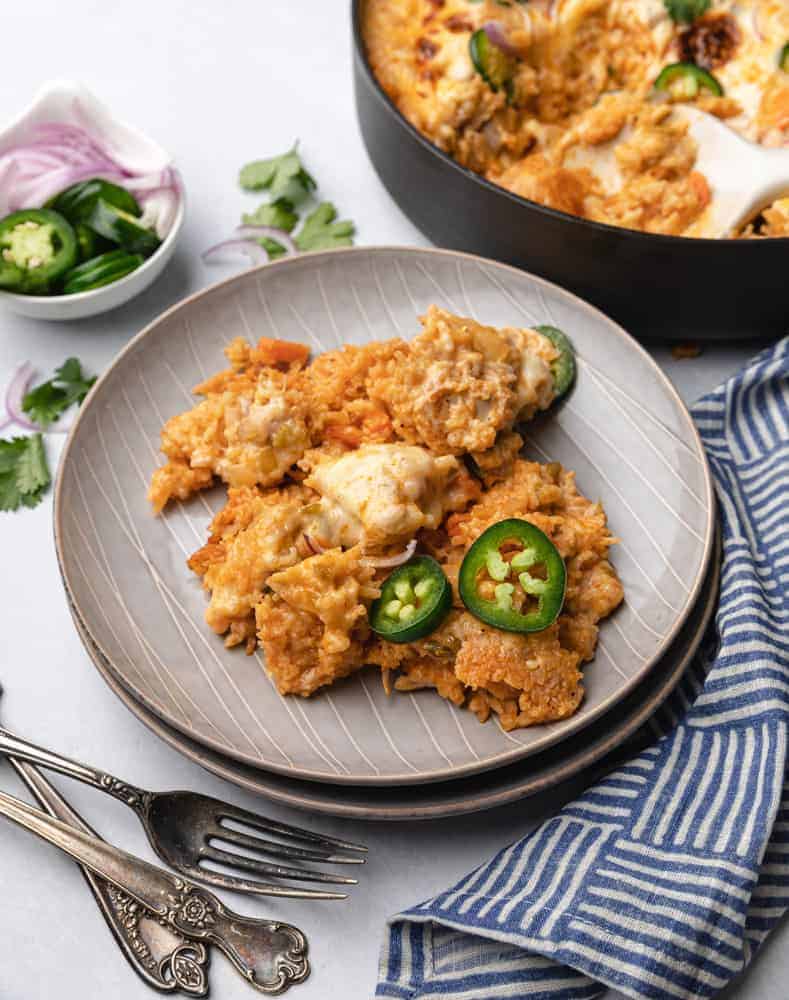 ---
More easy Mexican dinners: