This Baked Spaghetti Squash Alla Vodka With Italian Sausage is the perfect low carb comfort food. Picture roasted spaghetti squash tossed with spicy Italian sausage and a creamy tomato sauce, baked with lots of melty cheese. It's so hearty, but also loaded with vegetables. My version of healthy.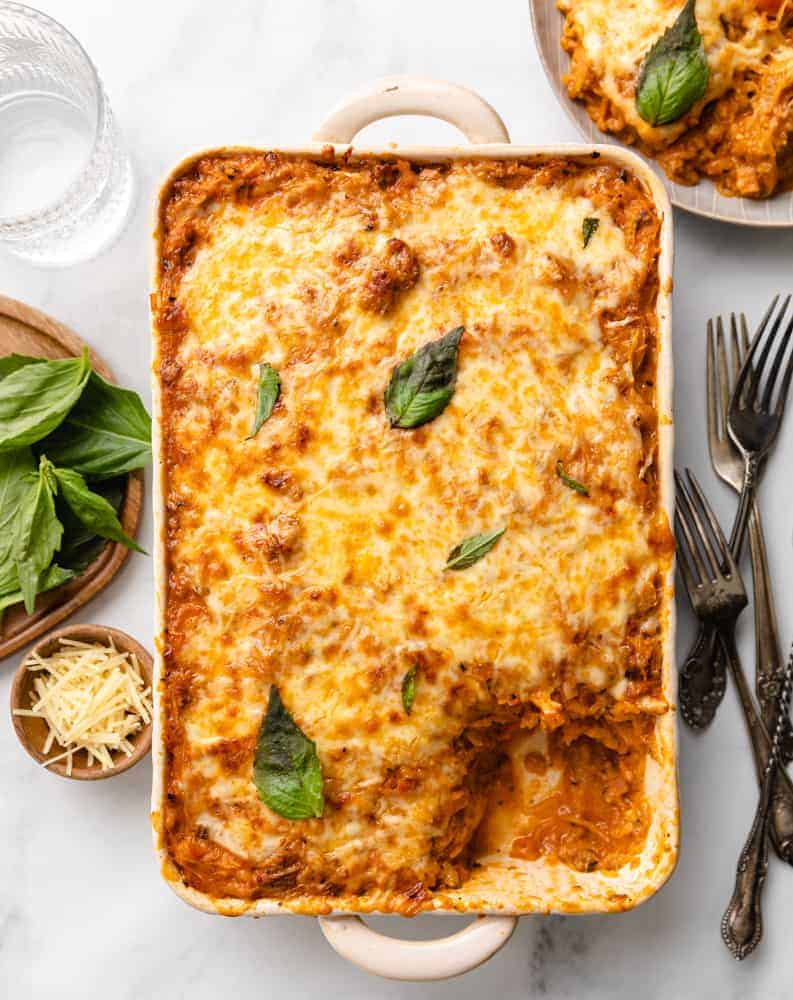 Spaghetti squash was one of those things my husband was extremely skeptical about. But I was determined to create a spaghetti squash dish that he would love. It all started with the Spaghetti Squash Taco Bowls (Cheesy). Those were such a hit with him, I decided to create more.
This baked spaghetti squash alla vodka not only tastes amazing, but is picky eater approved (as most of my recipes are). All of the cheese, tomato sauce, and sausage definitely helps.
And if you are not convinced quite yet, I do not follow a low carb or keto diet, and I would choose this dish over many pasta dishes I have had in the past. Don't get me wrong, I am a pasta addict. But spaghetti squash really does the trick in this casserole.
---
My Favorite Things
Lighter alternative to pasta. Like I mentioned above, I eat pasta all the time and absolutely love it. But the spaghetti squash is a great low carb option and sometimes I actually prefer it, especially when I want a lighter option with more fiber. This casserole is low carb and keto friendly.
Bold & hearty. While this dish is on the low carb end, it is still very satiating with all of the sausage and cheese. The rich tomato sauce is my favorite part.
Loaded with cheese. I mean I think at this point you get it. I love cheese. End of story. It probably will be in most of my recipes forever. I feel no need to explain why a dish that is loaded with cheese is better. 😉
Great for meal prep. This casserole reheats great in the microwave. It is the perfect dish to prep on Sunday and put in individual containers to reheat for lunch or dinner.
Simple. The ingredients list is pretty short for this one, which is always a bonus.
Lots of veggies. Not only is there spaghetti squash, but this casserole is loaded with carrots, mushrooms, and onions.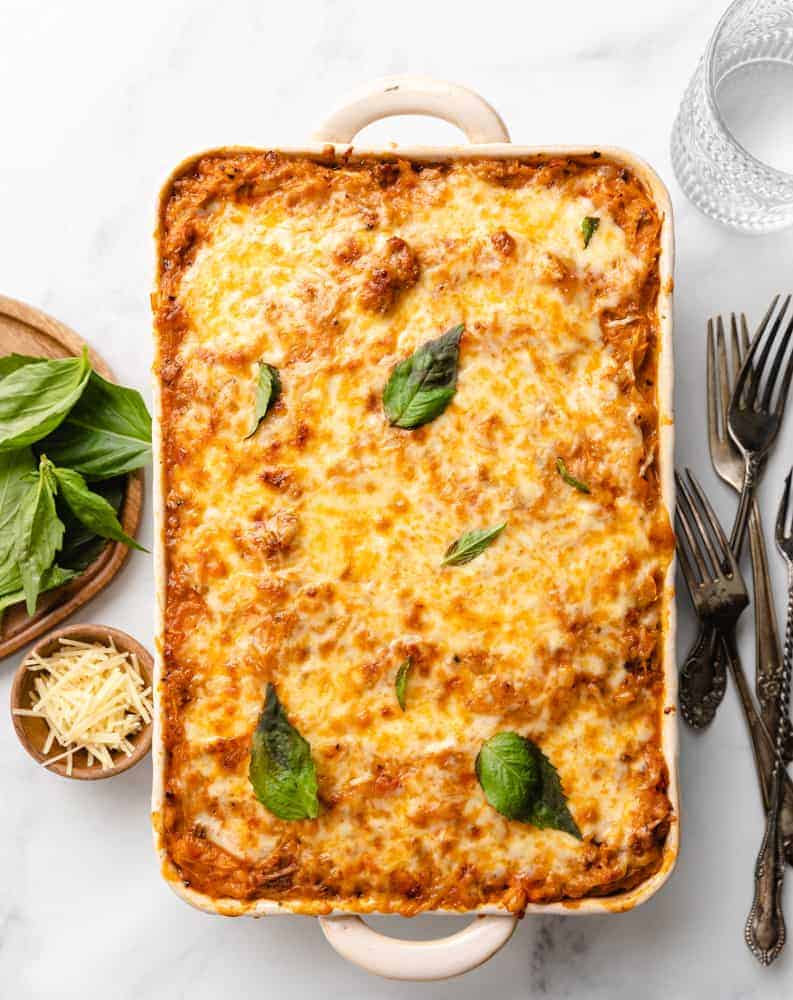 ---
But There's No Vodka
So I have a confession. My baked spaghetti squash alla vodka has no vodka. Why call it baked spaghetti squash alla vodka then? Let me tell ya!
I want to preface this by saying vodka sauce is my favorite sauce for pasta. Personally, what I like so much about it is the combination of cheese, cream, and tomatoes. The actual vodka in it is not the star. So I left it out for this recipe. One less ingredient to hassle with.
I still call it baked spaghetti squash alla vodka because the sauce is very reminiscent of a traditional vodka sauce. You get the gist.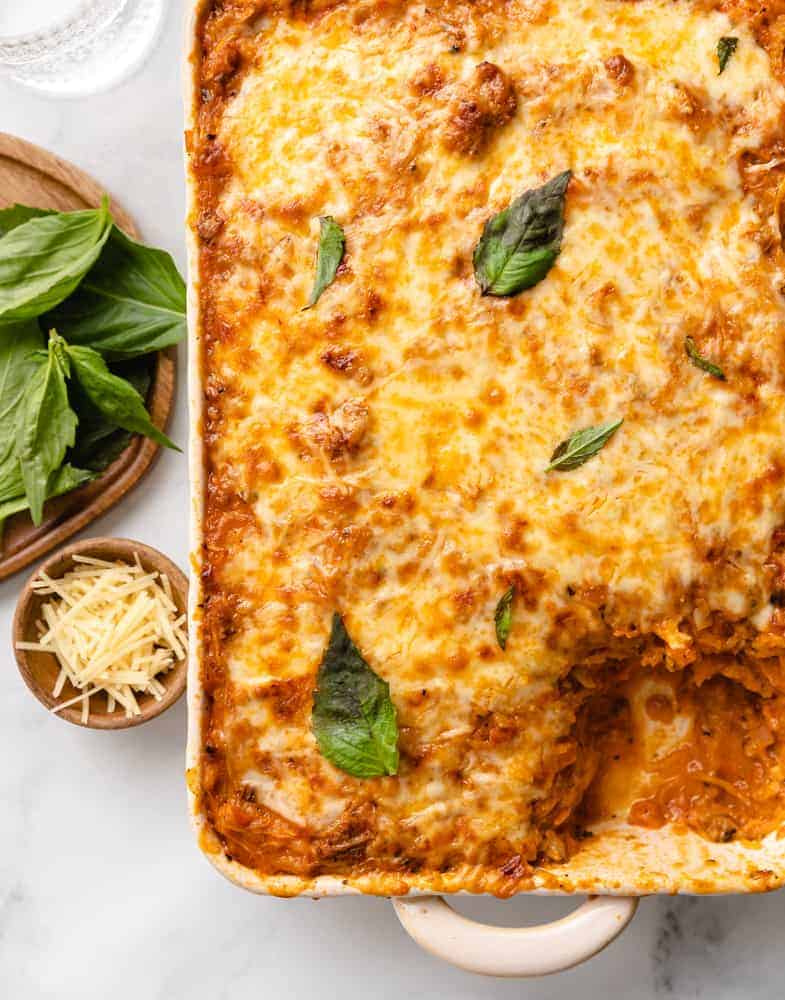 ---
Key Ingredients
These ingredients are what I like to call the stars of the show. I do not recommend skipping or substituting any of these because they are the most crucial parts of the casserole. You might be thinking where's the bullet with spaghetti squash? Well, that one is implied. Of course its important! It is the name of the recipe. The same logic does not follow for the vodka in the title. Anyways I digress.
Good quality tomato sauce. I rambled a bit about this in my Spicy Italian Sausage Pasta With Kale, Onions, & Peppers post, but long story short, I find a good quality jar of tomato sauce to be just as good if not better than making one for scratch. Do not just use a can of plain tomato sauce but experiment with different brands. The jars typically have a better flavor. Rao's is a great one! I normally look for a herb, tomato basil, or garlic flavor.
Greek yogurt. This is my secret weapon! Most vodka sauces call for heavy cream. Greek yogurt gives the same creaminess and a little bit of a tang, but is a lot lighter. It adds a little extra protein too. It is one of my favorite ways to add creaminess in savory and sweet dishes.
Spicy Italian sausage. Italian sausage adds so much flavor to this casserole. Whole Foods carries mild and spicy. I always opt for spicy, but mild works too. The rye in the sausage deepens the flavor of the sauce. Also, do not drain the grease! Use it sauté the vegetables. It adds good flavor and fat.
Read more about prepping a spaghetti squash here!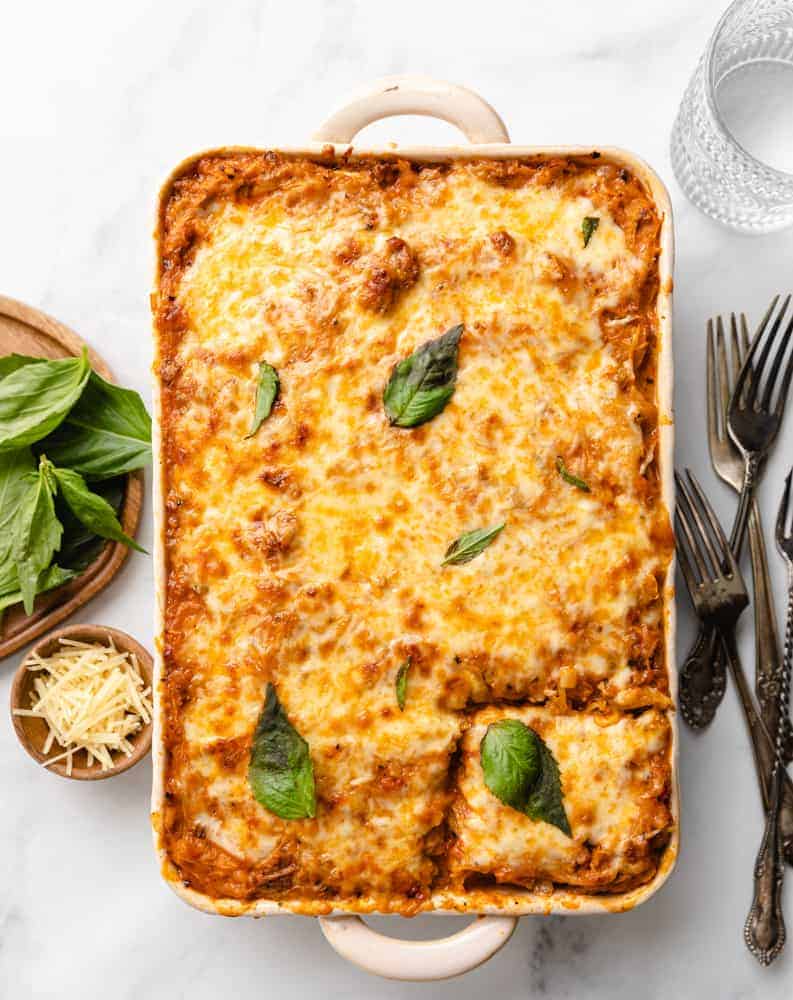 ---
If you like this recipe, try these: