I can't get enough of this amazing Instant Pot Beef Short Rib Barbacoa. Mexican cuisine is one of my absolute favorites. I love all of the spices, and flavors. It is one I rarely ever get tired of. Tacos are definitely a staple in my house. I am one who likes variety in my diet, so I am always mixing up my taco fillings. This week I decided on barbacoa, because it is so juicy and full of flavor. My husband, and I just got married this past June. And of course I registered for an Instant Pot. So I have been testing out different recipes for it. It amazes me how tender you can get tougher cuts of meat in less than 2 hours start to finish! So if you are in need of an easy, quick, and family friendly dinner, you have found the perfect recipe!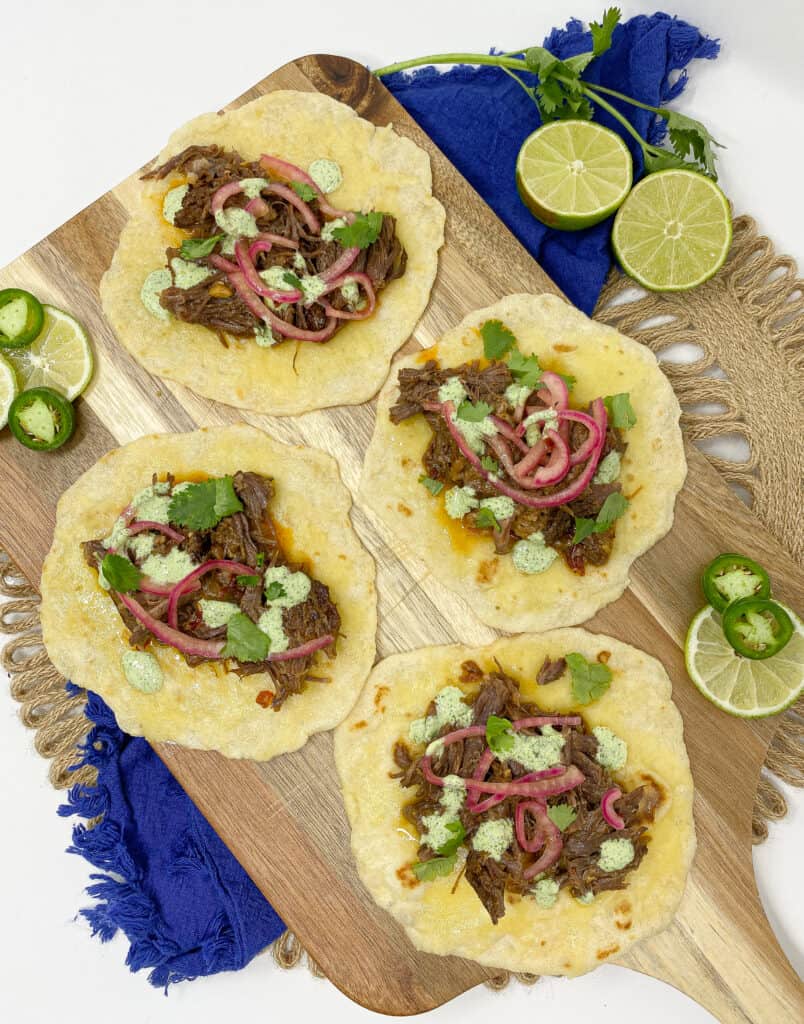 Looking for more beef recipes? Try my Healthy Beef Stroganoff.
Traditional Barbacoa
Barbacoa is normally made from the head meat of a cow, typically the cheek. It can also be made using goat meat. The meat is normally cooked all day at a low temperature until extremely tender. It is cooked underground covered in agave leaves. Most recipes you find online will either use chuck roast, or short ribs. Either will give you a tender succulent pulled beef. You can substitute chuck roast for this recipe, but make sure to take into account that the chuck roast is boneless.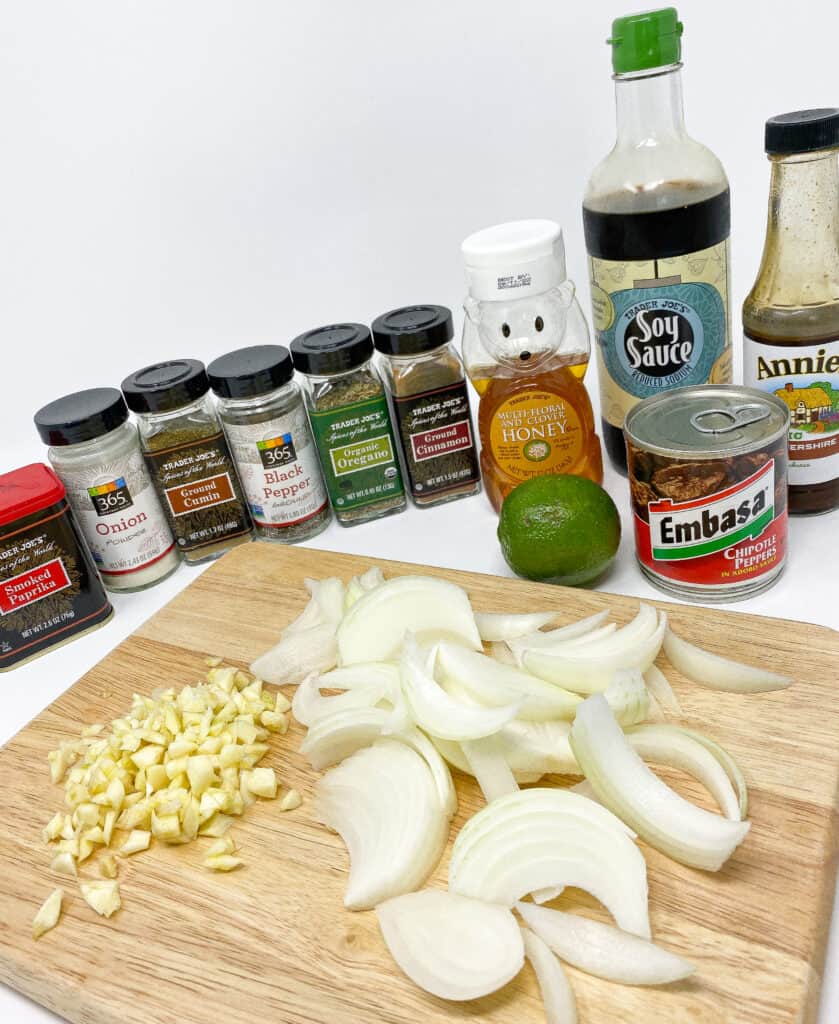 Balanced Flavors - why are each of these elements in the short rib barbacoa?
I always focus on creating balance in each of my recipes. I like to think of ingredients falling into one of the following categories - fat, heat, salt, acid, sweet, smoke, etc. When a dish hits each of these notes, it tends to be more pleasing to the palette. I also always include aromatics, garlic and onion in this case.
Fat - olive oil + the beef itself
Heat - chipotle peppers
Salt - soy sauce + salt (duh)
Acid - lime + worcestershire
Sweet - honey
Smoke - smoked paprika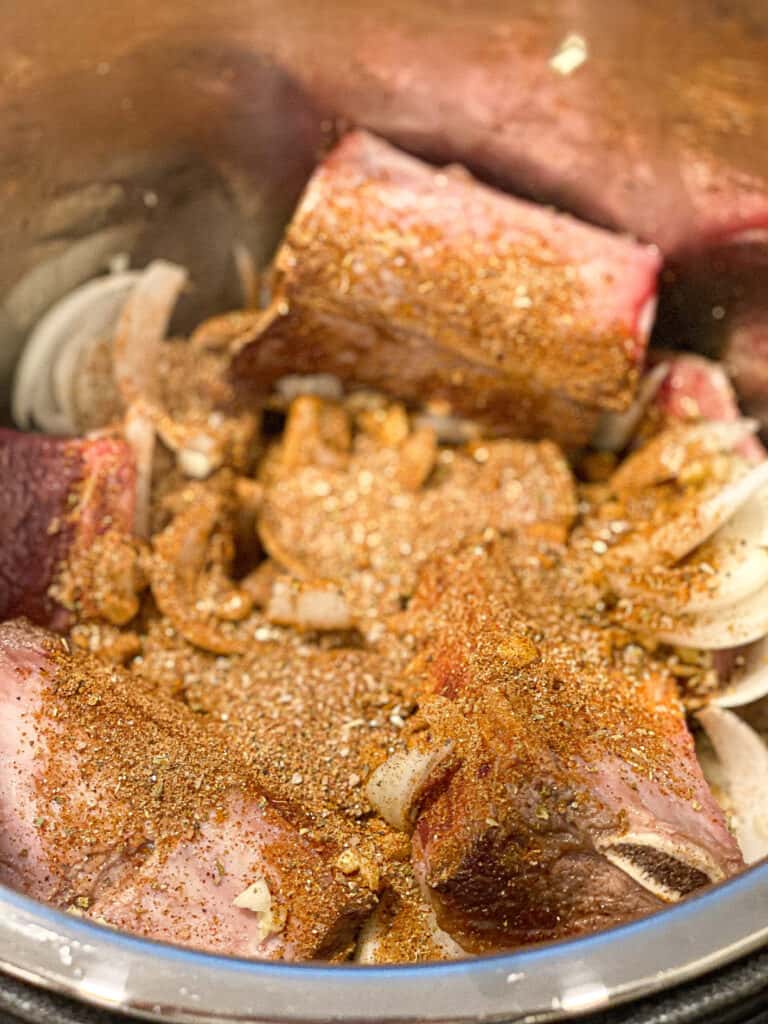 Pairings
There is a few different ways I like to serve these short ribs.
If you are making this short rib barbacoa, you need these accompaniments, Jalapeño Lime Crema, pickled onions, and cilantro lime rice.
Instant Pot Beef Short Rib Barbacoa
These short ribs will melt in your mouth! They are sweet, smokey, salty, and packed with tons of spices. They are great served over rice, or shredded in tacos.
Ingredients:
2

Tablespoons

olive oil

4

pounds

beef short ribs,

bone in

1

sweet onion,

sliced*

6-8

cloves of garlic,

minced

3-4

chipotle peppers in adobo sauce*

1

heaping teaspoon

salt

½

heaping teaspoon

pepper

1

Tablespoon

cumin

1

teaspoon

onion powder

2

teaspoons

smoked paprika*

1

teaspoon

dried oregano

¼

teaspoon

cinnamon

1

cup

beef broth

2

Tablespoons

honey

2

Tablespoons

soy sauce

2

Tablespoons

worcestershire

1

lime,

juiced
Instructions:
Let's get prepping!
Start by slicing all of the vegetables. See recipe notes about slicing the onion. Mince the garlic roughly (some larger chunks are totally okay). Diced peppers finely.

Combine all of the spices in a bowl, and mix together well.
Let's get cooking!
Turn the instant pot to Sauté mode, and the olive oil. Let it heat until it shimmers. Add the short ribs. Brown them for about 1 minute per side.

Add the onions, and garlic. Let them cook for a couple of minutes. Pour the spice mixture over the ribs, and vegetables.

Pour in the broth, honey, soy sauce, worcestershire, and the peppers in the adobo sauce.

Switch the instant pot to Meat/Stew mode, and adjust the timer to 45 minutes. The pot will read "ON", while it increases pressure. Once it reaches the correct pressure, it will show the timer.

After 45 minutes, turn off the pot. Allow it to natural release for 15 minutes, and then turn the knob to venting to release the remaining pressure.

Remove the ribs from the liquid, and pour the lime juice over them.
Notes:
*I like to slice the onions in larger pieces because they will hold up better. If you want the flavor, but not as large of pieces, slice them thinly.
*You can find a small can of chipotle peppers in adobo sauce on the international aisle at the grocery. It is typically about 7 ounces. Removed 3-4 peppers, and drain the rest of the sauce out of the can. You will add all of this sauce in step 3.
*Smoked paprika adds a (you guessed it) smokey flavor. Plain paprika does not add the same taste. I highly recommend the smoked version.