This Vegetable Lo Mein is the easiest week night dinner and is loaded with crunchy veggies. Win, win! You can have this on the table in less than 30 minutes. It is even faster and much healthier than takeout. Use whatever vegetables you have on hand and add a protein, like shrimp, chicken, or beef for a heartier dinner. It really is that simple and versatile.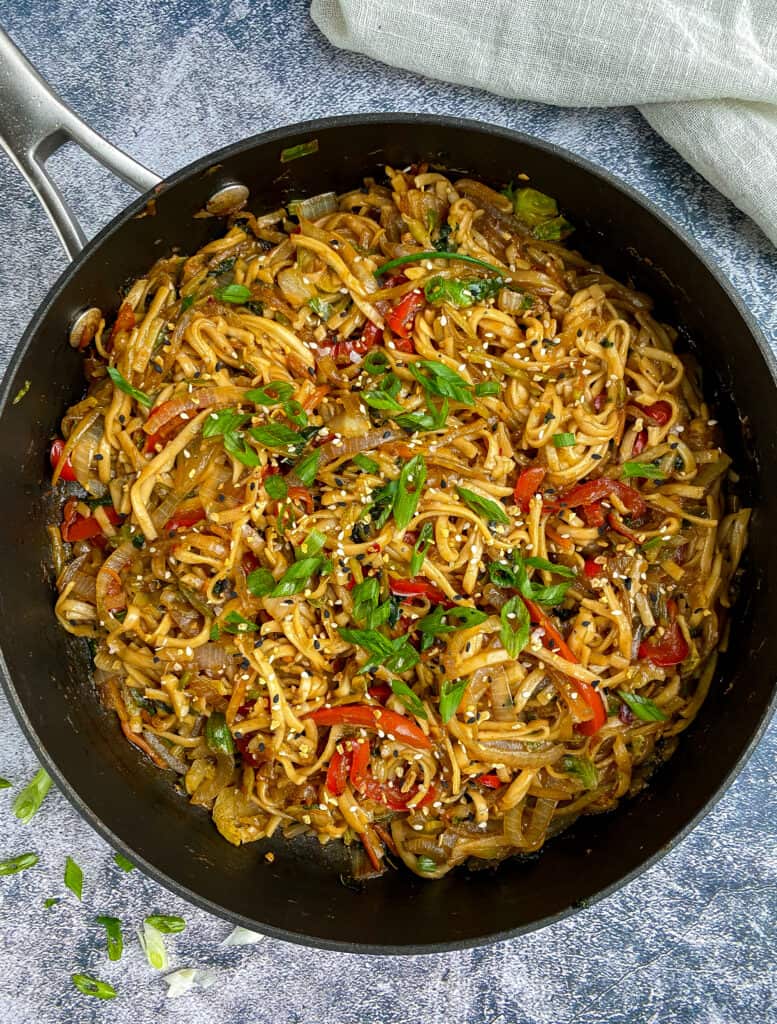 This time of year is so rainy and dark in Seattle. I love the cozy vibes, but it kills my motivation to leave the couch, let alone go outside. It can be super tempting to order takeout and skip the grocery store. Thankfully being a food blogger, I am recipe testing 24/7 so there is not much of a need for it.
However, on days when I am not cooking a main dish or am taking some time off, it is too easy to just place an order on my phone and have it show up at my doorstep 30 minutes later. The problem is it can get really pricey, especially in downtown Seattle, and it is not always the healthiest.
So I created this easy and healthy vegetable lo mein to help cutback on ordering takeout and incorporate more vegetables in my dinners without scarfing any flavor. Isn't this always the goal?
---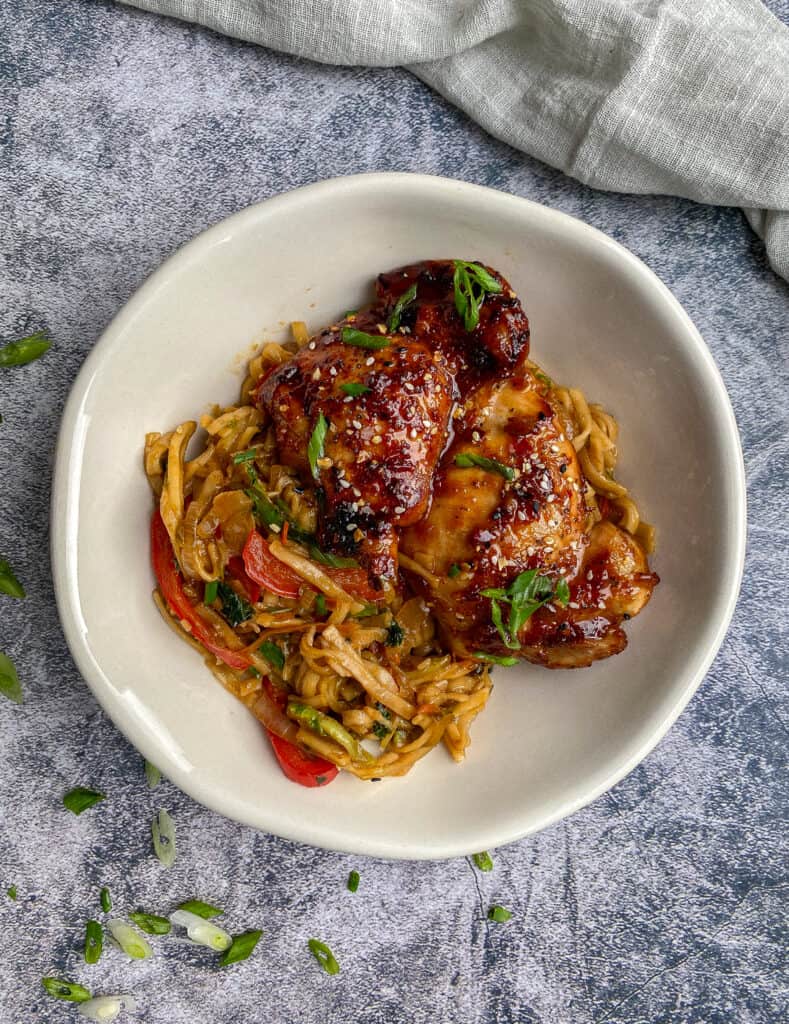 ---
Why You Will Love It
The sauce. Fresh garlic and ginger really add a punch of flavor and freshness. Soy sauce has an irresistible salty umami. Mirin and hoisin add some needed sweetness which is rounded out with the rice vinegar. It all comes together magically.
SO easy. This meal start to finish can be ready in about 30 minutes. There are no crazy ingredients involved and you can make what you have work. You can make this all in one pan if you boil the noodles in the same pan that you are cooking the vegetables in. I usually go for a deep sauté pan, like this 10 inch one from this set, because I do not have a wok (apartment life).
Use up vegetables. I don't know about you but fresh produce isn't always the first to go from my fridge. So I find myself needing to use up loads of vegetables all at once. This vegetable lo mein is the answer.
Eat more vegetables. Speaking of vegetables, this vegetable lo mein is a great way to eat your veggies in a fun and flavorful way. Great for kids or in my case picky husbands. Wilt in and they will never notice!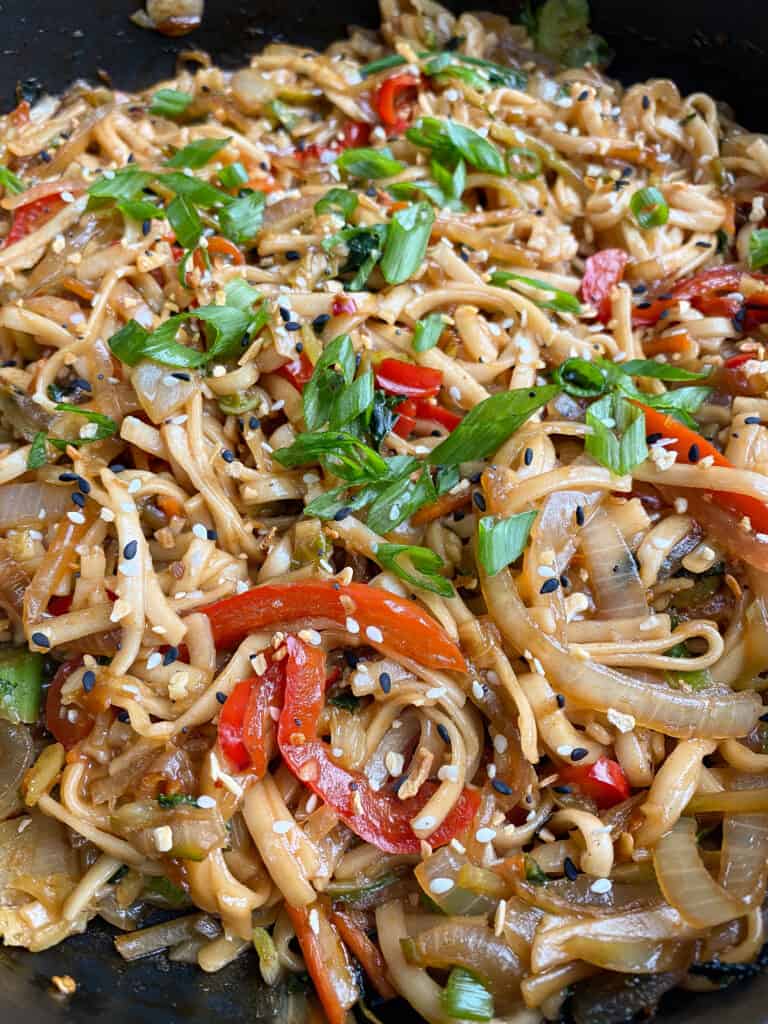 ---
Customize Your Vegetable Lo Mein
Noodles. You can use any long skinny noodle. Lo mein noodles are egg noodles that have a slight yellow color. You can also use wheat noodles, like asian wheat noodles, spaghetti, or linguine. Rice noodles or ramen will also work. Use whatever you have or can find. Obviously the most traditional or restaurant style choice is lo mein egg noodles, like these.
Protein. You can easily boost the protein in this dish by adding chicken, beef, shrimp, pork, or tofu. I recommend using a protein cut into smaller pieces and cooking it separately, then adding it in at the end. Shrimp and tofu are my personal favorites. Try adding both!
Vegetables. I love to use pre-cut and washed vegetables to make life easier. I love picking up a bag that has a blend of different cruciferous vegetables and using that. You can also use coleslaw mix, cabbage, carrots, broccoli, spinach, mushroom, snow peas, edamame, bok choy, green beens, sliced brussel sprouts, etc. The list is never ending! Use what you have in your fridge.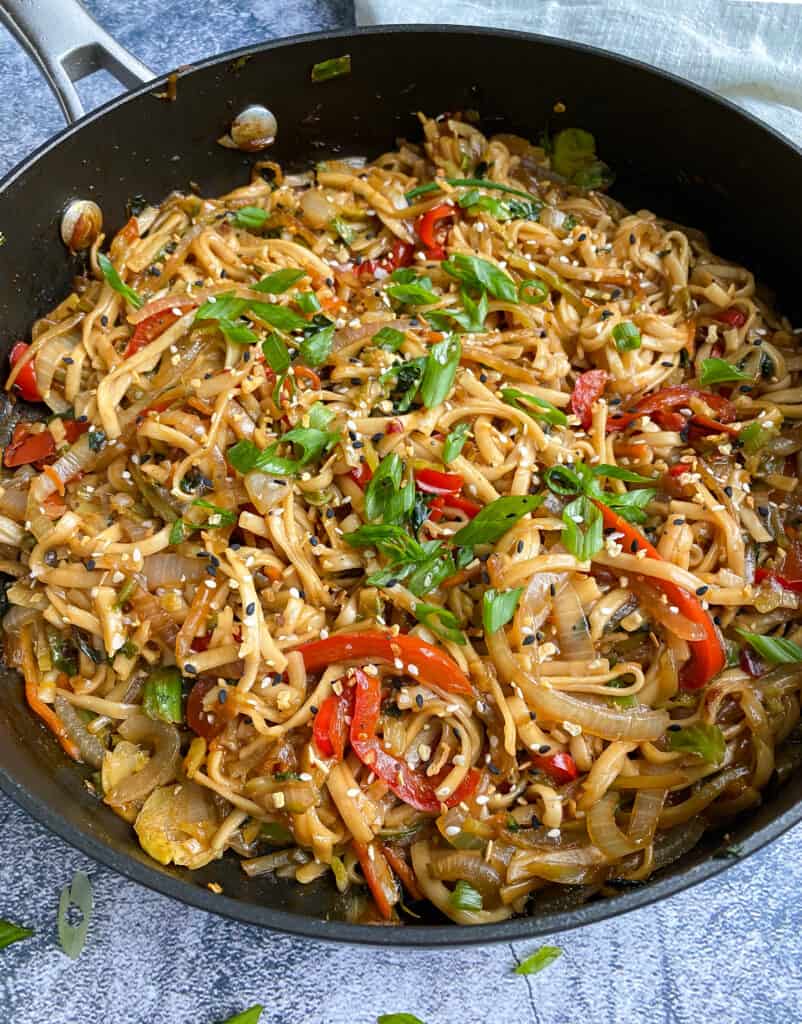 While I HIGHLY recommend following the recipe as outlined below. There are some simple substitutions you can make in a pinch (these only work for this recipe and are not general substitutions to use in other recipes). If you plan to cook more Asian dishes in the future, I recommend picking up all the basic condiments so you always have them in the fridge. They stay good for a while.
Mirin. Use 1 tablespoon of Chinese cooking wine, dry sherry, or cooking sake to replace 1 tablespoon of Mirin.
Hoisin. Use 1 teaspoon of honey or sugar to replace 1 tablespoon of hoisin.
Rice Vinegar. Use 1 tablespoon of white vinegar to replace 1 tablespoon of rice vinegar.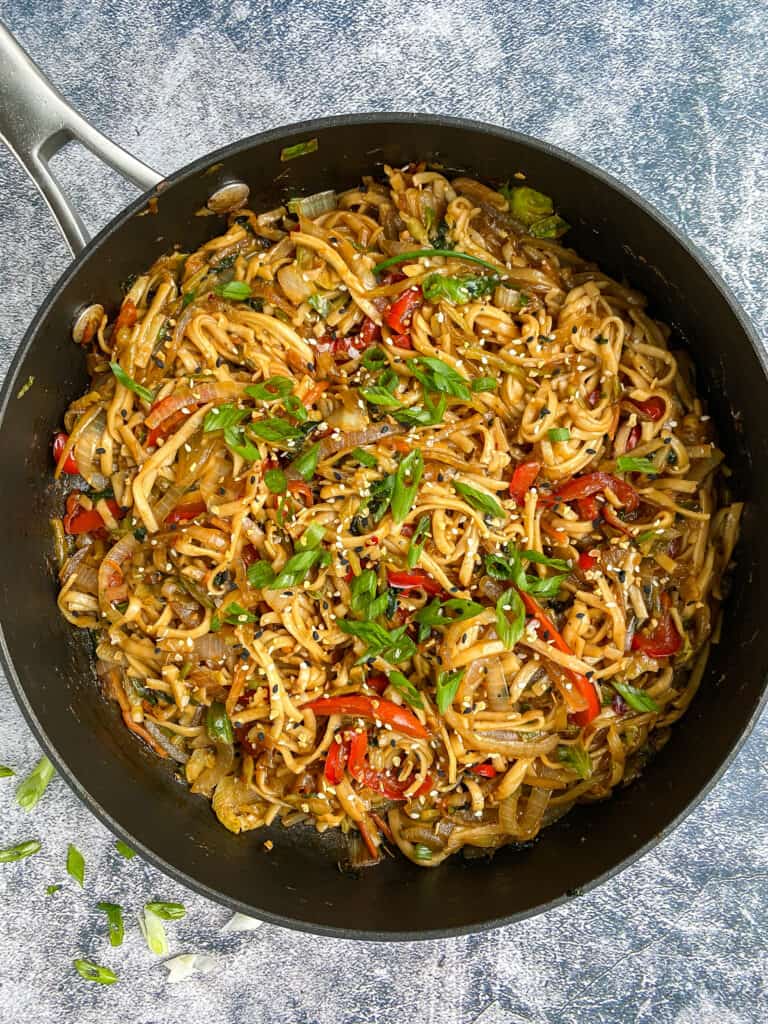 ---
Tips for Making the Best Vegetable Lo Mein
Not to many tips today because this recipe is so easy! But there are a few things to note before you get started.
Rinse your noodles. After you cook the noodle according to the instructions on the package, strain and rinse them. This will prevent the noodles from sticking together.
Do not over cook the veg. The vegetables really only need about 5 minutes to cook. You want them to be crisp and not mushy, so that it is easier to toss everything together without it becoming too sticky.
Be gentle. When you combine the noodles and the vegetable, gently fold and toss them together. Be careful not mash the noodle. Once again, this will prevent the vegetable lo mein from becoming too sticky.
---
Vegetable Lo Mein (Quick & Easy)
This quick and easy Vegetable Lo Mein will be ready in under 30 minutes and can be made using whatever you already have in your fridge. It is full of flavor, super healthy, and vegan.
Ingredients:
Sauce
4-5

cloves

garlic

,

grated

2

tsp

ginger

,

grated

3

tbsp

soy sauce

1

tbsp

hoisin

1

tbsp

mirin

1

tbsp

rice vinegar

¼

tsp

chili flakes

1

tsp

cornstarch

green onions and sesame seeds

,

for garnish
Lo Mein
1

tbsp

vegetable oil

1

small

bell pepper

,

julienned

1

small

white onion

,

julienned

2-3

cups

vegetables

,

your choice*

6

oz

lo mein egg noodles

,

cooked
Instructions:
In a small container with a lid, combine the garlic, ginger, soy, hoisin, mirin, vinegar, chili flakes, and cornstarch. Seal and shake until well combined. Set aside.

In a large pan or wok, heat the vegetable oil on medium high heat. Add in all of the vegetables, bell peppers, and onions. Sauté for about 5 minutes, or until vegetables are cooked almost to your liking.

Stir in the noodles and the sauce. Fold gently until everything is combined.
Notes:
* See my section about customizing above for vegetable ideas.
NUTRITION:
Calories:
368
kcal
|
Carbohydrates:
68
g
|
Protein:
12
g
|
Fat:
7
g
|
Saturated Fat:
1
g
|
Polyunsaturated Fat:
3
g
|
Monounsaturated Fat:
1
g
|
Trans Fat:
1
g
|
Cholesterol:
1
mg
|
Sodium:
1370
mg
|
Fiber:
7
g
|
Sugar:
5
g