These Fried Goat Cheese Balls are coated in Crispy onions and drizzled with honey. Must I say more? Sweet, salty, and a little spicy. Best part is they are cooked in the air fryer, which makes for a super easy clean up. These little bites of heaven are extremely addicting. The cayenne pepper really adds a nice kick!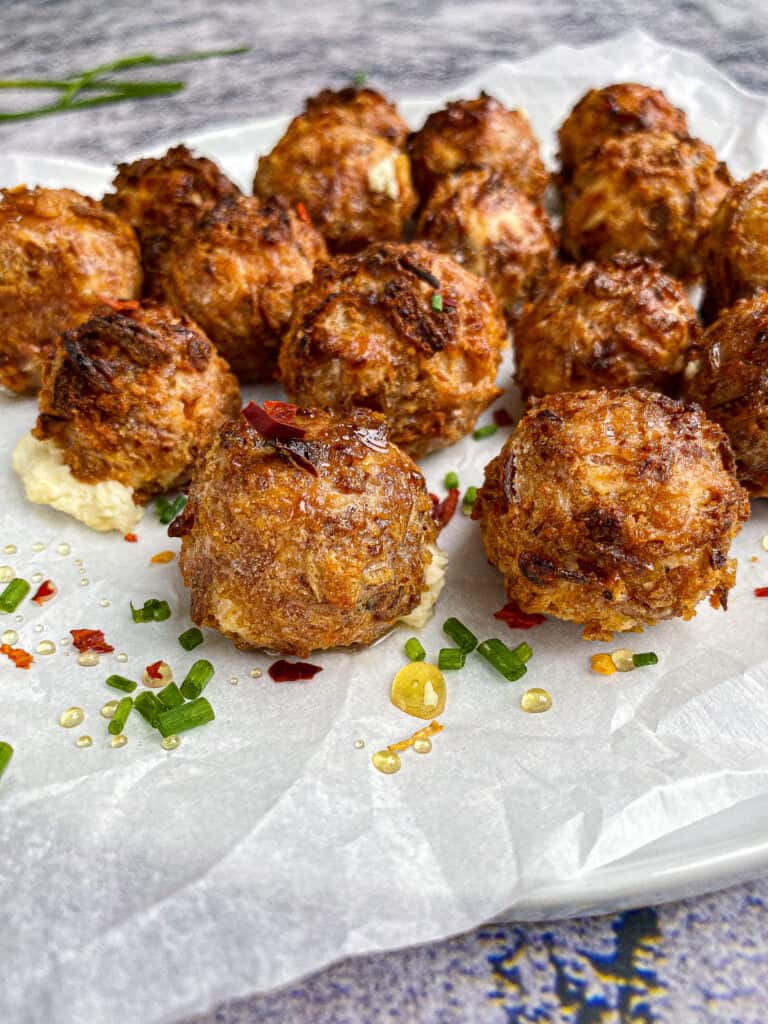 These fried goat cheese balls are the perfect appetizer. They are best served hot, so thankfully they are super easy to prepare before your guests arrive and pop in the freezer. When you are ready to serve, they take less than 10 minutes to cook and will be gone in no time.
My inspiration for these fried goat cheese balls came from a couple of trips to the grocery store. I normally make a list before I go to the store, because I am one of the few people that gets pleasure in meandering around the store. This leads to me getting quite distracted and forgetting to pick up items I actually need.
Anyways, the store had the cans of crispy fried onions on the end caps because of the upcoming holidays. I threw them in my cart for no particular reason, but knew they would come in handy eventually.
I love all things goat cheese and always have some in my fridge. So randomly one day I had the idea for these air fried goat cheese balls and they were a huge success.
These would be great served on top of my Kale Salad with Parmesan & Shallot Dijon Dressing for some extra crunch and a warm component.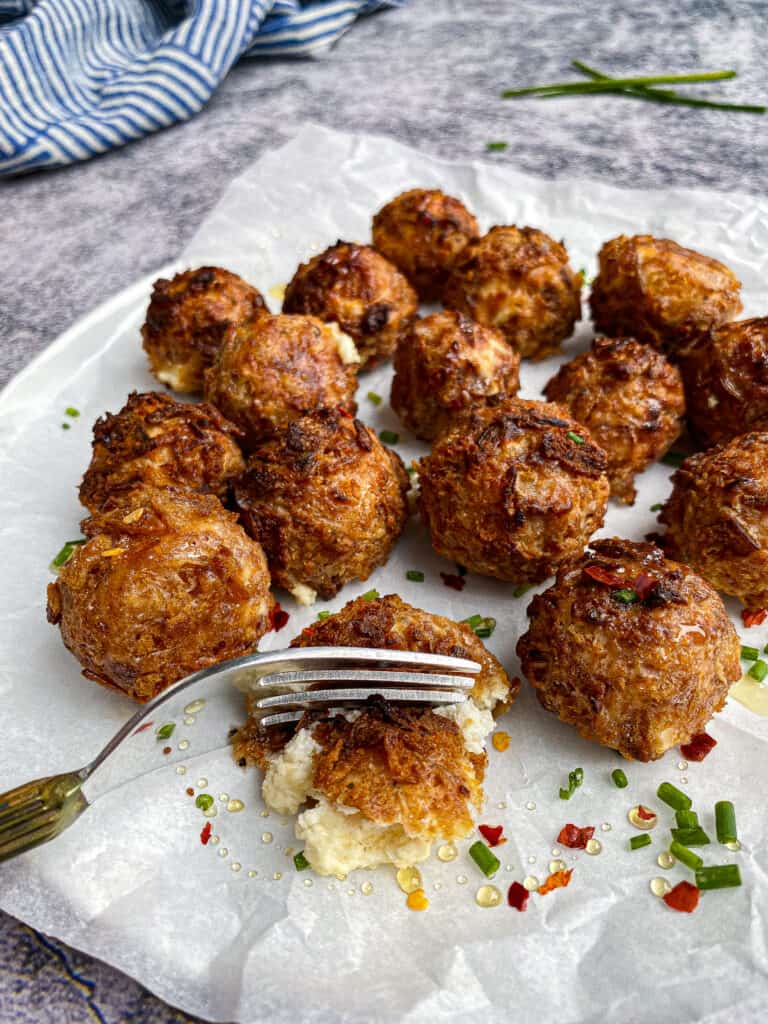 Why the Air Fryer
I really love my air fryer. It can literally cook anything I swear. Now obviously sometimes a traditional or shallow fry is absolutely necessary, but I typically avoid frying if I can for a couple of reasons. I hate the smell and the clean up.
I love cooking in it, because unlike an oven there is no preheating time. Just set the temperature and throw your food in the basket. It also cooks much faster than the oven.
It definitely gets food crispier than the oven so it is worth having a separate appliance in my mind. I have not tested this recipe in the oven so I am not sure how these would come out in there.
Here is a link to the air fryer I use. It does a great job, but I can't speak to how it compares to other air fryers on the market. The basket is small but I don't have room in my kitchen for a larger appliance. It does the job!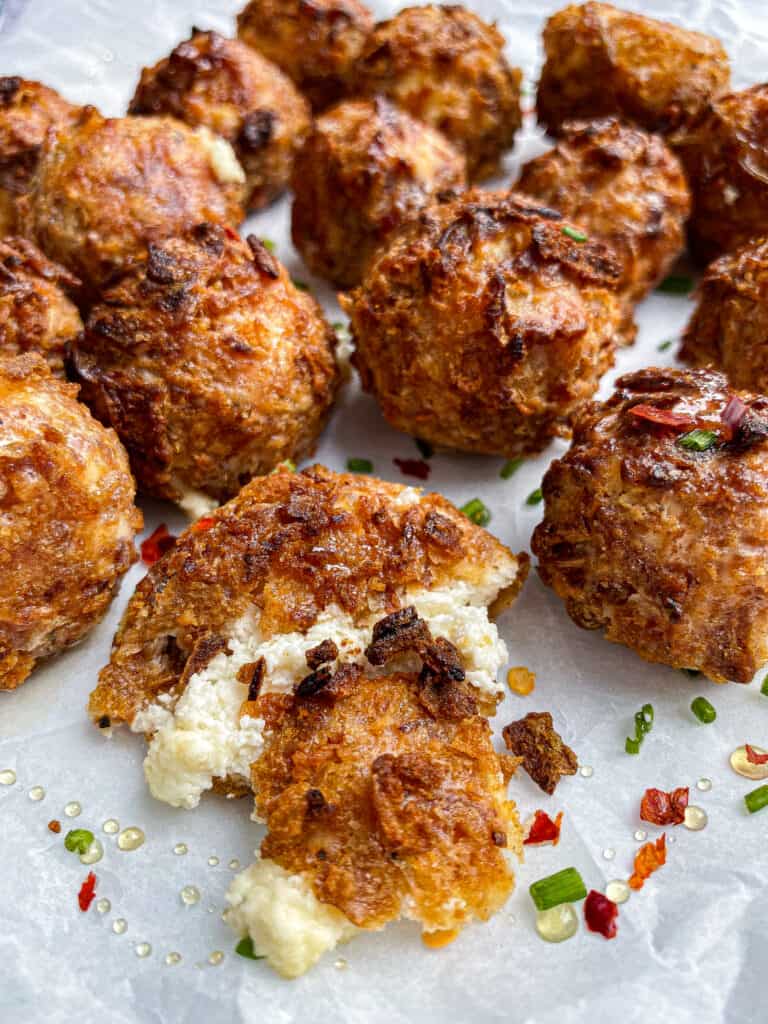 Tips for Making the Best Fried Goat Cheese Balls
Tightly roll the balls. The warmth of your hands will help the cheese form into tight balls. Goat cheese can tend to be quite crumbly so make sure to take your time forming these balls.
Don't be shy with the onions. You really have to press and pack on the onions. They will not fall off because of the freezing step. This makes for the most tasty and crispy coating around the fried goat cheese balls.
Freeze for at least 45 minutes. Freezing is crucial to the balls holding their shape. Do not skip this step or shorten it.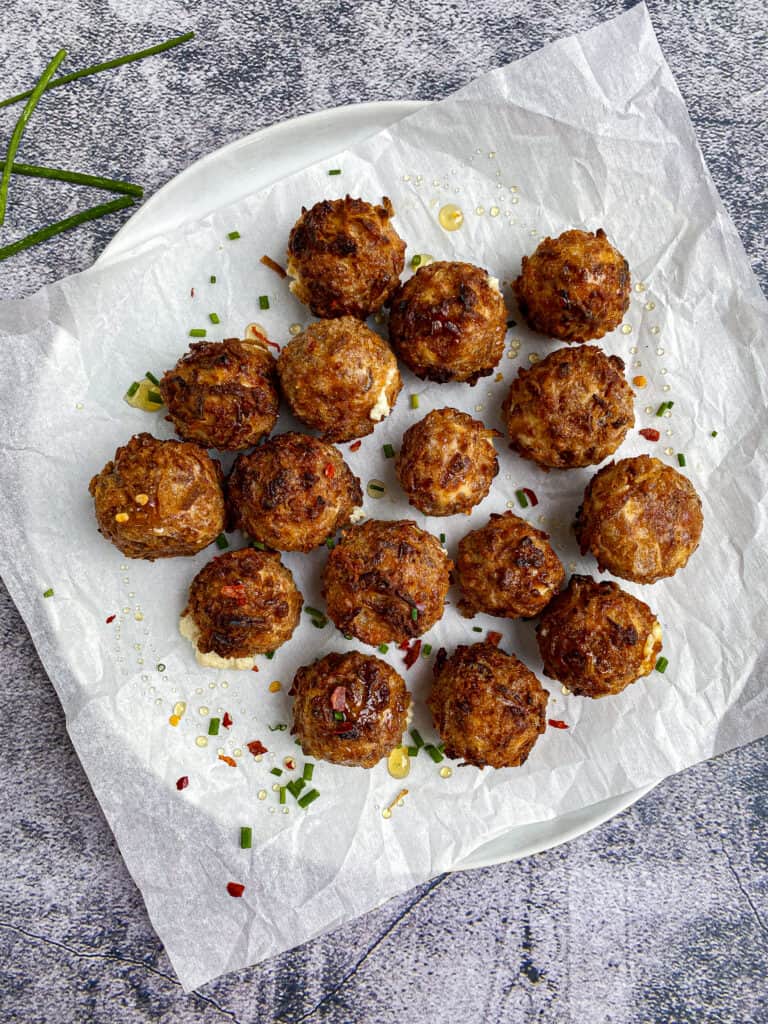 Let's Get Cooking
Form the cheese in balls. I cut the goat cheese in half long ways first. Then I continue to cut it in half short ways until I have 16 pieces. Now let's get rolling!
Coat the cheese balls in egg, flour, and crispy onions. You can see in the recipe card below my station, but essentially you want to use three bowls (one for the egg, one for the flour, and one for onions). We will then coat the balls in all three on these coatings.
Freeze. We want to freeze these for at least 45 minutes.
Air fry. Throw them in the air fryer basket and spray lightly with some olive oil spray (or any nonstick spray).